All | 2-Part | SA | SATB | SATB divisi | SSA | SSAA | SSATB | TBB | TTB | TTBB
Individual Folios
SA
Displaying 1-3 of 3 items.
---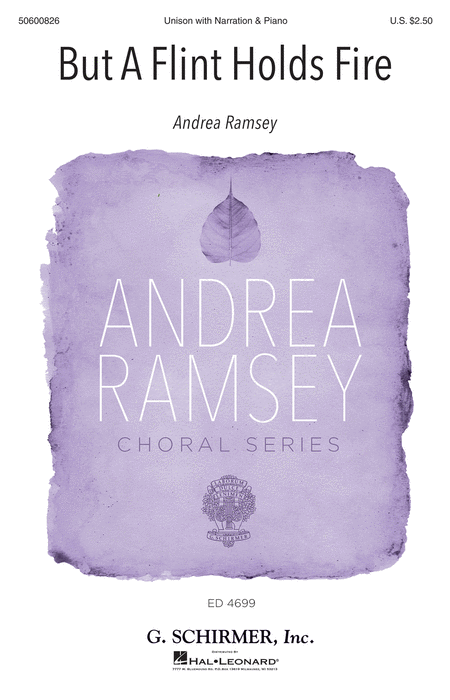 Andrea Ramsey : But a Flint Holds Fire
Jointly commissioned by a consortium of choruses to benefit the programs and services of Chorus America. This socially conscience work merges a Christina Rossetti text with words from choir students in Flint, Michigan. This was the personal revelation for the composer that there was something she could do to affect in a positive way the tragedy of the Flint Water Crisis. This is also a vehicle for you and your students to positively affect this tragedy as half of the profits from the sale will go directly to Flint Rising, a coalition of community organizations and allies. There is a QR code in the music for the audience to make a donation and the web site is also included.
Composer: Andrea Ramsey

---
Melissa Malvar-Keylock : Let Us Sing
Composed originally for solo soprano and figured bass, this new arrangement offers a counter melody to the second verse. All voices join together for a strong, unison final verse.
Arranger: Melissa Malvar-Keylock | Composer: Henry Purcell

---
Nathan Payant : Lotti Requiem Suite
Extracting two movements from the Baroque composer, Antonio Lotti's Requiem Mass, here are two authentic, Baroque anthems for treble choir. Intended to be performed as a pair, a piano accompaniment is provided but a string trio will allow these to soar.
Arranger: Nathan Payant | Composer: Antonio Lotti


New Sheet Music

Vocal Harmony Arrangements - Home
Christian | Gospel | Standards | Musicals | Specialty | World | Barbershop | Contemporary | Vocal Jazz | Choral | Christmas
Mixed Voices | Female | Male | 8 Parts | 6 Parts | 5 Parts | 3 Parts | 2 Parts | Medleys | Solo | Folio Series | New Releases
---