All | SA | SAB | SATB | SATB divisi | SATBB | SSA | SSAA | SSAA divisi | TTBB
Individual Folios
SATBB
Displaying 1-1 of 1 items.
---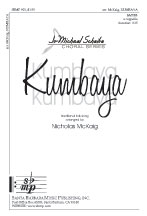 Nicholas McKaig : Kumbaya
Opening and concluding with a dramatic chant-style solo, the heart of the piece features genuine South African rhythms. Intricate and energetic at its core, Nicholas McKaig has created an outstanding, unique treatment of this well-known tune that gives it a truly authentic feel.
Composer: Nicholas McKaig


New Sheet Music

Vocal Harmony Arrangements - Home
Christian | Gospel | Standards | Musicals | Specialty | World | Barbershop | Contemporary | Vocal Jazz | Choral | Christmas
Mixed Voices | Female | Male | 8 Parts | 6 Parts | 5 Parts | 3 Parts | 2 Parts | Medleys | Solo | Folio Series | New Releases
---