All | 2-Part | 3-Part | 3-Part Mixed | SAB | SATB | SATB divisi | SATBB | ShowTrax CD | SSA | SSAA | SSAB | TB | TBB | TTB | TTBB
Series Collections
---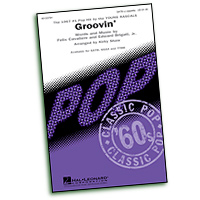 Kirby Shaw: Women's Classic Pop Vol 5
Review: Billy Joel's pop hit from 1983 "The Longest Time" is a perennial favorite and evokes an even earlier time in America's pop history. From 1973, the pop hit "Shambala" by Three Dog Night is a buoyant song full of tasty harmonies and a warm gospel groove that will infuse your concert with the hopefulness and joy. This "vocals only" edition will be especially effective for choirs of all types! The intimacy and directness of a cappella singing create a special emotional atmosphere in this tender setting of the Grammy award-winning pop hit "Tears In Heaven" by Eric Clapton. You will create a magical concert moment with the gentle guitar-style accompaniment recreated by the vocals and the heartfelt lyrics. The #1 hit from 1967 "Groovin'" by the Young Rascals in a smooth vocals-only setting perfectly captures the relaxed slow groove of the song with an easy vocal accompaniment and a irresistible solo.
Songlist: The Longest Time, Shambala, Tears In Heaven, Groovin'

---
Mark Brymer: ...Baby One More Time
Review: It was 20 years ago that Britney Spears released her debut album ...Baby One More Time. It officially signaled the return of pure pop music while at the same time giving all of us permission to enjoy it. Your singers will love getting into this funky pop groove and their parents will love the trip back in time.

---
---
Individual Folios
Displaying 1-50 of 419 items.

New Sheet Music

Vocal Harmony Arrangements - Home
Christian | Gospel | Standards | Musicals | Specialty | World | Barbershop | Contemporary | Vocal Jazz | Choral | Christmas
Mixed Voices | Female | Male | 8 Parts | 6 Parts | 5 Parts | 3 Parts | 2 Parts | Medleys | Solo | Folio Series | New Releases
---