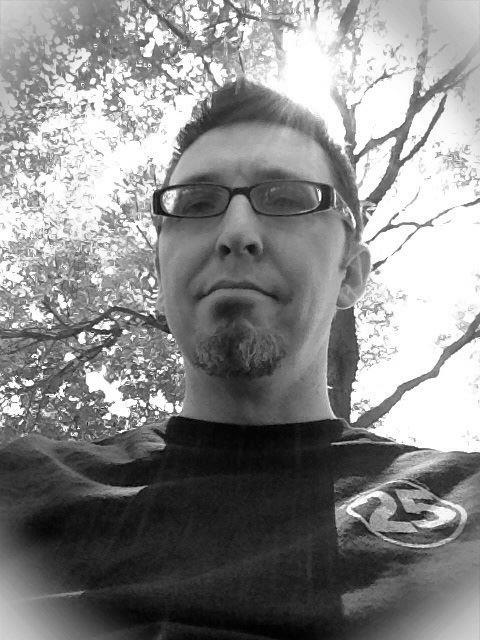 Born and raised in Kentucky, Aaron spent several of his high school years in Germany due to his father's contracting work for the U.S. Government. After a semester at Western Kentucky University, he went to Birmingham, England, to serve a two-year mission for the Mormon Church. Returning to the United States, he enrolled in the University of Kentucky, where he met his wife-to-be, Samantha. They were married in June of 1999 and honeymooned at the Barbershop Harmony Society's International Convention in Anaheim.

Aaron was a successful bass drummer in the Star of Indiana Drum & Bugle Corps based in Bloomington, Indiana. He received his degree from the University of Kentucky in Education with a major in Percussion. He lives with his wife and their three children just south of Louisville in Elizabethtown where he is an elementary school music teacher. Aaron will complete his Master's degree in Special Education this July.

In 1991, a friend from church knew Aaron (age 18) liked music and invited him to visit a Louisville Thoroughbreds rehearsal. He was hooked and applied for membership. Interestingly enough, his auditioner was none other than Mark Hale. This was the start of a friendship that is still strong today. Aaron sang with Mark in the Kentucky-based Caveman Chorus and later with the Louisville Times.

Aaron started arranging music when he was in the 10th grade. He would listen to music from groups like the Beach Boys and write down the individual parts. He sang with his four brothers teaching each of them his part. One of his first arrangements for the family "choir" was "Somewhere Over The Rainbow." Aaron still writes arrangements for the Dale Brothers.

Mark Hale recalls that, "Aaron was a different kind of kid, very alternative and not particularly dependable. He was a real skateboard enthusiast and would just as soon do that as anything else. From the first moment I met him, he was handing me copies of things he'd arranged for his brothers or something he'd taken off of a recording. Some people are just drawn to this aspect of our hobby, and Aaron fit that profile to a tee. Music judge-speak can seem like a foreign language to many Joe Barbershoppers, but Aaron took to it without a thought. He has always sent me copies of his arrangements in early stages for comments. I have always been impressed by his wonderful use of rhythm and creative interpolations, and he mainly just needed some help with form and development. It used to take about four tries before he got to something resembling the final version. These days he's pretty much good to go the first time. Aaron has excellent taste and while he often gets extreme in his embellishment, his arrangements are usually quite easy and enjoyable to sing."

Aaron's arranging breakthrough came when Mark Hale started referring top quartets to him. OC Times came to him needing new material for the 2005 Salt Lake City International Contest and Aaron provided five songs for them. OC Times made hits of Aaron's arrangements of "Good Luck Charm," "Honey (Open That Door) / Hey Good Lookin' Medley," "Save The Last Dance For Me / Sway Medley," Elvis Presley's "Love Me" and Paul Anka's "Put Your Head On My Shoulder." The quartet added a sixth Aaron Dale arrangement, "Stormy Weather," the following summer in Indianapolis. This summer in Denver, OC Times will debut four more Aaron Dale charts on the International stage.

Today Aaron is a much-sought-after arranger and charted music for many top quartets including Gotcha!, State Line Grocery, Vocal Spectrum, Max Q, Saturday Evening Post, Metropolis and Realtime. In addition to the Masters of Harmony, Aaron has provided arrangements for many of the top choruses in the Barbershop Harmony Society.

Mark Hale once told Aaron that Music judges are born not made. Mark encouraged him to enter the judging program and in 2001 he became certified. Aaron has been greatly influenced by Mark and David Wright, and has a high regard for their arranging talents. Mark recently stated, "We are very fortunate to have Aaron as one of the very few arrangers we seek for custom charts, and I know that we will be the recipients of his masterpieces for many years to come."