All | 2-Part | 3-Part Mixed | SAB | SATB | SATBB | SSA
Individual Folios
3-Part Mixed
Displaying 1-3 of 3 items.
---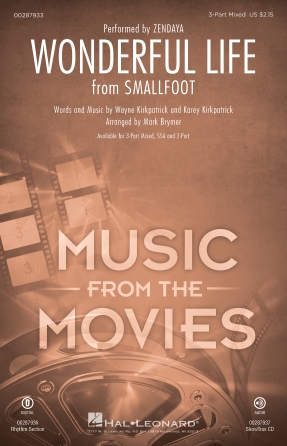 Mark Brymer : Wonderful Life

Wayne and Karey Kirkpatrick made an instant impression on Broadway with their hilarious send-up of musicals in Something Rotten. Here, they take on the common themes of life and love and give them a poignant and memorable pop number sung by Zendaya in Warner Animations' Smallfoot.
Arranger: Mark Brymer | Composer: Wayne Kirkpatrick | Performed By: Zendaya

---
Mark Brymer : Come Alive
The most bombastic, electrifying and show-stopping number from the record-smashing soundtrack to The Greatest Showman is here! Pasek and Paul's call to action is given a full-choir treatment by Mark Brymer, but it's not for the faint of heart. Your choirs will extend their vocal ranges, divisi capabilities and deep-breathing techniques while sending any audience that hears it to their feet!
Arranger: Mark Brymer | Composer: Justin Paul | Musical: The Greatest Showman

---
Mac Huff : Together From Afar
Jónsi, the lead singer from Icelandic rock band Sigur Rós, and composer for the How to Train Your Dragon film series, takes us on an ethereal and bittersweet journey in the third chapter, The Hidden World. Contemplating the nature of endings and emotions, this is a powerful addition to your concert!
Arranger: Mac Huff | Composer: Jon Thor Birgisson


New Sheet Music

Vocal Harmony Arrangements - Home
Christian | Gospel | Standards | Musicals | Specialty | World | Barbershop | Contemporary | Vocal Jazz | Choral | Christmas
Mixed Voices | Female | Male | 8 Parts | 6 Parts | 5 Parts | 3 Parts | 2 Parts | Medleys | Solo | Folio Series | New Releases
---