All | 2-Part | SA | SATB | SSA | SSAA | Unison
Individual Folios
2-Part
Displaying 1-2 of 2 items.
---
Mary GoetzeMary Goetze : Ode to Trees
This Mary Goetze original takes the young voice into account with its smooth, accessible lines and supportive piano accompaniment. The text, while beautiful in its own right, takes on deeper meaning through some thoughtful text painting.
Arranger: Mary GoetzeMary Goetze

---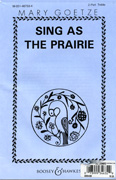 Mary Goetze : Sing As The Prairie
The text for Sing as the Prairie was written by John Neihardt, who was revered by Nebraskans as their poet laureate. Because his love of nature is evident in each phrase, the music incorporates the enchanting sounds of nature and the prairie.
Arranger: Mary Goetze


New Sheet Music

Vocal Harmony Arrangements - Home
Christian | Gospel | Standards | Musicals | Specialty | World | Barbershop | Contemporary | Vocal Jazz | Choral | Christmas
Mixed Voices | Female | Male | 8 Parts | 6 Parts | 5 Parts | 3 Parts | 2 Parts | Medleys | Solo | Folio Series | New Releases
---