All | 2-Part | 2-Part / SSA | 2-Part/SSA | 3-Part | 3-Part Mixed | 3-Part Mixed (Opt. Baritone) | 3-Part Mixed / SAB | 3-Part Mixed / SAB (with Opt. | 3-Part Mixed, a cappella | 3-Part, any combination | S(S)AB | SAB | SATB | SATB divisi | SSA | SSAA | SSAATTBB | SSAB | SSATB | T(B)B | T(T)B | TB | TBB | TT(B) | TTB | TTBB
Individual Folios
SSATB
Displaying 1-1 of 1 items.
---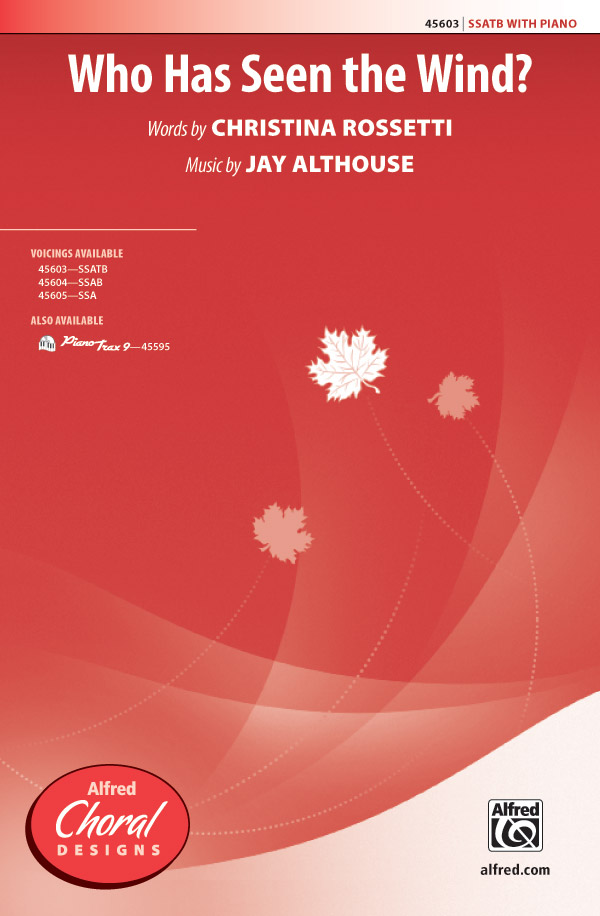 Jay Althouse : Who Has Seen the Wind?
This text-driven setting of Rossetti's treasured poem is top-tier. A well-developed choral interlude sounds like swirling winds with round vowels and captivating harmonies to spare. Most notably, Jay's masterful text painting weaves the sound of the breeze throughout. Artful. Haunting.
Composer: Jay Althouse


New Sheet Music

Vocal Harmony Arrangements - Home
Christian | Gospel | Standards | Musicals | Specialty | World | Barbershop | Contemporary | Vocal Jazz | Choral | Christmas
Mixed Voices | Female | Male | 8 Parts | 6 Parts | 5 Parts | 3 Parts | 2 Parts | Medleys | Solo | Folio Series | New Releases
---