---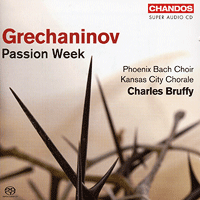 Phoenix Bach Choir / Kansas City Chorale : Grechaninov - Passion Week
Review: The Grechaninov 'Passion Week' is a setting of thirteen pieces with texts in Church Slavonic meant to be sung individually over the period of Passion Week, the days leading up to the crucifixion and resurrection of Christ. The Russian Orthodox Church has a tradition of morning and evening services during Passion Week when the passion week's events are recalled almost in 'real time.' The music itself is generally slow, meditative, largely monophonic and almost trance-like. One notices that the usual number of singers in these two choirs has been supplemented by several additional basses, no surprise considering the long legato lines required of that section. Their low C's and even B's resound like the tolling of great bells throughout the work. One could almost surmise, if one didn't know, that this was the singing of a Russian choir, so noted for their deep basses, except that the blending and rounding of the choral tone is so very much more subtle than is generally heard from Russian choruses. The work is entirely a cappella and there are occasional soprano, tenor and baritone solos which consist mostly of chants sung against the main body of massed sound.
Songlist: Behold, the Bridegroom, I see Thy bridal chamber, In Thy Kingdom, Gladsome Light, Let my prayer be set forth, Now the powers of heaven, At Thy mystical supper, The wise thief, Thou who clothest Thyself, The Lord is God... The noble Joseph, Weep not for me, O Mother, As many of you... Arise, O God, Let all mortal flesh

---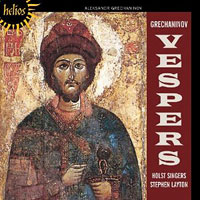 Holst Singers : Vespers - Grechaninov
Review: Grechaninov was initially taught by Anton Arensky in Moscow, and then later, in 1890, he went to St Petersburg to study with Rimsky-Korsakov. It was he who influenced his style and helped him launch his professional career. After the Revolution, Grechaninov became increasingly uneasy in Soviet Russia, and in 1925 left for ever. In 1946 he took American citizenship. An unusually versatile and prolific composer, he wrote operas, symphonies, chamber music, over 250 songs, and a great deal of music for children. He has been described as the most representative composer of his generation writing for the Orthodox service. Vespers is part of the All-Night Vigil service, and Grechaninov's setting was composed, premiered, and published in 1912. This precedes Rachmaninov's setting by three years. It appears to have lain dormant for some eighty years until it was revived in America for its first performance of modern times in 1995.
Songlist: Now the Powers of Heaven, In Thy Kingdom, Lord, now Lettest Now Thy Servant, All Night Vigil

---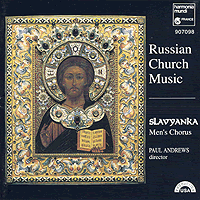 Slavyanka : Russian Church Music
Review: This acclaimed men's chorus are excellent on this collection of some of the great a cappella pieces from the Russian Church.
Songlist: Otche nash (Our Father) , Blazhen muzh (Blessed is the Man, Sye nynye blagoslovitye Gospoda (Behold, Bless the Lord) , Spasi, Gospoddi, lyudi Tvoya (O Lord, Save Thy People), Plotiyu usnuv (Having Fallen Asleep) , Na ryekakh vavilonskikh (By the Rivers of Babylon) , Voskliknitye Gospodyevi (Make a Joyful Noise) , Glasom moim (With my Voice) , Milost' mira (For the Mercy of Peace) , Spasyeniyi sodyelal (Salvation is Created) , Svyetye tikhii (O Gladsome Light) , Dostoin yest' (Is Is Fitting) , Pryeidye syen' (The Shadow of the Las Passed Away), Nynye otpushchayeshi (Lord, Now Lettest Thou They Servant Depart), Milost' mira (For the Mercy of Peace) , Otche nash (Our Father) , Slava v vyshnikh (Glory to God in the HIghest)

| Song Name | Arranger | Composer | Artist | Item Title | Format | | Trax |
| --- | --- | --- | --- | --- | --- | --- | --- |
| A Song of Joy | McKinney | Alexander Gretchaninov | St. Olaf Viking Chorus | Rise Up O Men of God | 1 CD | MORE DETAILS | |
| All Night Vigil | | Alexander Gretchaninov | Holst Singers | Vespers - Grechaninov | 1 CD | MORE DETAILS | |
| As many of you... Arise, O God | | Alexander Gretchaninov | Phoenix Bach Choir / Kansas City Chorale | Grechaninov - Passion Week | SACD | MORE DETAILS | |
| At Thy mystical supper | | Alexander Gretchaninov | Phoenix Bach Choir / Kansas City Chorale | Grechaninov - Passion Week | SACD | MORE DETAILS | |
| Behold, the Bridegroom | | Alexander Gretchaninov | Phoenix Bach Choir / Kansas City Chorale | Grechaninov - Passion Week | SACD | MORE DETAILS | |
| Cherubim Hymn | | Alexander Gretchaninov | St. Olaf Choir | Choral Masterworks Series Vol 2 (2CD) | 1 CD | MORE DETAILS | |
| Credo | | Alexander Gretchaninov | Luther College Nordic Choir | Everlasting Light | 1 CD | MORE DETAILS | |
| Credo | | Alexander Gretchaninov | Luther College Nordic Choir | Weston Noble Conducts | 1 CD | MORE DETAILS | |
| Credo | | Alexander Gretchaninov | Various | Holy Russia - The Festival of Christmas | DVD | MORE DETAILS | |
| Gladsome Light | | Alexander Gretchaninov | Phoenix Bach Choir / Kansas City Chorale | Grechaninov - Passion Week | SACD | MORE DETAILS | |
| Holy, Holy, Holy, Lord of Sabaoth | | Alexander Gretchaninov | St. Olaf Choir | Go Tell It On The Mountain | 1 CD | MORE DETAILS | |
| I Have Chosen the Blissful | | Alexander Gretchaninov | Various Artists | Sacred Treasures - Choral Masterworks From Russia | 1 CD | MORE DETAILS | |
| I see Thy bridal chamber | | Alexander Gretchaninov | Phoenix Bach Choir / Kansas City Chorale | Grechaninov - Passion Week | SACD | MORE DETAILS | |
| In Thy Kingdom | | Alexander Gretchaninov | Phoenix Bach Choir / Kansas City Chorale | Grechaninov - Passion Week | SACD | MORE DETAILS | |
| In Thy Kingdom | | Alexander Gretchaninov | Holst Singers | Vespers - Grechaninov | 1 CD | MORE DETAILS | |
| Let all mortal flesh | | Alexander Gretchaninov | Phoenix Bach Choir / Kansas City Chorale | Grechaninov - Passion Week | SACD | MORE DETAILS | |
| Let my prayer be set forth | | Alexander Gretchaninov | Phoenix Bach Choir / Kansas City Chorale | Grechaninov - Passion Week | SACD | MORE DETAILS | |
| Lord, now Lettest Now Thy Servant | | Alexander Gretchaninov | Holst Singers | Vespers - Grechaninov | 1 CD | MORE DETAILS | |
| My Prayer | | Alexander Gretchaninov | St. Petersburg Chamber Choir | Russian Easter | 1 CD | MORE DETAILS | |
| Nine otpushchayeshi | | Alexander Gretchaninov | Notre Dame Glee Club | Vive La Compagnie | 1 CD | MORE DETAILS | |
| Now the powers of heaven | | Alexander Gretchaninov | Phoenix Bach Choir / Kansas City Chorale | Grechaninov - Passion Week | SACD | MORE DETAILS | |
| Now the Powers of Heaven | | Alexander Gretchaninov | Holst Singers | Vespers - Grechaninov | 1 CD | MORE DETAILS | |
| Nunc Dimittis | | Alexander Gretchaninov | St. Olaf Choir | My Spirit Sings of Wondrous Things | 2 CDs | MORE DETAILS | |
| Nunc Dimittis | | Alexander Gretchaninov | National Lutheran Choir | We Sing With Joy | 2 CDs | MORE DETAILS | |
| O Gladsome Light | | Alexander Gretchaninov | St. Olaf Choir | Out Of Darkness, Let Light Shine | 1 CD | MORE DETAILS | |
| Of Thy Mystical Supper | | Alexander Gretchaninov | St. Petersburg Chamber Choir | Russian Easter | 1 CD | MORE DETAILS | |
| Of thy mystical supper | | Alexander Gretchaninov | Holst Singers | Ikon II | 1 CD | MORE DETAILS | |
| Of Thy Mystical Supper, Op. 58, No. 7 | | Alexander Gretchaninov | Dale Warland Singers | Lux Aurumque | 1 CD | MORE DETAILS | |
| Only Only Begotten Son | | Alexander Gretchaninov | St. Olaf Choir | Child Of Light Be Born In Us | 2 CDs | MORE DETAILS | |
| Our Father | | Alexander Gretchaninov | Cantus | Introit | 1 CD | MORE DETAILS | |
| Our Father | | Alexander Gretchaninov | Concordia Choir | Star Of Wonder | 1 CD | MORE DETAILS | |
| Our Father | | Alexander Gretchaninov | Luther College Nordic Choir | I Will Sing To The Lord | 1 CD | MORE DETAILS | |
| Our Father | | Alexander Gretchaninov | Concordia Choir | The Lord Is My Shepherd | 1 CD | MORE DETAILS | |
| Our Father | | Alexander Gretchaninov | Cantus | Live Vol. 2 | 1 CD | MORE DETAILS | |
| Our Father | | Alexander Gretchaninov | World Voices | Mosaic | 1 CD | MORE DETAILS | |
| Our Father | | Alexander Gretchaninov | St. Olaf Choir | Christmas in Norway | 1 CD | MORE DETAILS | |
| Our Father | | Alexander Gretchaninov | Bemidji Choir and Chamber Singers | Awakening | 1 CD | MORE DETAILS | |
| Our Father | | Alexander Gretchaninov | St. Olaf Choir | Child Of Light Be Born In Us | 2 CDs | MORE DETAILS | |
| Our Father | | Alexander Gretchaninov | World Voices | Hope For Our Time | 1 CD | MORE DETAILS | |
| Our Father | | Alexander Gretchaninov | Concordia Choir | Evocations | 1 CD | MORE DETAILS | |
| Our Father | | Alexander Gretchaninov | Concordia Choir | Savior of the Nations | 1 CD | MORE DETAILS | |
| Praise the Lord | | Alexander Gretchaninov | St. Olaf Choir | Choral Masterworks Series Vol 2 (2CD) | 1 CD | MORE DETAILS | |
| Praise the Lord, O My Soul | | Alexander Gretchaninov | Luther College Nordic Choir | West Coast Tour 2001 | 1 CD | MORE DETAILS | |
| Slumber Song | | Alexander Gretchaninov | Joan Frey Boytim | The First Book Of Mezzo-Soprano / Alto Solos Part III | Songbook & CD | MORE DETAILS | |
| The Cherubic Hymn | | Alexander Gretchaninov | St. Olaf Viking Chorus | In Concert | 1 CD | MORE DETAILS | |
| The Cherubic Hymn | | Alexander Gretchaninov | Ralph Allwood | Russian Choral Masterpieces | Songbook | MORE DETAILS | |
| The Lord is God... The noble Joseph | | Alexander Gretchaninov | Phoenix Bach Choir / Kansas City Chorale | Grechaninov - Passion Week | SACD | MORE DETAILS | |
| The wise thief | | Alexander Gretchaninov | Phoenix Bach Choir / Kansas City Chorale | Grechaninov - Passion Week | SACD | MORE DETAILS | |
| Thou who clothest Thyself | | Alexander Gretchaninov | Phoenix Bach Choir / Kansas City Chorale | Grechaninov - Passion Week | SACD | MORE DETAILS | |
| Weep not for me, O Mother | | Alexander Gretchaninov | Phoenix Bach Choir / Kansas City Chorale | Grechaninov - Passion Week | SACD | MORE DETAILS | |