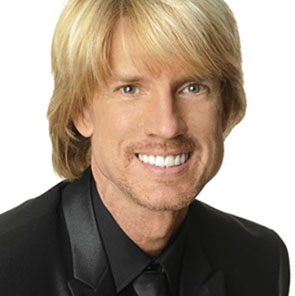 Pyrotechnics is a word often used to describe Scott Leonard's singing voice. But, before he became part of the hit A Cappella group, Rockapella, Scott was just a home grown boy from Indianapolis, Indiana, with a passion for baseball.

That passion for baseball won him a scholarship to attend University of Tampa in Florida. While there he decided to major in voice. He worked at various dinner theaters before becoming an employee at Disney World in Orlando FL. From there he transferred to Tokyo Disney. There he fronted a Disney Rock band and met his beautiful wife (strangely enough, she too had transferred from Orlando!).

While browsing through a music trade paper, Scott found an advertisement for a high tenor position with a NYC based A Capella group and sent in a demo. About six months later he heard back from the group and was asked to come for a personal audition. He left that night on the next flight out from Tampa. He watched the group perform the next night and then personally auditioned. He was offered the spot then and there. Of course he took it and thus a new revelation of Rockapella was born.

Scott brought Rockapella's vocal talents to Japan, where he'd already made connections. He sent a friend a demo tape and they snatched up a Japanese Recording deal. Prior to that, the now "Undisputed Kings of Contemporary A Cappella" had been asked to be the "house band" on the PBS children's geography game show, "Where In The World Is Carmen Sandiego."

Since then, Scott and Rockapella have released 8 albums in Japan, 2 independent releases in the United States and 4 albums under J-Bird Records also in the United States. Scott himself has released 2 solo albums, "My Favorite the Bee Gees" and "Flying Faders," both released in Japan. Rockapella still tours, year-round, in the US, Japan and as of recently, Europe. Scott's soaring vocals and songwriting prowess have played major roles in shaping Rockapella's characteristic sound.

He currently lives in Tampa Bay, Florida with his wife and two children, Jesse and Natalie, born 1993 and 1999 respectively.