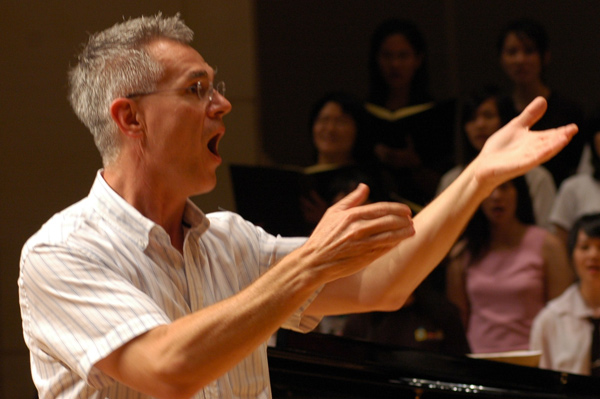 Stephen Leek is a composer, conductor, educator and publisher who has been at the forefront of Australia's musical culture for over 20 years. His distinctive music captures the rhythms, colours and ethos of Australia and Australians. He is a versatile composer much respected for work that is suited to all ages and levels of skill. His prolific output is in a straight-forward musical language which speaks directly to its audience, yet maintains an integrity that has seen it performed by leading musicians in the great concert halls of the world.

Leek studied at the Canberra School of Music with composer Larry Sitsky and cellist Nelson Cooke. Stephen commenced his professional life doing part-copying work for other composers. He was offered the full-time position of Composer/Musician to the Tasmanian Dance Company - a position he held for 3 years. During that time he honed his skills by working in schools and in communities, composing and collaborating with choreographers and musicians in what was then Australia's only 'Dance in Education Company'.
Discography
Displaying 1-3 of 3 items.
---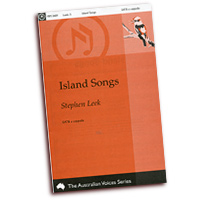 Stephen Leek : Island Songs
Review: Three songs from the Torres Strait Islands to the north of Australia. The songs have been composed as adaptations of traditional songs and no attempt has been made to translate or interpret the text or language which these songs are traditionally sung but an attempt has been made to capture the essence and joy for singing which is central to the music making from this region. Includes Monkey and Turtle, Trade Winds and Morning Tide. Good for use in a high school choir or as a set of encore pieces for college or community choir.
Songlist: Monkey and Turtle, Trade Winds, Morning Tide

---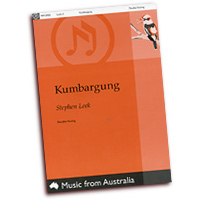 Stephen Leek : Aussie Songs
Review: "Kumbargung" - One of the easiest and most immediately appealing from Stephen Leek's In Construction series. It is suitable for singers of all ages and uses indigenous Australian words that are spoken in rhythm at various pitch levels. "Kumbargung" means "night" and other evocative words include "ungi gungi" (grasshopper) and "goolay yali" (pelican). A delight for all ages! "Tunggare" means "voice" or "to sing" in an Australian dialect. This is a wonderful opening or closing to a concert. There is much repetition and very easy tenor and bass parts, so it is perfect for a high school choir (and other choirs as well!). It may also be used as a choral piece for audience participation. "Riawanna" is an Australian native word for "circles" and the piece is a do-it-yourself round with thousands of possibilities. It includes mixed meters. The final instruction in the accompanying notes says it all: "have fun".
Songlist: Kumbargung, Riawanna, Tunggare

---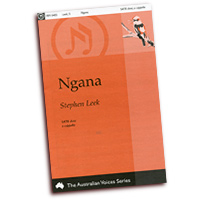 Stephen Leek : Songs Of Passage
Review: Stephen Leek's famous work from Songs of Passage. "Ngana" means "shark" and the piece strikingly captures the driving energies, rhythms and vivid colors of the island seascape found around the northeastern tip of Australia. Pronounced "ungahyullyull" meaning "hawk dreaming". The text reflects the thoughts of the sheep farmer herding his sheep, ever aware of the hawk circling overhead. The second of Stephen Leek's Songs of Passage, this is a highly evocative and beautiful composition using easy but effective modern compositional techniques. The music includes "boxes" of material for singers to work through as well as traditionally scored sections. The writing is easy to sing though it contains some chord clusters. Some song texts in an Australian Aboriginal language, some in English. Lots of fun here!
Songlist: Ngana, Ngayulyul, Coraparena, Ceduna, Tabulam


Choral Music - Home
All Choral Groups | Choral Christmas | Composers | Choral Directors | Choral arrangements
Mixed Voice Groups | Mixed Voice CDs | Mixed Childrens Choirs | Mixed Childrens CDs | Mixed Voice Christmas CDs
Male Choral Groups | Male Choral CDs | Boyschoirs | Boyschoirs CDs | Male Choral Christmas CDs
Womens Choral Groups | Womens Choral CDs | Girls Choirs | Girls Choirs CDs | Female Choral Christmas CDs
Early Music Groups | Early Music CDs | Early Music Christmas CDs
Spirituals | Church Choirs | Madrigals | Choral DVDs | Complete choral list

Choral Development - Home | Choral Conducting | Techniques & Methods | Warm-Ups & Exercises | Rehearsal
Choral Choreography | Instructional DVDs | Children's Choir Development | Pedagogy | Singers Resources | Director Resourses

Choral music by Country - America | England | Canada | Bulgaria | Hungary | Germany | Estonia
Latvia | Russia | Denmark | Netherlands | Sweden | Africa | Latin American
---
All Rights Reserved All Content, page design, CGI Copyright © United Singers International