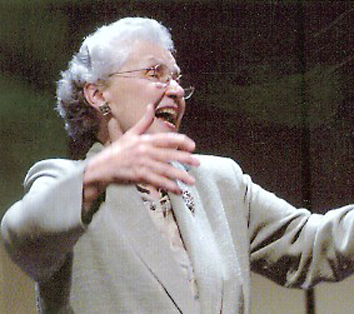 Alice Parker received professional training successively as a composer, conductor and teacher. Her work is founded on the interaction of these fields, and their extension into writing, theorizing and mentoring. It is founded upon the conviction that music is first and foremost sound, and that a paper diagram is a very imperfect medium for its transmission.

Vocal sound comes from human throats, and is infinitely variable. An inner vision of those sounds is necessary before one can evoke them through composing or performance. She knows that wonderfully musical sounds can come from amateur as well as professional singers, from children as well as adults, and from churches, schools and family groups.
Discography
Displaying 1-6 of 6 items.

Choral Music - Home
All Choral Groups | Choral Christmas | Composers | Choral Directors | Choral arrangements
Mixed Voice Groups | Mixed Voice CDs | Mixed Childrens Choirs | Mixed Childrens CDs | Mixed Voice Christmas CDs
Male Choral Groups | Male Choral CDs | Boyschoirs | Boyschoirs CDs | Male Choral Christmas CDs
Womens Choral Groups | Womens Choral CDs | Girls Choirs | Girls Choirs CDs | Female Choral Christmas CDs
Early Music Groups | Early Music CDs | Early Music Christmas CDs
Spirituals | Church Choirs | Madrigals | Choral DVDs | Complete choral list

Choral Development - Home | Choral Conducting | Techniques & Methods | Warm-Ups & Exercises | Rehearsal
Choral Choreography | Instructional DVDs | Children's Choir Development | Pedagogy | Singers Resources | Director Resourses

Choral music by Country - America | England | Canada | Bulgaria | Hungary | Germany | Estonia
Latvia | Russia | Denmark | Netherlands | Sweden | Africa | Latin American
---
All Rights Reserved All Content, page design, CGI Copyright © United Singers International