---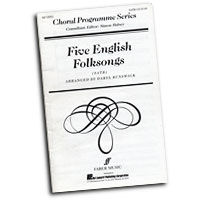 Daryl Runswick : Five English Folksongs
Review: From the Faber Choral Programme Series. Each volume presents a group or groups of compatible pieces designed to form the basis of a "block" within a choral concert program. Imaginative, versatile and a wonderful addition to SATB concert repertoire.
Songlist: Bobby Shaftoe, Dance To Your Daddy (Dance To Thy Daddy), The Frog And The Crow, Scarborough Fair, She Moved Through The Fair

---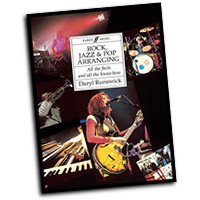 Daryl Runswick : Rock, Jazz & Pop Arranging
Review: A practical comprehensive guide to rock, jazz and pop arranged by one of Britain's most gifted and versatile musicians. Written in lively, accessible and entertaining style, this book contains everything the professional arranger or aspiring amateur needs to know, from setting out a lead sheet to scoring a full arrangement. The problems and pitfalls of writing for every group of instrument are discussed, from keyboards, drums and bass to brass strings, woodwind, percussion, guitar and a 'cappella' vocal writing. Packed with vital tips and hints, and presented in easy-to-use reference format, Rock, Jazz and Pop Arranging also includes two valuable appendices - on time saving shortcuts and chord symbols - and indispensable glossary.
Songlist: The Routine, The Lead Sheet, Vocals, The Rhythm Section, Drums, Bass, Keyboards, Guitar, Percussion, Electronics, Brass and Reeds, Strings, Orchestral, A Cappella, The Jazz Arrangement, The Full Score, Time Saving Sortcutsd

| Song Name | Arranger | Composer | Artist | Item Title | Format | | Trax |
| --- | --- | --- | --- | --- | --- | --- | --- |
| A Little Christmas Music | Daryl Runswick | | King's Singers | A Little Christmas | 1 CD | MORE DETAILS | |
| A Little Christmas Music | Daryl Runswick | | Greg Gilpin | Fire and Rain | Showtrax CD (SATB divisi) | MORE DETAILS | |
| Back in the U.S.S.R. | Daryl Runswick | Paul McCartney | Greg Gilpin | Fire and Rain | Showtrax CD (SATB divisi) | MORE DETAILS | |
| Blackbird | Daryl Runswick | Lennon / McCartney | King's Singers | Six | 1 CD | MORE DETAILS | |
| Blackbird | Daryl Runswick | Lennon / McCartney | Ensemble Amarcord | And So It Goes | 1 CD | MORE DETAILS | |
| Blackbird | Daryl Runswick | Paul McCartney | Greg Gilpin | Fire and Rain | Showtrax CD (SATB divisi) | MORE DETAILS | |
| Bobby Shaftoe | Daryl Runswick | | Daryl Runswick | Five English Folksongs | Songbook (SATB) | MORE DETAILS | |
| Chitarra D'Amor | Daryl Runswick | | King's Singers | Chanson D'Amour | 1 CD | MORE DETAILS | |
| Could it Be Magic | Daryl Runswick | Barry Manilow | King's Singers | New Day | 1 CD | MORE DETAILS | |
| Dance To Your Daddy (Dance To Thy Daddy) | Daryl Runswick | | Daryl Runswick | Five English Folksongs | Songbook (SATB) | MORE DETAILS | |
| Deconstructing Johann | Daryl Runswick | | Various Arrangers | Encores For Choirs 2 | Songbook | MORE DETAILS | |
| Du armes girl vom Chor | Daryl Runswick | | King's Singers | A Tribute To The Comedian Harmonists | 1 CD | MORE DETAILS | |
| Eins, Zwei, Drei, Vier | Daryl Runswick | | King's Singers | A Tribute To The Comedian Harmonists | 1 CD | MORE DETAILS | |
| Flight of the Bumblebee | Daryl Runswick | | King's Singers | A Tribute To The Comedian Harmonists | 1 CD | MORE DETAILS | |
| Gitarren Spielt Auf | Daryl Runswick | | King's Singers | A Tribute To The Comedian Harmonists | 1 CD | MORE DETAILS | |
| I Get Along Without You Very Well | Daryl Runswick | | King's Singers | Chanson D'Amour | 1 CD | MORE DETAILS | |
| I Know an Old Lady (There Was an Old Lady Who Swallowed a Fly), | Daryl Runswick | | King's Singers | Encores | Songbook | MORE DETAILS | |
| La Valse Mille Temps | Daryl Runswick | | King's Singers | Chanson D'Amour | 1 CD | MORE DETAILS | |
| Lazy Bones / Up a Lazy River | Daryl Runswick | Hoagy Carmichael, Johnny Mercer | King's Singers | Swimming Over London | 1 CD | MORE DETAILS | |
| Lazybones/ Lazy River | Daryl Runswick | | King's Singers | Swimming Over London | Songbook | MORE DETAILS | |
| Mein Kleiner Groner Kaktus | Daryl Runswick | | King's Singers | A Tribute To The Comedian Harmonists | 1 CD | MORE DETAILS | |
| Ouvet re zu/Overture from the Barber of Seville | Daryl Runswick | Gioacchino Rossini | King's Singers | A Tribute To The Comedian Harmonists | 1 CD | MORE DETAILS | |
| Scarborough Fair | Daryl Runswick | | Daryl Runswick | Five English Folksongs | Songbook (SATB) | MORE DETAILS | |
| She Moved Through the Fair | Daryl Runswick | | Various Arrangers | Traditional Irish Folksongs for Mixed Voices | Sheet Music (SATB divisi) | MORE DETAILS | |
| She Moved Through the Fair | Daryl Runswick | | Various Arrangers | Traditional Irish Folksongs for Mixed Voices | Sheet Music (SATB divisi) | MORE DETAILS | |
| She Moved Through The Fair | Daryl Runswick | | Daryl Runswick | Five English Folksongs | Songbook (SATB) | MORE DETAILS | |
| Stormy Weather | Daryl Runswick | Harold Arlen | King's Singers | A Tribute To The Comedian Harmonists | 1 CD | MORE DETAILS | |
| Tea for Two | Daryl Runswick | | King's Singers | A Tribute To The Comedian Harmonists | 1 CD | MORE DETAILS | |
| The Barber of Seville Overature | Daryl Runswick | | King's Singers | Encores | Songbook | MORE DETAILS | |
| The Barber of Seville Overture | Daryl Runswick | Gioachino Rossini | Various Arrangers | Vocalese Charts | Sheet Music (SATTBB) | MORE DETAILS | |
| The Barber of Seville Overture | Daryl Runswick | Gioacchino Rossini | Vocal Spectrum | Vocal Spectrum 2 | 1 CD | MORE DETAILS | |
| The Coventry Carol | Daryl Runswick | | King's Singers | A Little Christmas | 1 CD | MORE DETAILS | |
| The Frog And The Crow | Daryl Runswick | | Daryl Runswick | Five English Folksongs | Songbook (SATB) | MORE DETAILS | |
| The Gambler | Daryl Runswick | Don Schlitz | King's Singers | New Day | 1 CD | MORE DETAILS | |
| Wenn der Wind Weht Uber das Meer | Daryl Runswick | | King's Singers | A Tribute To The Comedian Harmonists | 1 CD | MORE DETAILS | |
| Wochenhund und Sonnenschein | Daryl Runswick | | King's Singers | A Tribute To The Comedian Harmonists | 1 CD | MORE DETAILS | |