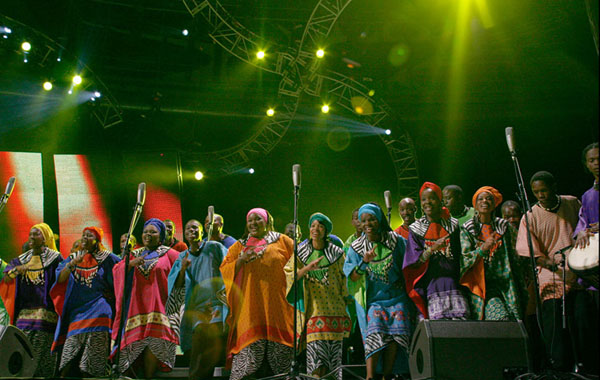 Soweto Gospel Choir was formed to celebrate the unique and inspirational power of African gospel music. The 26 strong choir, under the direction of David Mulovhedzi and beverly Brye draws on the top talent from the many churches in and around Soweto. The Scotsman Newspaper exclaimed in its review "Nothing can really prepare you for the riot of exuberance and depth of emotion." Soweto Gospel Choir draws from the churches and communities in and around South Africa's most famous township. It mixes earthy rhythms with rich harmonies to uplift the soul and express the energy of South Africa. African gospel originated as a blend of traditional music rooted in song and percussion combined with the influence of 19th century missionary music. From this a new and exciting style of music evolved - African Gospel, celebrating all facets of daily life.
Soweto Gospel Choir through their own charity Vukani raises awareness and funds to support AIDS Orphans. In Edinburgh last year audiences raised $15,000 through collections at the end of each show. This enabled food and essential products to be bought, giving hope and support to communities back in Soweto and surrounding townships. The UK Tour will raise funds for AIDS Orphans. One of the proudest moments in the choir's short history was taking part in Nelson Mandela's 46664 Concert in November 2003. Soweto Gospel Choir performed alongside Bono, the Eurythmics, Anastacia, Peter Gabriel and Queen to name a few. Mr Mandela had bought them all together to raise awareness of HIV/AIDS in South Africa.
Discography
Displaying 1-6 of 6 items.
Gospel Groups | Gospel CDs | Christian Groups | Contemporay Christian CDs
Spirituals CDs | Sacred Harp | Gospel DVDs | Contemporay Christian Christmas
Spirituals Arrangements | Spiritual Solo Songbooks | Gospel Arrangements | Christian Solo Songbooks | Christian Arrangements