---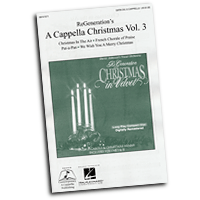 Derric Johnson : Christmas in Velvet Charts
Review: Quite probably the busiest performing a cappella group in the country The Voices of Liberty are also one of the longest running professional a cappella groups as they perform several sets each and every day at Disney World in Orlando, Florida. The group follows in an even longing-running tradition of Regeneration, as both are almost the same as they were both directed by, and perform almost exclusively the arrangements of, the great Derric Johnson. The sheet music we've all been waiting for, finally some of Derric Johnson's finest Christmas arrangements have been printed for us to sing! Included are 3 Volumes of 4 songs each from the namesake recordings.
Songlist: A Cappella Christmas Vol. 1, Away in a Manger, Gesu Bambino, Go Tell It On the Mountain, O Holy Night, A Cappella Christmas Vol. 2, Deck the Halls, Go Where I Send Thee, It Came Upon the Midnight Clear, Jingle Bells, A Cappella Christmas Vol. 3, Christmas In The Air, French Chorale of Praise, Pat-a-Pan, We Wish You A Merry Christmas

---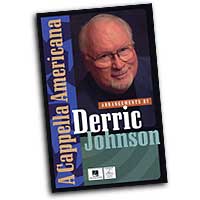 Derric Johnson : A Cappella Americana Songbook
Review: Widely considered to one of today's top a cappella arrangers Derric Johnson is also one of our favorites. This songbook is a collection of 14 classic American folk songs as for arranged and performed by Derric Johnson's Liberty Voices and which can be heard on their CDs "A Cappella Americana" and "A Slice of A Cappella". To study a Derric Johnson arrangement is to contemplate the canon of a master. Key to his style is his seamless blending of classical choral and jazz idioms that are fresh, yet easy to assimilate. We highly recommend this songbook for most all choirs, ensembles and groups should have a least one Derric Johnson arrangement in their repertoire.
Songlist: America, The Beautiful, Love's Old Sweet Song, My Country 'Tis Of Thee, Oh! Susanna, Shenandoah, Simple Gifts, Skip To My Lou, The Star Spangled Banner, Swing Low, Taps, The Red White And Blue, We The People, Yankee Doodle, You Are My Sunshine

| Song Name | Arranger | Composer | Artist | Item Title | Format | | Trax |
| --- | --- | --- | --- | --- | --- | --- | --- |
| A Cappella Christmas Vol. 1 | Derric Johnson | | Derric Johnson | Christmas in Velvet Charts | Sheet Music (SATB divisi) | MORE DETAILS | |
| A Cappella Christmas Vol. 2 | Derric Johnson | | Derric Johnson | Christmas in Velvet Charts | Sheet Music (SATB divisi) | MORE DETAILS | |
| A Cappella Christmas Vol. 3 | Derric Johnson | | Derric Johnson | Christmas in Velvet Charts | Sheet Music (SATB divisi) | MORE DETAILS | |
| A Dream Is A Wish | Derric Johnson | | Vox Concordia | Making Notes | 1 CD | MORE DETAILS | |
| A Mighty Fortress | Derric Johnson | | ReGeneration | Hymns In Velvet | 1 CD | MORE DETAILS | |
| A Starry Night | Derric Johnson | | ReGeneration | Christmas In Velvet Vol 1& 2 | 1 CD | MORE DETAILS | |
| All That Thrills My Soul | Derric Johnson | | Voices Of Lee | Encore | Songbook | MORE DETAILS | |
| All That Thrills My Soul | Derric Johnson | Thoro Hazrris | Voices Of Lee | Encore | 1 CD | MORE DETAILS | |
| America, The Beautiful | Derric Johnson | | Derric Johnson | A Cappella Americana Songbook | Songbook | MORE DETAILS | |
| America, The Beautiful | Derric Johnson | | Voices Of Lee | Themes of America | 1 CD | MORE DETAILS | |
| Armed Forces Medley | Derric Johnson | | Voices Of Lee | Themes of America | 1 CD | MORE DETAILS | |
| Away In A Manger | Derric Johnson | | ReGeneration | Christmas In Velvet Vol 1& 2 | 1 CD | MORE DETAILS | |
| Away in a Manger | Derric Johnson | | Derric Johnson | Christmas in Velvet Charts | Sheet Music (SATB divisi) | MORE DETAILS | |
| Battle Hymn | Derric Johnson | | Voices Of Lee | Heartfelt | 1 CD | MORE DETAILS | |
| Battle Hymn Of The Republic | Derric Johnson | | Voices of Liberty | A Cappella Americana | 1 CD | MORE DETAILS | |
| Black Is The Color of my True Love's Hair | Derric Johnson | | Voices of Liberty | A Cappella Americana | 1 CD | MORE DETAILS | |
| Calypso Noel | Derric Johnson | | ReGeneration | Christmas In Velvet Vol 1& 2 | 1 CD | MORE DETAILS | |
| Carol Of The Bells | Derric Johnson | | ReGeneration | Christmas In Velvet Vol 3 & 4 | 1 CD | MORE DETAILS | |
| Carol Of The Russian Children/ The Sleigh | Derric Johnson | | ReGeneration | Christmas In Velvet Vol 3 & 4 | 1 CD | MORE DETAILS | |
| Christmas | Derric Johnson | | ReGeneration | Christmas In Velvet Vol 1& 2 | 1 CD | MORE DETAILS | |
| Christmas In The Air | Derric Johnson | | ReGeneration | Christmas In Velvet Vol 3 & 4 | 1 CD | MORE DETAILS | |
| Christmas In The Air | Derric Johnson | | Derric Johnson | Christmas in Velvet Charts | Sheet Music (SATB divisi) | MORE DETAILS | |
| Christmas Time Is Here | Derric Johnson | | Voices of Liberty | Christmas in Velvet Vol V | 1 CD | MORE DETAILS | |
| Deck The Halls | Derric Johnson | | ReGeneration | Christmas In Velvet Vol 3 & 4 | 1 CD | MORE DETAILS | |
| Deck the Halls | Derric Johnson | | Derric Johnson | Christmas in Velvet Charts | Sheet Music (SATB divisi) | MORE DETAILS | |
| Do You Hear What I Hear? | Derric Johnson | | ReGeneration | Christmas In Velvet Vol 1& 2 | 1 CD | MORE DETAILS | |
| Down The Stairway of Stars | Derric Johnson | | Voices of Liberty | Christmas in Velvet Vol V | 1 CD | MORE DETAILS | |
| For God So Loved the World | Derric Johnson | | Four Voices | III | 1 CD | MORE DETAILS | |
| French Chorale Of Praise | Derric Johnson | | ReGeneration | Christmas In Velvet Vol 1& 2 | 1 CD | MORE DETAILS | |
| French Chorale of Praise | Derric Johnson | | Derric Johnson | Christmas in Velvet Charts | Sheet Music (SATB divisi) | MORE DETAILS | |
| Frosty the Snowman | Derric Johnson | | Voices of Liberty | Christmas in Velvet Vol V | 1 CD | MORE DETAILS | |
| Fum Fum Fum | Derric Johnson | | ReGeneration | Christmas In Velvet Vol 1& 2 | 1 CD | MORE DETAILS | |
| Gesu Bambino | Derric Johnson | | ReGeneration | Christmas In Velvet Vol 1& 2 | 1 CD | MORE DETAILS | |
| Gesu Bambino | Derric Johnson | | Derric Johnson | Christmas in Velvet Charts | Sheet Music (SATB divisi) | MORE DETAILS | |
| Give Me Jesus | Derric Johnson | | Voices Of Lee | In God's Hands | 1 CD | MORE DETAILS | |
| Give Me Your Tired | Derric Johnson | | A Cappella Singers | God Bless America | 1 CD | MORE DETAILS | |
| Give Me Your Tired, Your Poor | Derric Johnson | | Voices Of Lee | Themes of America | 1 CD | MORE DETAILS | |
| Go Down Moses | Derric Johnson | | ReGeneration | Hymns In Velvet | 1 CD | MORE DETAILS | |
| Go Tell It On The Mountain | Derric Johnson | | ReGeneration | Christmas In Velvet Vol 1& 2 | 1 CD | MORE DETAILS | |
| Go Tell It On the Mountain | Derric Johnson | | Derric Johnson | Christmas in Velvet Charts | Sheet Music (SATB divisi) | MORE DETAILS | |
| Go Where I Send Thee | Derric Johnson | | ReGeneration | Christmas In Velvet Vol 3 & 4 | 1 CD | MORE DETAILS | |
| Go Where I Send Thee | Derric Johnson | | Derric Johnson | Christmas in Velvet Charts | Sheet Music (SATB divisi) | MORE DETAILS | |
| God Bless America | Derric Johnson | | A Cappella Singers | God Bless America | 1 CD | MORE DETAILS | |
| God Bless The USA | Derric Johnson | | A Cappella Singers | God Bless America | 1 CD | MORE DETAILS | |
| God Bless the USA | Derric Johnson | | Voices Of Lee | Themes of America | 1 CD | MORE DETAILS | |
| God Rest Ye Merry Gentlemen | Derric Johnson | | ReGeneration | Christmas In Velvet Vol 1& 2 | 1 CD | MORE DETAILS | |
| Golden Dream | Derric Johnson | | Voices of Liberty | A Cappella Americana | 1 CD | MORE DETAILS | |
| Golden Stair | Derric Johnson | | Voices Of Lee | In God's Hands | 1 CD | MORE DETAILS | |
| Great Is Thy Faithfulness | Derric Johnson | | ReGeneration | Hymns In Velvet | 1 CD | MORE DETAILS | |
| Hallelujah Chorus | Derric Johnson | | Voices of Liberty | Christmas in Velvet Vol V | 1 CD | MORE DETAILS | |