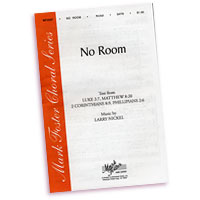 | | | |
| --- | --- | --- |
| Song Name | Composer | |
| No Room | | |
| I Am The Vine | | |
| When I Was A Child | | |
| Grace Be With You | | |
| They Shall Soar On Wings Like Eagles | | Preview |
| My Heart Is Steadfast, O God! | Kevin D. Thomson | Preview |
The haunting melody of "No Room" is harmonized in the Dorian mode and captures the irony of the Son of Man having no place to lay his head. No Room has a spiritual-like quality, yet the modal tonalities and occasional "jazz" chords give it a unique, almost ethereal feel. Seamless, chilling, and very moving. "I Am the Vine" is a beautiful worship or concert octavo. Tight harmonies and a flowing mixed meter give this expressive anthem a smooth ebb-and-flow, give-and- take feeling, very much like the spiritual relationship described in the text. "When I Was A Child" - Larry Nickel takes texts from both the Old and New Testaments and touches them with his creative magic to produce a lush tapestry of choral color and sound. This challenging octavo gives thoughtful directors ample opportunity for expressive performance moments. A multi-use choral, it is well suited for use as an introit, benediction or theme anthem. "Grace Be With You" - Joel Phillips takes the words of John 2:3 and touches it with a cappella beauty in this fresh new anthem. Suitable as a benediction or as a general use anthem, this choral uses a lush tonal vocabulary that brings to the text warmth and expressiveness that are very compelling. "They Shall Soar On Wings Like Eagles" - The celebrated words of Isaiah 40:28-31 take wing in this Tim Rumsey choral setting. There are many beautiful moments in this work and larger ensembles will revel in the thick divided harmonies. The expressive palette of choral colors and textures build the work to an impressive climax. This inspiring affirmation of God's strength and care is appropriate for programming any time of year. There is a joyful spirit to this a cappella choral from this new Mark Foster composer with a gentle "islands" feel, making it the perfect sorbet for your menu of music this year. Use the optional percussion for an authentic festive touch.
| | |
| --- | --- |
| Item code: 8090B | Sheet Music | $9.95 | | |
Gospel | A Cappella | SATB | 77 Pages | Softcover | 7 x 10
---
Gospel Arrangements - Mixed | Male | Female | 3 Part | 2 Part | Folio Series | Christmas | A Cappella