| | |
| --- | --- |
| Voicing: | SATB |
| Format: | Sheet Music |
| Accompaniment: | A Cappella |
| Arranger: | Russell Robinson |
| Music Category: | Choral |
| Country: | Italy |
| Dimensions: | X , 12 pages |
| Item Code: | 00-OCTM02001 |
The most famous of all 15th Century Italian madrigals is brought to life in this new Russell Robinson edition from our Developing SATB Repertoire series. Both English and Italian texts are included.
Sample audio
Our Price:$1.65 (minimum order 4 copies) |

| Order 20 Copies or more for 20% discount |

| Italy
---
The above folio is also available in this package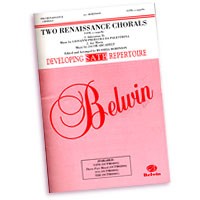 Russell Robinson : Renaissance Chorals for Mixed Voices
Some choral classics from the Renaissance period. First published in 1603, the quintessential John Dowland madrigal "Weep You No More Sad Fountains" has been newly edited by Russell Robinson. SATB and 3-part mixed choirs will enjoy the lush texture and rich harmonic structure, which exemplifies music of the Renaissance era, and appreciate the high quality of Dr. Robinson's tidy edition. Solid choral repertoire. Long a standard in the choral repertoire, Palestrina's "Adoramus Te" continues to be a favorite for contest or festival. Range is excellent for the SATB junior high choir. Sixteenth century Italian composer Adriano Banchieri must have had quite the sense of humor. The classic light-hearted concert work "Counterpoint Of The Animals" has been a staple in choral repertoire for decades. Now Russell Robinson brings us a new setting that will add a touch of classy fun to any serious concert. Glorious polyphony soars in this edition of Victoria's "O Magnum Mysterium". Long melismas and fugal entrances are part of the beauty of this great Renaissance work. For contest, festival or concert use.
Songlist: Two Renaissance Chorals (Adoramus Te / Ave Maria), O Magnum Mysterium, Fa Una Canzona, Counterpoint of the Animals, Weep You No More Sad Fountains, Adoramus Te

---
Related Items
Displaying 1-2 of 2 items.
---