| | |
| --- | --- |
| Voicing: | SATB |
| Format: | Sheet Music |
| Accompaniment: | A Cappella |
| Arranger: | Morten Lauridsen |
| Music Category: | Choral |
| Dimensions: | 10.50 X 6.75, 12 pages |
| Item Code: | 00228870 |
Ave Maria, one of Lauridsen's growing series of a cappella motets on well-known Latin texts, received its world premiere performance by the Los Angeles Master Chorale, conducted by Paul Salamunovich. The composer wrote, "This serene setting was specially composed as a 70th birthday gift to Maestro Salamunovich, who continues to enrich us all through his magnificent and enduring contributions to the art of choral music." The changing moods of the text's two verses are reflected in a pair of strong and evocative themes, and in polyphonic textures enriched with divisis to eight or more parts, and peppered with the composer's trademark "gentle" dissonances.
Our Price:$1.90 (minimum order 4 copies) |

| Order 20 Copies or more for 20% discount |

---
The above folio is also available in this package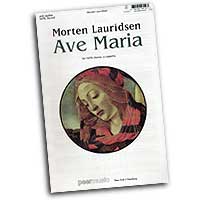 Morten Lauridsen : A Cappella Choral Compositions
This collection of Lauridensen's aural artisanship contains hits such as "O Nata Lux," a serene a cappella motet celebrating the Redeemer, "Ubi Caritas Et Amor," a motet composed "in celebration and gratitude for the glorious and enduring service to God," as well as a setting of "Ave Maria" specially composed as a seventieth birthday gift to Maestro Salamunovich.
Songlist: O Nata Lux, Ave Maria, Ubi Caritas et Amor, Soneto de la Noche

---
Related Items
Displaying 1-2 of 2 items.
---