Click to Enlarge

| | |
| --- | --- |
| Voicing: | 2-Part |
| Format: | Sheet Music |
| Accompaniment: | With Piano |
| Arranger: | Dan Davison |
| Composer: | Spanish Carol |
| Music Category: | World |
| Music series: | Walton Choral Series |
| Country: | Spain |
| Language: | Spanish |
| Dimensions: | 10.5 X .9, 12 pages |
| Item Code: | WW1351 |
Includes performance notes
A new arrangement of a traditional Spanish carol, suited to developing voices. Features accompanying guitar and violins for an authentic Spanish sound. In Spanish.
Our Price:$1.80 (minimum order 4 copies) |

| Order 20 Copies or more for 20% discount |

| Spain
---
The above folio is also available in this package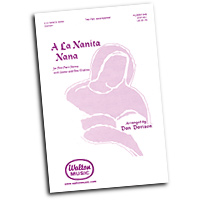 Various Arrangers : Navidad en Espanol
Share the rich culture of a Spanish Christmas with your students. These charming Spanish folk carols will bring joy to every performance. From a variety of cultures these creatively arranged songs will add a multi-cultural element to your concert and will be appreciated by the Spanish speakers in your audiences. Perform them in Spanish, English, or a combination of both.
Songlist: A La Nanita Nana, Three Spanish Carols (Collection), El Noi De La Mare (The Son of Mary), A la Puerta del Cielo, Spanish Allelu

---
Related Items
Displaying 1-1 of 1 items.
---