| | |
| --- | --- |
| Voicing: | TTBB |
| Format: | Sheet Music |
| Accompaniment: | A Cappella |
| Arranger: | Ben Allaway |
| Music Category: | World |
| Country: | South Africa |
| Item Code: | SBMP68 |
This fifth movement from "Bandari" is set in the style of a South African freedom song. Easy choral writing and a narrator soloist provide an uplifting experience. The words may be altered to suit the occasion, be it Christmas or a special celebration. The music builds to a dramatic climax. Wonderful way to close a program.
Our Price:$1.55 (minimum order 4 copies) |

| Order 20 Copies or more for 20% discount |

| South Africa
---
The above folio is also available in this package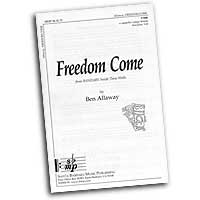 Various Arrangers : World Folk Songs for Male Voices Vol. 2
The TTBB version of 'Freedom Come' is the closing movement of 'Bandari: Inside These Walls,' a five moevement work encompassing a variety of African styles and combining Swahili and English text, and is written in the style of a South African freedom song. The piece begins a cappella; the conga drum is added after the first verse to create new energy and to delineate subtle rhythmic changes, particularly during the ending which alternates between 3/2 and 5/8. 'Back to Ethiopia' bears numerous attributes associated with the African-American spiritual, and might thus be effectively treated as a Jamaican equivalent. The text plaintively longs for a homeland; the 'verses' in the verse-and-refrain structure are meley repetitions of a single line of text; and the melody suggests very slow harmonic rhythm. The appeal of this tune lies in its ability to strike the ear as being both astonishingly simple and proundly moving. The moving folk song 'Kpanlongo' should be sung with a somewhat nasal and straight tone with strong accents on each syllable to clearly define the rhythm. This piece comes along with a very helpful pronunciation guide. The Pennsylvania Dutch folk song, 'Johnny Scmoker' is a fun song indeed. Through its seven verses, Johnny describs and accumulates all the instruments he can play. Simple choreography along with the accelerandos (to as fast as possible) give this piece its trademark - your choir and audience are sure to enjoy. The Jamaican folk song 'Hol' You Han'' is quite authentic and will be exciting for your choir to tackle, it even incorporates vocal/body percussion! A piano part is included for this piece.
Songlist: Freedom Come, Back to Ethiopia, Kpanlongo, Johnny Schmoker, Hol' You Han'

---
Related Items
Displaying 1-2 of 2 items.
---