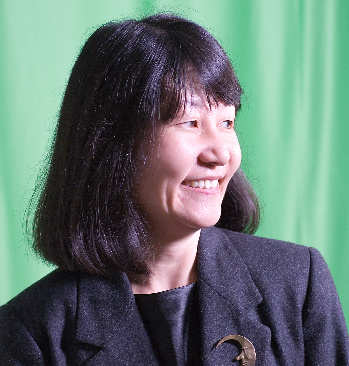 Yumiko Matsuoka was born in Tokyo, Japan, and grew up there as well as in London, UK. She started studying piano at an early age, and was quickly drawn to the magic of chords. Yumiko's passion for great harmony was developed further in the high school choir, band for musical "Godspell," encounter with the music of the Singers Unlimited as well as many other composers/arrangers in a wide range of genres. Yumiko came to the US in 1986 to study at the Berklee College of Music in Boston, MA. She founded a cappella ensemble Vox One in 1988 to realize her dream of writing for and singing in such a group. Vox One released five albums, won numerous awards, and established themselves as one of the pioneers in the world of a cappella music. Her arrangements are available through the University of Northern Colorado Jazz Press. Yumiko's arrangements are unique - she takes a song and reveals a layer of emotions that may not have been apparent in the original. Fans and performers of her music span the globe from Australia, Europe to the Americas and Japan. One of Yumiko's earlier works was used for a Toyota car commercial in Japan, and she has penned a few more for major corporation ads, sung by Vox One.

Ensembles that have commissioned Yumiko to write for them include m-pact from LA, the 21st Century Consort of Washington, D.C., Vancouver's Real Time, Indigo Blue of Tokyo, Japan, the Boston Jazz Voices, and collegiate/high school ensembles across the country. In 2008 Yumiko released an album of her arrangements and compositions written over the past 20 years. Included are a cappella versions of classics such as Where is Love, Eleanor Rigby, Both Sides Now, And So It Goes, as well as Scarborough Fair, Skye Boat Song and Black is the Colour - folksongs from the British Isles that have always been close to her heart. Yumiko's rendition of Blowin' in the Wind features solo vocal with a chamber ensemble, and Yumiko's husband Tom Young plays solo guitar on Georgia on My Mind. Yumiko is a professor in ear training at her alma mater Berklee, and keeps herself busy with workshops/coaching including the Western Wind's summer sessions at Smith College in Northampton, MA.
Displaying 1-4 of 4 items.
Displaying 1-18 of 18 items.
| Song Name | Arranger | Composer | Artist | Item Title | Format | | Trax |
| --- | --- | --- | --- | --- | --- | --- | --- |
| Air On The G String | Yumiko Matsuoka | | Yumiko Matsuoka | Collection Vol. 3 | Sheet Music (SATB) | MORE DETAILS | |
| Black Is the Color | Yumiko Matsuoka | | Yumiko Matsuoka | Collection | Sheet Music (SATBB) | MORE DETAILS | |
| Danny Boy | Yumiko Matsuoka | Frederic Weatherly | Yumiko Matsuoka | Collection Volume 2 | Sheet Music (SATBB) | MORE DETAILS | |
| Eleanor Rigby | Yumiko Matsuoka | John Lennon | Yumiko Matsuoka | Collection Volume 2 | Sheet Music (SATBB) | MORE DETAILS | |
| Loving You | Yumiko Matsuoka | | Yumiko Matsuoka | Collection Vol. 3 | Sheet Music (SATB) | MORE DETAILS | |
| My Grandfather's Clock | Yumiko Matsuoka | | Yumiko Matsuoka | Collection Vol. 3 | Sheet Music (SATTB) | MORE DETAILS | |
| My Old Kentucky Home, Good Night | Yumiko Matsuoka | | Yumiko Matsuoka | Collection | Sheet Music (SATBB) | MORE DETAILS | |
| Pure Imagination | Yumiko Matsuoka | Leslie Bricusse | Yumiko Matsuoka | Collection Volume 2 | Sheet Music (SATBB) | MORE DETAILS | |
| Scarborough Fair | Yumiko Matsuoka | | Yumiko Matsuoka | Collection | Sheet Music (SSATBB) | MORE DETAILS | |
| Simple Gifts | Yumiko Matsuoka | Elder Joseph Brackett | Yumiko Matsuoka | Collection | Sheet Music (SATBB) | MORE DETAILS | |
| Skye Boat Song | Yumiko Matsuoka | | Various Arrangers | Vocal Jazz for Womens Voices | Sheet Music (SSAA) | MORE DETAILS | |
| Some Children See Him | Yumiko Matsuoka | Alfred Burt | Various Arrangers | Vocal Jazz Christmas 4 | Sheet Music (SATB) | MORE DETAILS | |
| Summer Breeze | Yumiko Matsuoka | | Yumiko Matsuoka | Collection Vol. 3 | Sheet Music (SATB) | MORE DETAILS | |
| The Lord's Prayer | Yumiko Matsuoka | | Yumiko Matsuoka | Collection | Sheet Music (SATB) | MORE DETAILS | |
| The Star-Spangled Banner | Yumiko Matsuoka | Francis Scott Key | Yumiko Matsuoka | Collection Volume 2 | Sheet Music (SATBB) | MORE DETAILS | |
| The Water Is Wide | Yumiko Matsuoka | Traditional | Yumiko Matsuoka | Collection | Sheet Music (SATBB) | MORE DETAILS | |
| Where Is Love? | Yumiko Matsuoka | Lionel Bart | Yumiko Matsuoka | Collection Volume 2 | Sheet Music (SATBB) | MORE DETAILS | |
| You Don't Know What Love Is | Yumiko Matsuoka | | Yumiko Matsuoka | Collection Vol. 3 | Sheet Music (SATBB) | MORE DETAILS | |