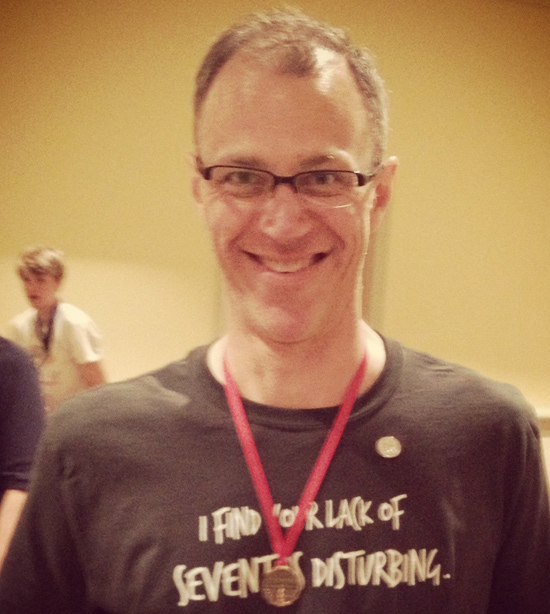 Clay Hine has been an avid barbershop musician and arranger since about 6 months before he was born. He is a native Chicagoan, but has lived in the Atlanta Metro area since graduating from the University of Illinois (Urbana-Champaign) in 1986 with a degree in electrical engineering.

Clay joined the Barbershop Harmony Society (BHS) at the age of 14, singing under the direction of his dad in the Detroit #1 Chorus. After he moved back to Chicago, he sang with The West Towns Chorus (Lombard, IL) winning 2 silver medals (1985, 1986). He developed an interest in arranging when he was a teenager, and had the chance to arrange for his 1st quartet, Debut, and dad's quartet, The Four Henchmen. After college and a move to Atlanta, he began arranging for a newly chartered chorus in Marietta, GA (The Big Chicken Chorus) and his first post-college quartet Atlanta Forum (1987 Dixie District Champs).

His early arrangements were for the purpose of helping Atlanta-area and Dixie District quartets and choruses, but he soon had requests nationwide from internationally competing choruses and quartets. Since then, Clay has arranged music for many male and female quartets and choruses, including Keepsake, PLATINUM, 4 Voices, MaxQ, Main Street, OC Times, Nightlife, Stateline Grocery, Riptide, The Allies, The Masters of Harmony, The Alexandria Harmonizers, Voices in Harmony, The Heralds of Harmony, Class Ring, Windsor, Martini, the Buzz, Showtime, Song of Atlanta Chorus, Lion's Gate Chorus, Toast of Tampa Show Chorus, Harborlites Chorus, The Rich-Tone Chorus...and many more. Several of the highest scoring performances in the history of BHS contests feature Clay's arrangements (PLATINUM/Cuddle Up a Little Closer, MaxQ/Here's to the Losers, Main Street/Pop Songs Medley).

Clay directed the Big Chicken Chorus from 1989 through 2004, finishing as high as 3rd place internationally, and has directed the Atlanta Vocal Project since 2005. He sings baritone in 1999 International Quartet Champion FRED, sang baritone with A Mighty Wind (finishing as high as 3rd in international competition), and currently sings with Category 4 (2018 7th place at international competition). Clay has arranged most of the repertoire for all of these groups.

Although Clay had many years of piano as a child, he is a self-taught arranger, having little formal music education at the university level. He has arranged over 400 songs in various styles, and is currently a certified MUSIC judge for the Barbershop Harmony Society. Clay also coaches quartets and choruses throughout the US and around the world.

Clay is married to the very talented Becki, who is director of Song of Atlanta Chorus (2018 6th place international finalists), a certified Showmanship judge and current category specialist in Sweet Adelines International, a sought-after coach, and very patient.