Displaying 1-3 of 3 items.
---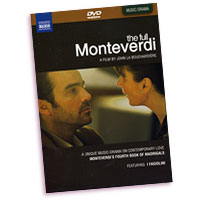 Review: One of the most moving collections of Renaissance vocal music brought to life as a contemporary drama specifically for the screen. Claudio Monteverdi's Fourth book of Madrigals (1603) explores differing emotional states of abandoned lovers through the most dramatic and amazingly modern music for vocal ensemble. The Full Monteverdi follows the simultaneous break-up of six couples, from shocking revelation, vengeful anger and erotic longing for reconciliation, as an ensemble film. Vulnerable and disarming, it draws viewers into its emotional journey and intensely moving portrait of contemporary love. Seated in a restaurant, the six couples begin to quarrel over dinner. Onlookers are drawn to the interactions of their fellow diners, yet also wary of their invasive gaze, as the relationships fragment before their eyes. The couples fight over moments in the past, then reflect on better times and unrealised dreams. Ultimately, the six (singing) lovers are left to contemplate life alone. The film takes place over an evening and following morning, with several scenes shot as flashback, giving viewers the back-story to the lovers' downfall. The film is sung throughout.
Songlist: Ah! Dolente Partita, Cor mio, Mentre vi Miro, Cor mio, non mori? E mori!, Sfogava con le stelle, Volgea L' Anima Mia Soabement, Anima Mia Perdona , Luci serene e chiare , La piaga c'ho nel core, Voi Pur Da Me Partite , A Un Giro Sol, Ohime, se tanto amate, lo mi son giovinetta, Quell' Augellin, che canta, Non Piu Guerra, Pietate, Si Ch'io vorrei morire, Anima Dolorosa che vivendo, Anima del cor mio, Longe da te, cor mio, Piagn'e sospira

---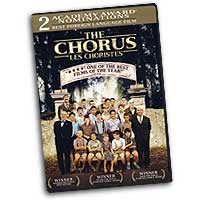 Les Choristes : The Chorus / Les Choristes DVD
Review: An inspirational story in the rich tradition of Music Of The Heart and Mr. Holland's Opus, The Chorus has moved critics everywhere to declare it one of the year's very best films! When he takes a job teaching music at a school for troubled boys, Clement Mathieu is unprepared for its harsh discipline and depressing atmosphere. But with passion and unconventional teaching methods, he's able to spark his students' interest in music and bring them a newfound joy! It also puts him at odds with the school's overbearing headmaster, however, locking Mathieu in a battle between politics and the determination to change his pupils' lives!
Songlist:

---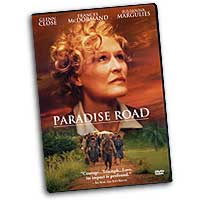 Review: In a time of war, and extraordinary group of women turned a song of hope into a symphony of triumph. From the director of "Driving Miss Daisy" come a true story of courage, triumph, friendship and strength starring Glenn Close ("Dangerous Liaisons"), Oscar winner Frances McDormand (1996 Best Actress, "Fargo") and Emmy Award winner Juliana Marguiles (TV's "ER"). This compelling drama reveals the heroic actions of a group of women help prisoner by the Japanese during World War II. These diverse women from different countries, speaking different languages, unite to form a vocal orchestra - a life affirming symphony of human voices. The voices behind the on-screen choir that appear on this remarkable album belong to the Dutch women's choir Malle Babbe, who perform the actual arrangements of the original choir's arrangements from sheet music salvaged by the women prisoners upon their liberation. Hear for yourself the inspiring music behind this story of the triumph over despair and the preservation of hope.
Songlist: