---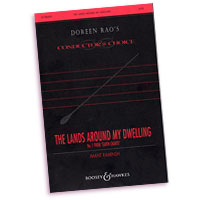 Imant Raminsh : Earth Chants - Native American Songs
Review: This set of seven movements uses a broad palette of choral orchestration. The first piece, "The Lands Around My Dwelling" (Inuit), features free and changing meters and frequent divisi. Movement two, "As My Eyes Search" (Chippewa), is energized by close canonic entries. Movement three "War Song" (Sioux), is a vigorous piece with canonic imitation and some tone clustering, starting with a single voice parts and expanding to full SSAATTBB texture. Movement four, "Love Song" (Nahuatl), in alternating 8/8 and 9/8 is a lyrical, rhapsodic setting of a ravishing text. Movement five, "Pleasant It Looked" (Winnebago), features a soprano soloist (imitating a boy soprano) and is a quiet meditation. Movement six, "Upward Going" (Tewa), is again move vigorous, and Movement seven "Two Dream Songs" (Wintu), concludes the work in a quiet benediction.
Songlist: War Song , Upward Going , Two Dream Songs, Pleasant It Looked , Love Song , The Lands Around My Dwelling , As My Eyes Search

---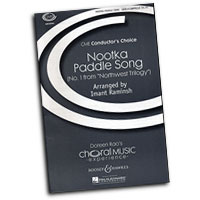 Imant Raminsh : Northwest Trilogy
Review: Born in Latvia, Imant Raminsh came to Canada in 1948 and has become one of Canada's most highly regarded choral composer and arrangers. "Northwest Trilogy" is a wonderful set of songs from British Columbia. "Nootka Paddle Song" is a native welcoming song that features free incantation along with evocative choral writing. The piece contains some modern effects such as whispering and tone clusters, and is characterized by a feeling of building excitement and jubilation. "Bye, Bye Baby" - Based on a traditional Russian lullaby and would have been sung by members of the Doukhobar communities. A gentle, tonal work with rich harmonic background with varied textures and voicings bring this song of warmth and simplicity to life. "Sunset" - Folksy, poignant, and slighty tongue-in-cheek, this lament portrays the thoughts of a dying British Columbian cowboy. Replete with imitations of wailing coyotes, muffled death march drums, and other instances of word painting, this is a fun piece to perform.
Songlist: Bye, Bye Baby, Sunset, Nootka Paddle Song

---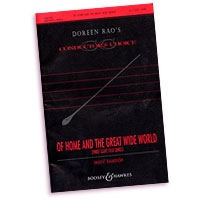 Imant Raminsh : Slavic Folks Songs
Review: The pieces of the first set are arrangements of folk-songs from the Russian and Doukhobor traditions and were prepared for the Vancouver Chamber Choir's 1989 tour of the former Soviet Union. Of the three, "All Throughout the Great Wide World" and "Along the Peterskaya" are well-known Russian tunes, highly rhythmic and vigorous; and employ quasi-instrumental accompaniment effects, whistling, and optional sleigh-bells and slap-stick (whip). The second (The Black Raven) comes from the Doukhobor community of British Columbia, Canada, and is a poignant lament of great lyricism and power. It uses a contralto soloist to introduce and carry melody through a piece.
Songlist: All Throughout the Great Wide World, America's Like a Sister, Canada's Like a Mother, In a Pine Forest, The Black Raven, Along the Peterskaya

| Song Name | Arranger | Composer | Artist | Item Title | Format | | Trax |
| --- | --- | --- | --- | --- | --- | --- | --- |
| Agnus Dei (from Missa Brevis) | | Imant Raminsh | Minnesota Boychoir | 35th Anniversary | 1 CD | MORE DETAILS | |
| Ave Verum Corpus | | Imant Raminsh | Gaudeamus | Sacred Feast | SACD | MORE DETAILS | |
| Ave Verum Corpus | | Imant Raminsh | University of Utah Singers | The Cloths of Heaven | 1 CD | MORE DETAILS | |
| Ave, Verum Corpus: Ave verum corpus | | Imant Raminsh | Musica Intima | Into Light | 1 CD | MORE DETAILS | |
| Cantante Comino | | Imant Raminsh | Toronto Children's Chorus | My Heart Soars | 1 CD | MORE DETAILS | |
| Criome Mi Madre from "Four Spanish Lullabies" | | Imant Raminsh | Young People's Chorus of New York City | When I Sing | 1 CD | MORE DETAILS | |
| In the Beginning | | Imant Raminsh | Manitou Singers of St. Olaf College | Repertoire For Women's Voices Vol 2 | 1 CD | MORE DETAILS | |
| In the Beginning | | Imant Raminsh | Glen Ellyn Children's Chorus | Flights of Song | 1 CD | MORE DETAILS | |
| In The Beginning | | Imant Raminsh | St. Louis Children's Choir | Spring Concerts 2005 | 1 CD | MORE DETAILS | |
| In the Beginning | | Imant Raminsh | South Bay Children's Choir | In The Beginning | 1 CD | MORE DETAILS | |
| Kyrie from Missa Brevis | | Imant Raminsh | New Orleans Children's Chorus | Looking Back and Looking Up | 2 CDs | MORE DETAILS | |
| Kyrie from Missa Brevis in C minor | | Imant Raminsh | Lawrence Children's Choir | Here's To Song | 1 CD | MORE DETAILS | |
| Kyrie from Missa Brevis in C Minor | | Imant Raminsh | Tucson Girl's Choir | Gift of the Holidays | 1 CD | MORE DETAILS | |
| Let Wildness Sing | | Imant Raminsh | Children's Chorus of Washington | 2002 - 2003 Season | 1 CD | MORE DETAILS | |
| Missa Brevis in c minor | | Imant Raminsh | Manitou Singers of St. Olaf College | Repertoire For Women's Voices Vol 3 | 1 CD | MORE DETAILS | |
| My Heart's Friend | | Imant Raminsh | Glen Ellyn Children's Chorus | At Home - 40th Anniversary | 1 CD | MORE DETAILS | |
| My Heart's Friend | | Imant Raminsh | New Orleans Children's Chorus | Looking Back and Looking Up | 2 CDs | MORE DETAILS | |
| Psalm 23 | | Imant Raminsh | Calgary Girls Choir | Good Cheer | 1 CD | MORE DETAILS | |
| Rise Up, My Love, My Fair One | | Imant Raminsh | Manitou Singers of St. Olaf College | Repertoire For Women's Voices Vol 5 | 1 CD | MORE DETAILS | |
| Song of the Stars | | Imant Raminsh | Portland Symphonic Girlchoir | Stars That Sing | 1 CD | MORE DETAILS | |
| Song of the Stars | | Imant Raminsh | New Orleans Children's Chorus | Looking Back and Looking Up | 2 CDs | MORE DETAILS | |
| Songs of the Lights | | Imant Raminsh | Toronto Children's Chorus | Song of the Lights | 1 CD | MORE DETAILS | |
| The Path That Leads to Nowhere | | Imant Raminsh | St. Louis Children's Choir | 30th Anniversary | 2 CDs | MORE DETAILS | |
| Ubi Caritas | | Imant Raminsh | National Lutheran Choir | We Sing With Joy | 2 CDs | MORE DETAILS | |
| Vestigia | | Imant Raminsh | Manitou Singers of St. Olaf College | Repertoire For Women's Voices Vol 1 | 1 CD | MORE DETAILS | |
| Vestigia | | Imant Raminsh | Calgary Girls Choir | Good Cheer | 1 CD | MORE DETAILS | |
| We are the Stars That Sing | | Imant Raminsh | Glen Ellyn Children's Chorus | At Home - 40th Anniversary | 1 CD | MORE DETAILS | |