Group 7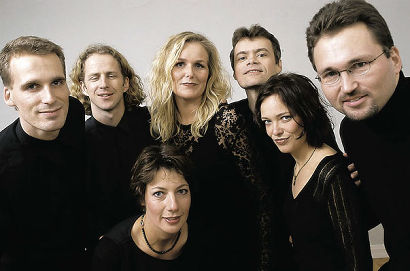 Group 7 is an ensemble, a show, a concept, a sound, a mood. Seven singers and a sound engineer work together on giving the listener a very special experience. Group 7 sing modern a cappella, and the group members frequently utilize their voices to produce sounds that are unlike anything one would normally associate with the human voice: they are capable of sounding like drums, bass, guitar, brass - whatever the context calls for. Group 7 sing new songs - composed and arranged by the group members themselves - as well as well-known a cappella classics, all of them featuring surprising and exciting arrangements. Their concerts are characterized by changes in mood and sound, and their repertoire mixes rhythmic, danceable pop tunes with warm-sounding jazz ballads. The style of music ranges from straight harmony pieces with an intricate blend of voices to exciting solo performances with the rest of the group members providing a swinging backing. Group 7 was formed in in 1995, and their concert debut was a live performance on national television that year. Since then, they have performed at cultural centres and jazz clubs, at conferences and music festivals as well as in cafes, churches and schools.
Discography
A Cappella
A Matter Of Time
For One Kiss
Song For Toots
The Moment - Part I
The Nu Funktion
Keep It in Mind
Mind Trip
Angel Of My Heart
The Moment - Part II
A Life Challenge for Mr. Blofeld
The simple title and group name gets right to the point. Seven singers, singing original songs. Group 7 are mostly alums of the University of Aarhus in Denmark, with ample musical credentials between them. With the writing contributions of many, their sound is best described as splitting the difference between modern pop and jazz. Songs such as the swinging, kinetic "Nu Funcktion" suggest the vocal horn treatments of the Manhattan Transfer, while the smooth, hypnotic "Keep It In Mind" shares some of the tonal integrity of the Real Group, albeit with a more soulful propensity. The female soloist on "Angel of My Heart," Anne Louise Krogh, shows pop diva potential with her compelling delivery (and does it again on "A Matter of Time," the CD's catchiest pop ballad). The CD's closing track, "A Life Challenge for Mr. Blofeld," is actually a medley of James Bond themes, some of which evokes the Swingle Singers vocal orchestrations.

---

VOCAL JAZZ - Home | Vocal Jazz Groups | Recordings | Arrangements | DVDs | Christmas | Vocal Jazz Instructional

VINTAGE VOCAL JAZZ - Vintage Groups | Vintage CDs | Black Vocal Groups | Black Vocal Groups CDs | Christmas | Womens Vintage
---
Vocal Jazz | Doo Wop | Contemporary | Barbershop | Christian | Collegiate | World | Choral
Patriotic | The Groups | The Directors | The Vocal Coaches | Choral Development
Arrangements | Vintage Harmony | Christmas | DVDs | Instructional for Singers

The Harmony Sweepstakes A Cappella Festival


RSS - New Releases
Site Map | A Cappella News | Regional Newsgroups | RSS a cappella feeds
To find a specific song on any recording (or to find recordings by group name or CD title),
pick the search method and type the item you are searching for here:


All Rights Reserved All Content, page design, CGI Copyright © United Singers International