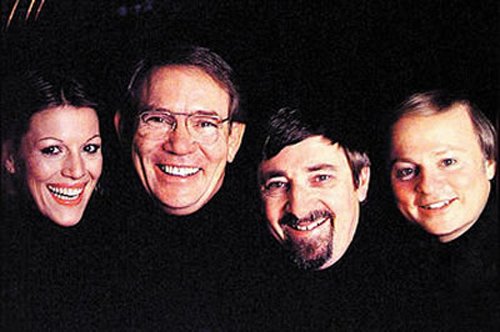 The Singers Unlimited were born out of a strange combination of stark commercialism and rare innovation that somehow yielded some pretty high art. Gene Puerling was the vocal arranger as well as a singer with The Hi-Lo's, and later moved into jingle singing and arranging in Chicago. Don Shelton had been a Hi-Lo as well, and joined Puerling in the commercial field. Along the way they joined with Len Dresslar (the voice of the Jolly Green Giant) and vocalist/voiceover artist Bonnie Herman. This led to the formation in 1967 of a ready-to-go jingle-singing quartet. Then Puerling began experimenting with the new technology of multi-track recording, and the Singers expanded their four voices into eight, twelve, sixteen, and later into practically a hundred or more! The Singers produced around 15 LP's in the period between 1971 and 1981.
Discography
Displaying 1-3 of 3 items.
---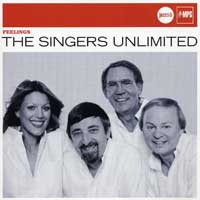 Singers Unlimited : Feelings
Review: Happiness is listing to a Gene Puerling arrangement as sung by these maestros. Sit back and soak it in. Enough said!
Songlist:

---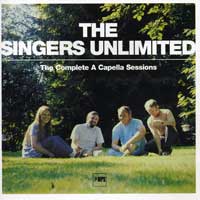 Listen to
Autumn In New York
Singers Unlimited : The Complete A Cappella Sessions
Review: It doesn't get any better than this! After years of being available only on the box set here is a 2 CD release of all 33 a cappella recordings (not including Christmas) of quite probably the best vocal jazz group ever. The arrangements of Gene Puerling are simply exquisite and his ability to transform a song to completely new heights is astounding. We carry many thousands of a cappella CDs and this release is, in our opinion, the most essential CD for the collection of any serious fan of a cappella music!
Songlist:

---
Singers Unlimited : Christmas
Review: This 1972 recording continues to set musical precedent almost thirty years later. The combined voices of Don Shelton, Len Dresslar, Bonnie Herman and Gene Puerling are a sound so distinctive and recognizable that they have yet to be improved. From the six Alfred Burt carols to "Deck The Halls," "Good King Wenceslas" and Oh, Come All Ye Faithful," each song is beautifully constructed, a marriage of the traditional with the inimitable personality of Gene Puerling's arrangements. The result is accessible enough for the mainstream listener, and will also satisfy those hungry for heartier fare. Bonnie Herman frequently assumes the lead vocal duties, as on "Carol For Russian Children," her warm tone a sunbeam on a wintry day - listen to the pedal note (uncharacteristically in the treble part) she holds during the coda - amazing color and control. One of our most recommended selections.
Songlist:

Vocal Jazz Groups | Vocal Jazz DVDs | Vocal Jazz Christmas | Vocal Jazz CDs
Vintage Jazz Groups | Vintage Jazz Male CDs | Vintage Female CDS | Vintage Mixed Voice CDs | Vintage Jazz Christmas
Female Jazz Songbooks | Male Jazz Songbooks | Vocal Jazz Groups Arrangements | Vocal Jazz Instructional