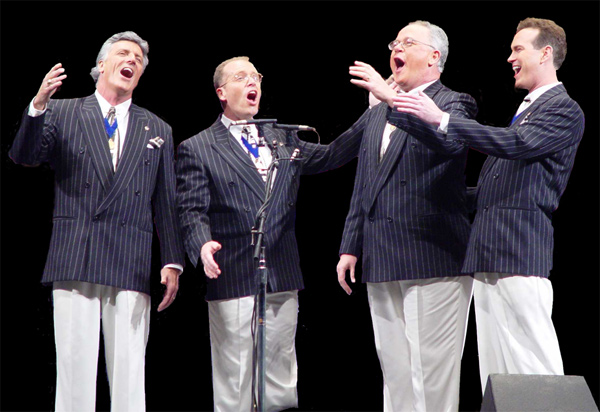 Revival hails from San Diego, California and was formed in the summer of 1995. It didn't take long before they began making their mark at District and International quartet competitions. They earn the title of 1997 Far Western District Champions and went on to realize their ultimate dreams on the 4th of July in Atlanta, Georgia, when they were crowned 1998 SPEBSQSA International Quartet Champions! Since then they have performed in more than twenty states and three countries, had their voices and faces displayed on ABC, NBC, CBS CNN and BBC television and radio stations; shared the stage the world renowned "Swingle Singers" in London, England; made a CD which was nominated for two CARA Awards - "best barbershop song" and "best album"; performed "LIVE" on the internet; and are featured in the national PBS Special, "Can't Stop Singing". Their upcoming schedule has them performing all over the USA and tours in Ireland, Scotland and England.
Group members: Royce Ferguson-Tenor; Mike Spencer-Lead; Mike Lawton-Baritone; and Bill Myers-Bass
Discography
Displaying 1-1 of 1 items.
---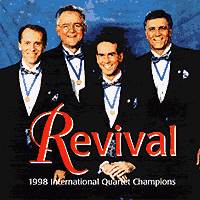 Revival : Revival
Review: The 1998 Society winners hail from Southern California, proving that beaches, bikinis and barbershop do go together, and can indeed flourish! What immediately catches the ear is how smooth, unified and cohesive their sound. Old friends David Briner, Gene Cokeroft, Ed Waesche and other equally auspicious cohorts are on hand with the arranging talent. The stately "Tennessee Waltz" is as elegant as it's refined antebellum origins would indictate; "Sentimental Gentlemen from Georgia" revs up the tempo, downshifting in and out of the swiftly inverting chords like a race car on a curvaceous road, crossing the finish line on a blazing barbershop chord!
Songlist:

Female Barbershop Groups | Female Barbershop CDs | Male Barbershop Groups | Male Chorus CDs | Male Quartet CDs | Live Events
Mixed Voice Groups | Barbershop DVDs | Christmas | Barbershop Instructional | Barbershop Parts CDs | Barbershop Arrangements | New