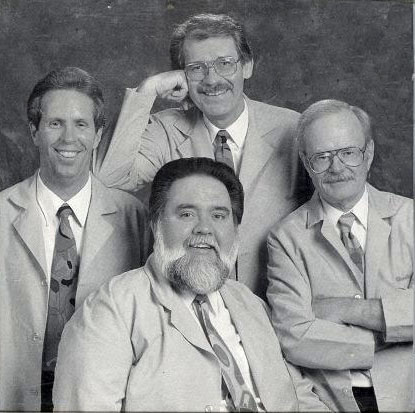 If you like to laugh, this is your group. Chordiac Arrest got the judges laughing so hard they let the quartet slip into the top ten in their first International contest. It was five years before the judges stopped laughing long enough to realize what they had done. By that time, Chordiac had made the Top Ten three more times and were wearing two International medals.
"Live and Well" contains a full half-hour show, complete with between-songs gags and patter, plus seven other goodies. "Second Opinion" has 14 more tunes from contest and show stage. (No, they don't do anything straight.) The famous Chordiac Arrest guarantee: If you don't laugh harder every time you hear it, we'll cheerfully consider a full refund.
Discography
Displaying 1-3 of 3 items.
---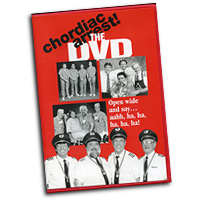 Chordiac Arrest : The DVD
Review: Those maestros of musical malpractice are at it again! With nonstop bravura this barbershop foursome (who have medaled at International Competitions twice) impersonate pilots, plumbers, and of course, physicians, with the attendant pantomime and props. Songs such as "We Do Make A Barrel Of Money," " Ben Casey, Won't You Please Come Home" and "In My Neat Little Hospital Gown" are send-ups of familiar tunes. Relentless humor - some ribald - and even a touch of burlesque can-can has the audience in "stitches"! Dedicated to bass George Peters, whose recent throat surgery sadly brought his performing career to a close, this video is your prescription for fun!
Songlist:

---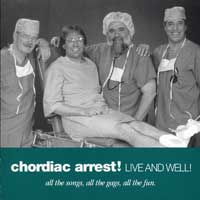 Chordiac Arrest : Live and Well!
Review: In January of l987, just for the fun of it, Dick Johnson and Lymm Hauldren decided to start a new group just to sing in the District Prelims. Instead of the one night stand they expected, they qualified for the International, made both cuts, placed ninth and even got a standing ovation! This live album is such great schtick and the gags so funny that the quality of singing is too easily taken for granted. It is also true it's great to share the laughter with a most appreciative audience. Typical of the gags are "Nothin' Could Be Finah'"(...than a little old angina in the morning...). It's amazing how many of their original jokes you will have heard in the world of medicine without ever knowing from whence they came.
Songlist:

---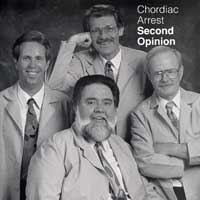 Chordiac Arrest : Second Opinion
Review: After a most successful ten years of performance and competition appearances, Chordiac Arrest decided that it was time for an anniversary album. During their first ten years they finished four times in the International Finals top ten, twice at number five. Their targets of humorous opportunity have widened to include airline travel, terrible food ("That's The Worst Jello I've Had Since Last July"), morticians, plumbers, transvestites, and music ("Lady of Spain I Abhor You") in addition the medical/doctor gags for which they are renown. Several of the tunes were recorded directly from the International Contest stage when the audience isn't merely enthusiastic, they go nuts!
Songlist:

Female Barbershop Groups | Female Barbershop CDs | Male Barbershop Groups | Male Chorus CDs | Male Quartet CDs | Live Events
Mixed Voice Groups | Barbershop DVDs | Christmas | Barbershop Instructional | Barbershop Parts CDs | Barbershop Arrangements | New