Dr Kirby Shaw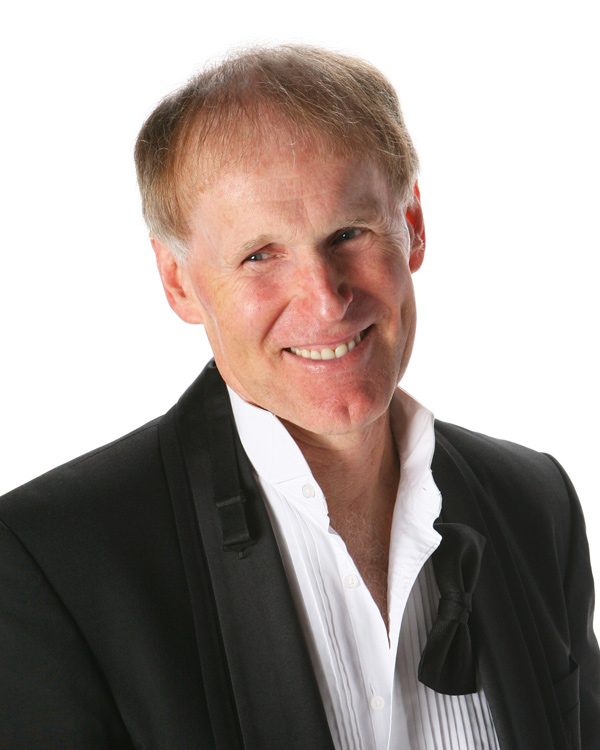 Kirby Shaw has made a major impact in vocal music education and has shared his musical expertise in 44 states, Canada, Australia, the Bahamas, Sweden, and the Netherlands. A scholar, Dr. Shaw has a BA degree in Music Education and an MA degree in Choral Composition from San Jose State University an DMA degree in Choral Conducting from the University of Washington. A teacher, Shaw taught in the Mt. Shasta public school system before joining the faculty at College of the Siskiyous in California where he founded and directed the innovative and highly acclaimed COS Vocal Jazz Ensemble. He also directed similar groups at Colorado State University and The University of Missouri-Kansas City. Dr. Shaw's teaching is infused with a sense of humor and breadth of knowledge that is transmitted in an exciting and highly contagious manner.

A producer, Dr. Shaw has overseen the creation of hundreds of educational choral recordings for the Hal Leonard Publishing Corporation and Jenson Publications. A performer, Kirby has scatted one-on-one with such notables as Bobby McFerrin, Al Jarreau, Jon Hendricks, and Mark Murphy. He has two solo singing CD's to his credit including an album with legendary vocal jazz guru Phil Mattson entitled "It's About Time," but his greatest singing joy comes from singing with Just 4 Kicks, a zany four man a cappella vocal jazz group whose goal is to perform at major jazz festivals worldwide.

A Composer / Arranger, with over 1,000 choral arrangements/compositions in print, Dr. Shaw's music has been sung all around the world and has sold millions of copies. This prolific output has resulted in numerous ASCAP awards. Kirby, his wife, Markita and their trusty pound-puppy, Solomon, reside in Southern Oregon's Rogue Valley.
Discography
I'm Walkin'
Everything But You
Alice In Wonderland
Black Orpheus
On Green Dolphin
Her Bright Smile
Poppity-Pop
All Blues|
Superstition
Every Time We Say Goodbye
Blizzard Of Lies
Take the 'A' Train
A Quiet Place
The four players in Just 4 Kicks are only four of the most respected (and frequently employed) arrangers and educators in the music industry. Their talent is only surpassed by their prodigious accomplishments, the results of which are ours to appreciate. Obviously influenced by the brilliant vocal jazz groups of the '50's and '60's, most notably the Four Freshmen and Lambert, Hendricks and Ross, "All In Good Time" is adventurous and exuberant. Billy Strayhorn's comically ironic "Everything But You" is one of the great swing tunes in the lexicon, and Just 4 Kicks stands in for an entire jazz combo, tossing off brass solos and a drum breakdown. The arrangement of "Alice In Wonderland" frequently voices the harmony, including the enticing ninth chords, by implying the root, rather than stating it overtly. "I'm Walkin'," popularized by "Fats" Domino and arranged here by Kirby Shaw, retains the boogie-woogie party mood of the original and kicks it up a notch - now that's impressive. Many of the songs feature furious scatting, all done live. Don Shelton of the Hi-Lo's guests on "Green Dolphin Street," and the Bobs' Joe Finetti stops by to supply vocal percussion on Stevie Wonder's "Superstition."
Listen to "A Quiet Place" and "Take the 'A' Train"
---
Tone-Whole
Never Make Your Move Too Soon
Oo-Shoo-Be-Doo-Be
Wonderlicks
A Night In Tunisia
I Get the Neck of the Chicken
Failure to Swing
The Rose
What's A Guy Supposed To Do?
Donald, Where Are Your Trousers?
Indiana
Deep River
Put Randy Crenshaw, Kirby Shaw, Kirk Marcy and Vijay Singh in a recording studio, add guest Joe "Beat Box" Finetti on oh-so-funky vocal percussion, and you've got the kind of down-and-dirty jazz recording that bobbed Grandma's hair! This is bluesy, scat-singing, wide-open, fun jazz that does nothing but add to our Summit-gained admiration for this quartet and for the members individually. 12 cuts, some of our favorites: "Tone Whole," "Never Make Your Move Too Soon," "Oo-Shoo-Be-Do-Be," "Wonderlicks," an homage to 10 Stevie Wonder classics, "Failure to Swing," "What's a Guy Supposed To Do?," the very funny Scottish takeoff, "Donald, Where's Your Trousers?" "Indiana" and the spiritual "Deep River." "Pants" is well-named, a powerful, funny, surprising and impressive kick!
Listen to "Wonderlicks" and "Never Make Your Move Too Soon" in Real Audio.
Encore: Without A Song
A Cappella
Ain't Misbehavin'
Their Hearts Were Full of Spring
Sixteen Tons
If I Ever Would Leave You
Java Jive
The Rose
Shoo-fly Pie and Apple Pan Dowdy
Long Ago (And Far Away)
The Boy from New York City
Johnny Has Gone for A Soldier
Rock Me in the Cradle of Love
Star Spangled Banner
Three Little Fishies
A Joyful Noise
Without A Song
Mixed quintet (two men, three women) Encore! is acclaimed music educator/performer/arranger/director Kirby Shaw's baby, and is all those things for the group, which includes his wife, Markita, singing alto. 16 classic, somewhat incongruous songs: ("Their Hearts Were Full of Spring" segueways into "Sixteen Tons, for instance, and "Java Jive" into "The Rose"). But luckily, each song is a gem, for which Kirby's flawless arranging and directing is largely responsible. Other favorites: "Ain't Misbehavin'," "If Ever I Would Leave You," "Long Ago (And Far Away)," "The Boy From New York City," and "Without a Song." Kirby and company are having big fun here, and so are we!
---
Encore: Encore Christmas
A Renaissance Christmas
Rock Him In The Manger
Carol of the Bells
The Christmas Song
Cool Yule
Sing We Noel
Mary Had A Baby
Christmas is the Time og Many Colors
Do You Hear What I Hear?
Silver Bells
Fanfare for Christmas
Walkin' in a Winter Wonderland
Run to the Manger
Enatus Est Emmanuel
Rockin' Around The Christmas Tree
Calypso Carol
White Christmas
The Chipmonk Song
Go Tell It On The Mountain
Jamaican Noel
Merry Christmas to You All

Encore is an a cappella quintet featuring Kirby Shaw, his wife Markin, Roger and Joelle Graves, and Diana Ylvisoker, based in Ashland Oregon. An A Cappella Christmas features 12 tunes, all arranged by Kirby Shaw in numerous styles, from vocal jazz, choral, calypso, and funk, to Cajun, spiritual and even a 16th century round. Some of our favorites are "Carol of the Bells" with new lyrics by Kirby, "A Renaissance Christmas (medly)". "Rock Him in the Manger"(a KS original spiritual), "Sing We Noel", "Enatus Est Emmanuel", "Jamaican Noel"¹ and a few sweetly sung chestnuts like "White Christmas". It¹s a beautifully wrapped, unexpected Christmas gift from your uncle Kirby in Oregon that¹s exactly want you wanted. Encore\
Listen to "Cool Yule" in Real Audio.
---
A Cappella Master Class - Kirby Shaw's Soul Clinic Video
Dr Kirby Shaw has been empowering people of all ages to sing more soulfully for nearly 30 years. Now his no-fail techniques can be yours in this exciting new video where in less than one hour you'll be singing American popular music more soulfully and expressively than ever before! No music theory or keyboard ability is required, just your ears, a song to sing, and giving yourself permission to play with the melody. Whether you do your singing in the shower, the classroom or your own vocal group, this video is for you!
Giving Yourself Permission
Vocal Ornamentation
Anticipation
Lower Neighbor
Upper neighbor
Appoggiatura
Passing Tones... and much, much more!
Developing your musical point of view (you are unique)
Lyrics are your friend
Word Repetition
Word Painting
Listening Skills... be a detective!
Kirby keeps busy writing arrangements for Hal Leonard. Somehow, he still finds time to sing and tour with the jazz quartet, Just 4 Kicks, and do side projects, like this video, produced under the auspices of the newly inaugurated A Cappella Foundation. His delightful presence is a great complement to his years of experience as a music educator, and helps the medicine of knowledge go down as sweet as sugar. With an introduction reflecting back to his youth listening to the radio, Kirby vividly illustrates the difference between the white music he first heard, and the black radio he then fell in love with: soul! Along with the studio audience, who demonstrate each example, we are shown how to "mess with the melody," using vocal ornaments such as the appoggiatura, upper and lower neighbor et cetera. In that context, Kirby also imparts information about chord structure, picking out notes within a chord and commenting on their function, right on the fly. All along he reassures us that taking risks is what it's all about. Sixty minutes of fun!
---
Kirby Shaw: Vocal Jazz Style - Manual
Basic Swing
Tenuto And Staccato
Horizontal Accent
Vertical Accent
Breath Accent
Forte Piano Crescendo
Ascending Smear
Fall-Off
Descending Smear Ascending Glissando
Descending Glissando
Shake
Vocal exercises
In this 2nd edition, the study of 18 basic vocal jazz inflections is made easy for the soloist or choral ensemble: basic swing, fall-off, smear, shake, doit, etc. The beginning or more experienced performer can find clear-cut desciptions and study examples for each inflection. Excellent tool for vocalists.
---
Kirby Shaw: Warm-Ups for Pop, Jazz and Show Choirs

Warming up your choir has never been this much fun! These 18 educational exercises are written in a variety of styles based on American popular music, including Swing, Rock, Jazz and Cajun. They can be sung a cappella, with added vocal or instrumental percussion, or with rhythm section accompaniment. Use these warm-ups to improve intonation, balance and blend, enunciation and vowel unification and to extend vocal ranges. The exercises can also help stimulate creativity by encouraging melodic and rhythmic improvisations, using body movement and incorporating original lyrics. With a healthy dose of affirmative lyrics and lots of room for individual and group creativity, you can't miss!

---
Arrangements
Amazing Grace
Wade In The Water
Sinner Man
Stand on the Rock
Down By The Riverside
Plenty Good Room (On the Glory Train)


SSAA a cappella
The treatment of the classic spiritual 'Wade In The Water" by Kirby Shaw includes the elements that always seem to "work": a soulful solo, supportive choral parts that have their own interest, and new verses that are seamless in the story. Designed to showcase that special soloist in your choir, "Down By The Riverside" gets an upbeat a cappella treatment that allows for an optional audience sing-/snap-along. John Newton's famous and beloved hymn "Amazing Grace" is perhaps one of the most well-known song in the world. This traditional setting will surely have a profound effect on your singers and audiences. Hold on to your choir robes! The invigorating a cappella adaptation of "Sinner Man", one of the great traditional spirituals, will bring your audience to their feet! Uplifting lyrics, fun-to-sing melodies and a unique form of "Stand On The Rock" will make this new original spiritual an instant hit – "smack dab in the middle of the spirit zone"!
---
My Romance (Roger & Hart) arr. Kirby Shaw
What'll I Do? (Irving Berlin)
How Deep Is The Ocean? (Irving Berlin)
When I Fall In Love

SSAA a cappella
Smooth a cappella harmonies and unique choral textures make the Rodgers & Hart standard "My Romance" an exceptional choice for SSAA ensembles. The warm standard "When I Fall In Love" featured in the movie Sleepless in Seattle, in a stunning a cappella arrangement. The Irving Berlin chestnut : What'll I Do?" Is a delight and varied choral textures and luscious harmonies make "How Deep Is The Ocean?", another Berlin standard, an ideal selection for a cappella female groups. Ultimately romantic!
---
Kirby Shaw: Women's Pop Ballads
Embraceable You arr. Kirby Shaw
Through the Eyes of Love ('Ice Castles' Theme), arr. Kirby Shaw
Misty, arr. Russ Robinson
The Rose, arr. Kirby Shaw
Without a Song, arr. Kirby Shaw

SSAA a cappella
Kirby Shaw's tradition for creating exceptional a cappella ballads continues with this wonderful arrangement of the Gershwin classic "Embraceable You." Showcase your singers with this very special arrangement! The 1978 movie Ice Castles featured a musical score by Marvin Hamlisch and lyrics by Carole Bayer Sager. This wonderful ballad " Through the Eyes of Love " lives on and has been recorded by artists the world over. Kirby Shaw uses his exceptional arranging skill to bring us this very special arrangement. Don't miss this one! Kirby Shaw presents a lush a cappella arrangement of "The Rose" the beautiful song made popular by Bette Midler in the film of the same name. The classic Vincent Youman song " Without a Song" has delighted audiences for decades and has been recorded by artists of every genre. Kirby Shaw has added his superior arranging talent to provide us with a truly wonderful new arrangement.
---
Kirby Shaw: An A Cappella Christmas
The Most Wonderful Time of the Year
Let It Snow! Let It Snow! Let It Snow!
Silver Bells
Rudolph the Red-Nosed Reindeer (with Frosty the Snow Man)
The Christmas Song (Chestnuts Roasting on an Open Fire)
Celebrate the season with these tasty vocal jazz settings of your holiday favorites. SATB
---
---

Arrangements - Home | Jazz | Contemporary | Choral | Christian | Barbershop | Ethnic/World
SATB | Mixed 5 - 8 Parts | TTBB | SSAA | Treble | 3-Part | Christmas | Search for arrangements
---

Instructional items for singers - Home | DVDs/Videos | Bookshelf | Tapes/CDs | Vocal Warm-ups | Vocal Coaches
Improvisation | Arranging | Harmony | Ear Training | Sightsinging | Vocal Technique | Vocal Percussion | Beginners
For Male Vocalists | For Female Vocalists
---
To find a specific song on any recording (or to find recordings by group name or CD title),
pick the search method and type the item you are searching for here:



All Rights Reserved All Content, page design, CGI Copyright © United Singers International