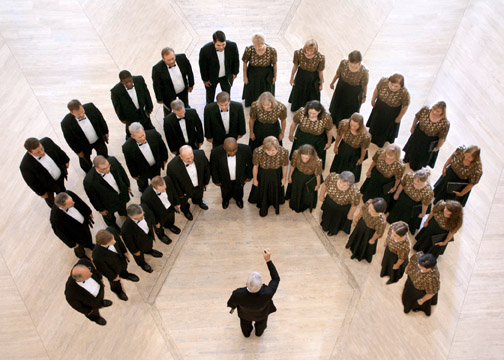 .
Ronald Boender founded the Singers after 20 years of Music Ministry at a local church. Mr. Boender also was the founding conductor of the Fort Lauderdale Christian Chorale and Orchestra and performed many great choral works including the "Messiah" and was guest conductor for the Broward Symphony to perform the great oratorio "Elijah" at Bailey Hall. Privately tutored for many years in voice and conducting under some of the best "master conductors", Mr. Boender has decided to pursue his love of pure singing in the a cappella style. Ronald Boender has many interests. Starting in electronics and moving to music, art, entomology and botany, he founded Butterfly World and is currently president and founder of 5 other corporations. His interest in Tropical Biology has resulted in 85 visits to 12 tropical countries in recent years.
The Singers are entering their 10th year of ministering in music to south Florida. Starting with a dozen singers, they have grown to 32 in number. This professional group delights in performing everything from hymns and spirituals to patriotic and eclectic vocal jazz arrangements from many composers. They specialize in their favorite 8 part arrangements with close harmonies that are challenging and rewarding at the same time, for both them and the audience. While the singers are all Christians they are not affiliated with any denomination or church and draw from a 100-mile radius. Concerts are given in churches, special and corporate events and they are the "resident singers" at Butterfly World, a local attraction. The Singers perform both sacred and secular music but always "To God's Glory". All music and words are memorized and the Singers keep a current repertoire of about 60 songs at all times.
Discography
Displaying 1-4 of 4 items.
Gospel Groups | Gospel CDs | Christian Groups | Contemporay Christian CDs
Spirituals CDs | Sacred Harp | Gospel DVDs | Contemporay Christian Christmas
Spirituals Arrangements | Spiritual Solo Songbooks | Gospel Arrangements | Christian Solo Songbooks | Christian Arrangements