Freestyle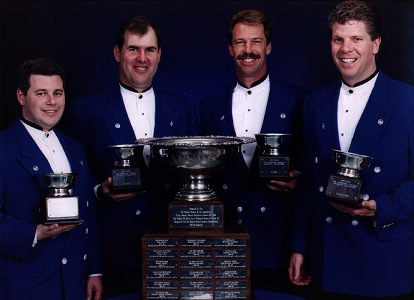 Champions of the Far Western District, barbershop quartet Freestyle are known for not only their great singing but also their zany antics, characterized as "a few fries short of a Happy Meal." Recently named Entertainment Champions at the prestigious Buckeye Invitational, their memorable show is sure to please, and members of the group have appeared on countless stages and milk cartons throughout the land. Tenor Todd Kidder recently gave up his dream of being the first 5 ft. 9 in. center of the NBA, while bass Bruce Morgan is the (Volvo) owner of a (Volvo) dealership in (Volvo) Santa Rosa, but does not use this venue (Volvo) for his own personal (Volvo) gain. Baritone Andy Wallace is an unassuming financial mastermind, collecting paperclips in his spare time. Lead Rich Brunner is the best-looking member of the quartet and his mother really loves him.
Members: Todd Kidder, Bruce Morgan, Rich Brunner, Andy Wallace
Discography
Odd Man Out
Freestyle Montage
Little Bitty Place
I Dream Of Jeannie
Yankee Doodle Blues
Tears In Heaven
The Banjo Song
Scotland the Brave
I'll Fly Away
Sin To Tell A Lie
We Three
Sophisticated Swing
Shine On Your Shoes
Whatever Happened To Melody
My Wild Irish Rose
New Year's Eve
Mistakes
Freestyle is: Travis Maslen, Tenor, Rich Brunner, Lead, Andy Wallace, Baritone and Bruce Morgan Bass, and they are 1999-2000 Far Western District Quartet Champions, and these guys are funny! Just a hint from the liner notes, we are informed that "All noises including animals and wrong notes were produced by the members of Freestyle. No animals were hurt during the making of these noises." This is a (comic) relief, and so are the songs on this cd. Some of our favorites: "I Dream of Jeannie," "Yankee Doodle Blues," "The Banjo Song," "We Three," "Shine On Your Shoes," "Whatever Happened to Melody," "My Wild Irish Rose," and "Mistakes." All in all, thereีs some serious singing and a fair amount of silliness going on here, and having seen them placing second (by one point) at the ี99 Harmony Sweepstakes Bay Area Regionals, we know how much fun Freestyle is live. Good, fun barbershop!
Listen to "Shine On Your Shoes" or "We Three"
---
To find a specific song on any recording (or to find recordings by group name or CD title),
pick the search method and type the item you are searching for here:



All Rights Reserved All Content, page design, CGI Copyright © United Singers International