BSQ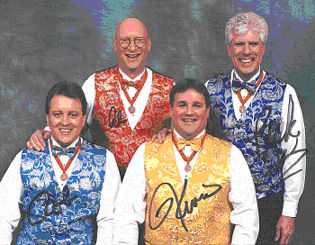 One might agree that BSQ is a rather unique name for a quartet. Nevertheless, a "Barber Shop Quartet" is just what it is. The members, although young of age (except for one), have accumulated seventy-eight years (the old guy has the most) of membership in SPEBSQSA... The Society for the Preservation and Encouragement of Quartet Singing in America.
Tenor Rob Seay V is a 10 year member of the Society. He sings with the Chorus of the Chesapeake of Dundalk, MD. Rob also sang with the International qualifier "Risky Business", one of the Mid-Atlantic District's most popular quartets. On occasion, he has been known to sing with the "Four Seaysons" consisting of Bob Seay III, Bob Seay IV, Bob Seay V, and Bob Seay VI. Rob and his wife, Kim, reside in Baltimore with son Robert Seay VI and daughter Brianne.
Kevin King, lead, is a music teacher by profession, and musical director for the Heart of Maryland chorus. He has been a member of the society for 20 years. Kevin's experence includes being a certified judge in the Singing category and singing lead with many of the Mid-Atlantic's finest quartets. He teamed up with his dad, past International Champion Fred King, to sing in one of the great father-son groups, Top-Ten International Quartet Finalist the "Pro's 'N' Cons". Following that he sang for a few years with the Mid-Atlantic Champion "The Untouchables". Kevin Lives in Baltimore, Maryland with his wife Bettye and their sons, Christian and Robbie.
Filling the Baritone spot is Rick Taylor. Rick is a Twenty-eight year member of the Society and also a quartet veteran. He has sung with such quartets as: "The Virginia Gentlemen" with his father, International Semifinalist "Preservation Quartet", International Semifinalist "Free Trade Agreement" and for fifteen years, the 1992 Mid-Atlantic District Champion "Arcade". Rick is a member of the Alexandria, Virginia chapter. He has also been musical director for several choruses, chorus and quartet coach, and show/contest emcee. Rick and his wife, Leslie, live in Annapolis, Maryland with their "daughter", chocolate labrador retriever, Molly.
Al Mazzoni sings the bass part and is a member of the Patapsco Valley Chapter. He has been a society member for twenty years. Al has sung with such quartets as the "Friends of Yesterday", a top show quartet, and the "Entertainers" with Fred King, and during the his high school days, he sang with Kevin in the "Front Page" quartet, a Mid-Atlantic District Finalist. Al and his wife Kelly reside in Baltimore, Maryland.
Discography
The Melody Lingers On
Fly Me to the Moon
I Hadn't Anyone Til You
The Desert Song
Old May River
Honeysuckle Rose
Ebb Tide
The Cop on the Beat, the Man in the Moon, and Me
Darkness on the Delta
Danny Boy
Roses of Picardy
Alexander's Band is Back in Dixie Land / Alexander's Ragtime Band Medley
With a Song in My Heart
Birth of the Blues
Mississippi Mud
The Song Is Ended
Barbershop Society members are already well-acquainted with BSQ, as this quartet consistently places in the top five during competition, reaching #3 in 1998. This recording sparkles with stalwart vertical harmony; their sound is uncluttered, and they allow plenty of time, settling on the chord and allowing the sound to build, done most effectively on "Old Man River." The romantic "Ebbtide," arranged by Fred King (he furnished six scores for this CD, including "Roses Of Picardy," their 1998 Competition selection), is a showcase for the melody, fitting considering the CD's title. "Danny Boy" is a live recording from their 1997 appearance, a marvelously constructed arrangement by Ed Waesche.
---