Gene Puerling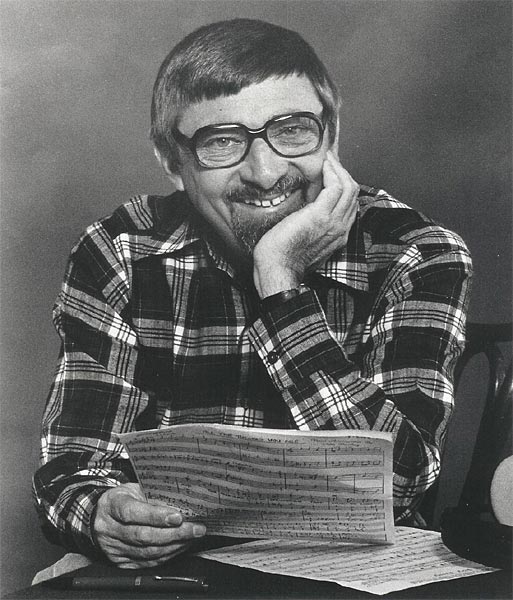 There certainly is no more influential and revered a cappella arranger than the brilliant Gene Puerling. From his auspicious beginnings as a founding member of the vocal jazz group the Hi-Lo's, with whom he recorded thirteen albums between the years of 1953-1964, Gene revealed the talent and promise that would later be fully realized with his work as director, arranger and performer with the Singers UnLimited.
Gene was born in Wisconsin in 1929. Though his family was musically inclined (various members of the family played violin, piano and clarinet) Gene himself had no formal musical training! He was a working professional musician from the age of seventeen, and simply did not have the time to devote to a formal musical education.
The Hi-Lo's, who recorded their first record in 1953 when Gene was 24, garnered accolades for popular renditions of classic jazz tunes such as "Fascinatin' Rhythm" and "Skylark." Gene was developing the trademark style with which he would become so uniquely identified. Subsequent to the demise of the Hi-Lo's, Gene was working in the busy recording studios of Chicago's commercial and jingle industry, where he met studio vocalists Len Dresslar and Bonnie Herman. Len and Bonnie, along with fellow ex-Hi-Lo Don Shelton, joined together under the moniker of "Singer's Unlimited" in 1967.
The group's purpose was to garner lucrative commerical work, and to that end they produced a demo including the Beatles song, "Fool On the Hill." This demo ultimately came to the attention of German producer Hans Georg Brunner-Schwer, via pianist Oscar Peterson. Schwer had founded MPS Records, and had, in his studio in Villengen, Germany, the only sixteen track recording console in Germany at the time. Schwer was immediately taken with the Singers Unlimited and proposed that they come to Germany to record.
The results of that recording, which took place in 1971, were released as the album "In Tune." The group went on to record fourteen albums, the last of which was "Easy To Love." The group's extensive studio experience was vital, as Gene's arrangements would employ all of their range and skill, and utilized the burgeoning studio techniques of overdubbing and mixing to create their inimitable sound. Given the complexity of the arrangements, the The Singers Unlimited did not perform live, feeling that the studio was their ideal medium of expression.
The Singers Unlimited was formed to express the musical vision of the members, and as such was never a commercially-driven venture. The group did not record again after 1980, save for an appearance on Gloria Estefan's 1993 "Christmas Through Your Eyes" recording, at the behest of legendary producer Phil Ramone. Indeed, their initial discovery was something of a happy accident, and self-promotion was never foremost on the agenda. However, they have never officially broken up, and they themselves consider
Listen to an interview (mp3) with Gene Puerling and Jim Eason on KGO radio (San Francisco) from 1986.

---
Arrangements
Gene Puerling Charts Vol 1
Yesterday (SSATTBB)
Michelle (SSAATTBB)
Here, There, Everywhere (SATB)
Fool on the Hill (SSAATTBB)
The Sound of the Singers Unlimited (SSAATBB)
-We've Only Just Begun
Try to Remember
On a Clear Day
Emily
My Ship
Where Is Love?
A collection of mostly a cappella arrangements from quite possibly the greatest vocal jazz arranger ever.
---
Gene Puerling Charts Vol II
Snowfall (SSATBB)
Silent Night (SSATBB)
Deck the Halls (SSATTBB)
Come Rain Or Come Shine (SATB)
A Nightingale Sang In Berkeley Square (SATB)
The Gene Puerling Sound (SSAATTBB)
Am I Blue?
April in Paris
Autumn in New York
Dancing in the Dark
Indian Summer
Includes the Grammy Award winner "A Nightingale Sang In Berkeley Square" as recorded by The Manhattan Transfer. The note-for-note arrangement matches the original recording!
---
Best Of Gene Puerling
Button Up Your Overcoat
Georgia On My Mind
Rockin' Chair
The Shadow Of Your Smile
Small Fry
SATB, accompanied with optional rhythm section
---
---
"What a pleasant trip!"
Born in 1929 in Milwaukee, Wisconsin, Gene Puerling was the founding member of the legendary vocal quartet. The Hi-Lo's, with whom, between 1953 and 1964, he recorded thirteen albums featuring his vocal arrangement. After the group separated, Puerling teamed up with former Hi-Lo's member, Don Shelton, as well as with studio singers Bonnie Herman and Len Dresslar to create The Singers Unlimited. Puerling has written vocal arrangements for artists such as Rosemary Clooney, Linda Rostadt, The Manhattan Transfer and many others. He received a Grammy for his vocal arrangement of "A Nightingale Sang In Berkeley Square" as recorded by The Manhattan Transfer, and a total of fourteen Grammy nominations. Gene Puerling and The Hi-Lo's reunited for two albums on the MPS label, The Hi-Lo's (1978) and Now! (1980).

Mr. Puerling, did you expect to end up recording fourteen albums with The Singers Unlimited when you came to Villingen, Germany for the first time in 1971?

No. [laughs] We were just happy to record. We thought, "This is very nice. What a pleasant trip!" But then Hans Georg Brunner-Schwer decided to have us come back and do more. I think he must have been impressed with our album A Cappella winning the German Record Award.

Before you came to Germany and to the MPS label, did you try to get a record contract in the US?

No, not really. The Singers Unlimited were originally created for the commercials business. Our "Fool On The Hill"-sound originated form this business when we decided to give away a Christmas gift to advertising agencies in Chicago. We spent about thirty hours on that one track, on the layers and layers of my arrangement. We wanted to prove what we could achieve with multitrack recording. Then our friend Audrey Morris gave the recording to pianist Oscar Peterson, who have it to Hans Georg Burnner-Shwer of MPS Records, and we ended up with a recording contact almost without our willing it.

What was your main ambition when you began recording for instead of for commercials?

We mainly enjoyed recording and getting away from Chicago in that case. It was a treat being completely away from the business aspect of it. Our main passion at that time was to make beautiful music, and I think we were very successful in our own way. I didn't think our approach changed much over the years. The reason that as an arranger I chose to arrange standards for the most part is simply because I thought this would make a good catalog. If we'd done a lot of pop stuff or things that would have been over in a year, it would have been very dismal for us to have those things on a release.

The name Singers Unlimited has an almost ironic connotation, considering that your studio time was very limited. All of you had to go back to Chicago to your jobs after only a few days, since the commercials business is a very competitive one.

[Laughs] Well, I don't know if it was ever mentioned, but we did most of our productions in one week! And that was unheard of , really, with all the work we had to do.

Would you have liked to have had more time, or do you think the time limitation created a special tension essential to your sound?

The only tension was that we knew we had to be out of the studio on Saturday afternoon to fly back to Chicago on Sunday morning. But that didn't put too much pressure on us. We just worked hard and finished one or two tracks of an album each day. We had to, so we did it. I think any more time would have been a nice luxury, and we probably could have worked on a few more ideas, but you must remember that I'd written all the arrangements long before we went to Villingen. They were set in stone, you might say, and couldn't be changed on the spot anymore.

Somebody once wrote that you never wanted anybody to have a look at your arrangements before you went into the studio. Given the complexity of your arrangements, this seems unusual.

Well, [laughs] that's not exactly true. I did send everybody the arrangements approximately a month before we left for Europe. But, you know, I had the impression that that was almost unnecessary. Bonnie, Don, and Len who were in the studios every day as single artists doing commercials, read very, very well. Bonnie in particular, I found out never looked at the written arrangements before the recording session at all. Once we got to Villingen, all of us sat down, in a park on a sunny morning for example, and looked the sheets over for possible problems or mistakes, and then went and started the recording process.

There seems to be an interesting tension between Bonnie Herman's singing, tinged with an erotic flair, and the pure musical sound of the group. Did you aim for this as an arranger?

Oh no. You know, Bonnie just has a very sultry voice. And [laughs] it's just one of those things... it does sound sexy. And that's fine. But we didn't do any particular songs because of that, nor did we suggest the singing in a special way.

Did you ever consider performing live with The Singers Unlimited?

We've been asked that quite a few times. I can remember the time when the Japanese very badly waned us to come and do a concert in Tokyo at a huge festival. They wanted us to prepare playbacks to sing on live. Of course none of us agreed to that. They even offered to pay for our own engineer to come over to Japan. But we didn't feel the whole thing would have been honest. We did a few lip-sync performances in Europe, though, for TV shows, but we weren't very comfortable with that, either.

But your music had a high degree of artificiality anyway, because of the way it was created.

Of course. But we still had a level of honesty about what we did, even if we used multitrack recording. Every recording is artificial in a sense.

You did perform live with the Hi-Lo's. Do you still perform with that group?

Well, our last date was in 1992. Bob Strasen, one of the original members passed away in 1994, but our new line-up had already decided to hang it up at that period.

Do you miss performing?

Oh, sure. But I particularly miss arranging for, and singing with The Singers Unlimited.

Fourteen years after The Singers Unlimited's last regular recording, you reunited with Bonnie Herman. Don Shelton and Len Dresslar as special guest on a pop album, Gloria Estefan's Christmas Through Your Eyes in 1993. How did that come about?

Producer Phil Ramone called us form New York and asked if we could do a couple of tracks with Gloria. Patrick Williams was the arranger of the sessions, who had also arranged two of our MPS albums. Of course we were very exited to get together again after all these years. We never actually met Gloria Estefan, though, because we singers recorded in Los Angeles and Gloria was at a studio in Miami, at the same time. Everybody was linked digitally through fiber-optic cables, a brand new technique also used on Frank Sinatra's "Duets" albums. Quite an interesting technique.

So you were pioneering again, like back in the early 70's, when you started out with Hans Georg Brunner-Schwer and lots of overdubbing.

I'd say so, yes.

Are you sometimes curious to hear what The Singers Unlimited might sound like today, with advanced technology?

Absolutely! I have to admit, I haven't been in a studio for quite a while, but I'm sure the new technique would probably enable us to do albums even faster than we did then.

When you joined up once more for the session with Gloria Estefan, did you consider doing another album with The Singers Unlimited?

Yes, we did. And if someone were to ask us, we'd love to record again. But our music wouldn't be very commercial, I suppose. And much as we'd like to do it, you'd have to have some business sense about how to make it come across and all that. None of us has ever been very active in that area, you know.

Today's music seems more pigeonholed that ever. Do you think The Singers Unlimited would have had a chance if they'd started out today?

Probably no more so than we had at that time. After all, it took a man like Hans Gearg Brunner-Schwer to take a chance on us. These days it'd probably be even harder to find corporate people interested in something like our music, because less and less musical quality is being recorded, or at least being made available.

It seems ironic that you received your one and only Grammy Award for an arrangement recorded by The Manhattan Transfer, "A Nightingale Sang In Berkeley Square," from their album Mecca for Moderns, in 1981.

Well, that's the only Grammy :I received, but I had fourteen nominations altogether with the two groups, The Singers Unlimited and the Hi-Lo's.

Have you ever felt bitter about that? Do you think The Singers Unlimited deserved more recognition their home country?

I don't know what the politics are as far as the German Record Award is concerned, but in America it's a little bit different with the Grammy system. I think the type of work, the type of arranging I do is not s simple as that which many of the nominees might be putting up. So I don't expect to get these thins, but I was appreciative of them when we had the nominations.

Why was Easy To Love in 1980 the last album The Singers Unlimited recorded?

Well, by then we had fourteen productions out there. MPS might have felt that that was all we could do with that sound.

Do you think there were still some possibilities left, some more avenues to explore?

I don't know. At some point, Willi Fruth, the musical director of MPS Records, talked to us about changing direction, perhaps doing a bit mire popular things on occasion. But we, and I in particular, didn't feel this was the way for us to go. Our kind of music was not really suitable for doing "pop" things, really. We felt that, after all the albums, after all the opportunities to cooperate with various fine instrumental arrangers around the world, there'd also been enough variety in each album. We definitely never felt we wanted to get into any commercial pop music or anything.

You once recorded some German songs: classical songs by writers such as Friedrich Hollaender and others.

But those recordings were never released. We did them for German radio and it was great fun. Those recordings weren't meant for the American market, anyhow. I also remember some difficulties with the proper pronunciation.

Let's talk about the other vocal groups that were, and are still around. You once said: "Nobody in the world has a copyright on chords." Have there ever been situations that made you think this was a violation of your copyright?

No. In fact, you can't think like that. There may be some groups that follow my way of writing, but not in a way that I'd say there're not important in themselves. There are always different people involved, different combinations of singers, different material. It's never bothered me.

A good example would be Take 6.

Well, they acknowledge that they did sort of go to school on my work. I net them when they were very young, just starting out. They were very impressed with The Singers Unlimited. And that's fine, that's great.

It's surprising that a group coming from such a strong gospel background is drawn to your music, which seems to come from a totally different point on the musical spectrum.

That' s an interesting observation. I suppose they just like our music; they felt there was something in there, too, that might be of advantage to them. As a matter of fact. I think it was unusual they did all those albums with their religious motives in mind and carried it off and became a success. And they're still very involved in their work on that.

Did you ever consider working with them?

Well, we had talked about doing an album together, or some tracks at least. But it would be very, very complicated to do that. I personally don't think it would work out from an arranging points of view, anyway. It's too big' it's like having a battle of the bands, you know. Because both our sounds are very big. It would bye sort of a tough thing to get going.

But you could just write some arrangements for them.

Oh yes, they've talked about having me do something but it hasn't followed through yet.

You once said about Take 6 that they had more freedom in what they were doing. Did you miss any freedom or spontaneity yourself when recording with The Singers Unlimited?

I think so, yes. And if we ever did it again I'd find some ways to loosen up a little bit. Back then, it was very difficult to prepare something like this because we weren't together all the time and there was no rehearsal until we got to Germany. So I had to make sure the arrangements would come off the best they could. If I'd let room for inventiveness or something beyond the arrangement, I don't think we'd have gotten done in a week. You wrote a lot of arrangements for other people. Has everybody been able to sing them? Not everybody. [Laughs] I sent a few things off to German companies, for example, but they just couldn't find the singers to do it. And I didn't know until later that they never recorded them because they couldn't do them.

But you wouldn't rewrite something to make it easier?

No, that's not my... well, they can get someone else for that.

It's amazing that you never studied music in the classical way.

That wasn't always an advantage. I wish I'd studied, naturally. I'm pretty much self-taught. I just had a few piano lessons and that was it.

What are the biggest influences on you when writing vocal arrangements?

Well, obviously arrangers listen to other people and other music, and something always rubs off onto you. You get a little bit from everything you hear. But I like to think I'm tether unusual in my work. So I don't know. I think a lot of it hopefully came from my own creativity. But I listened to a lot of artists and groups from the 50's of course, Mel Torme and the Meltones, the Modernaires, the Four Freshmen.

Mr. Brunner-Schwer characterized you as "a romantic person."

Honestly, I don't know that he means by that exactly! [laughs]

Maybe he likes your slow songs so much.

Oh, that could be. Yes, I think, now that you say that, I see what he might be alluding to. I do like ballads more than I like up-tunes, and I do attempt to have a lot of ballads when we do albums, It's pretty intimate, I mean it's a large sound, but there's still an intimate type of approach to it really.

The hallmark of The Singers Unlimited has always been the perfect sound of pure voices. Isn't that a contradiction within the jazz entity, which is often associated with attributes like freedom, spontaneity and even rawness?

Sure it is. But I don't know if we're really a jazz entity, anyway. Because, first of all, it's choral, it's not a solo vehicle. It's a group sound, and it's hard to swing with that sound. We did our best at times, but whether we reached tha jazz category, I'd have to leave that to someone else to decide.

What are your favorite tracks on the recordings collected in this box set?

Oh, I can't answer that. Obviously I'm so close to every project, and I have favorites on every album. But I can say, and this goes for the rest of the group as well, because we talked about it, that we like the a cappella things the best; that's our favorite type of work, the essence or our voices. When you have instruments, it doesn't give you quite the freedom you have with just voices alone.

Is there any kind of misunderstanding or myth about The Singers Unlimited that you'd like to put to rest here?

Well, there is one thing: I've often read that I started The Singers Unlimited. I didn't. It was a group effort: we all started it. In fairness to the other singers, that's the way should be. But someone has to be a leader and I guess I was the leader in a sense, because I wrote the arrangements and co-produced all the albums.
---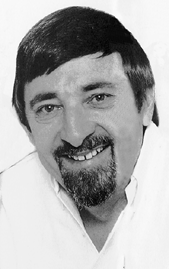 ---
---
---

Arrangements - Home | Jazz | Contemporary | Choral | Christian | Barbershop | Ethnic/World
SATB | Mixed 5 - 8 Parts | TTBB | SSAA | Treble | 3-Part | Christmas | Search for arrangements
---

Instructional items for singers - Home | DVDs/Videos | Bookshelf | Tapes/CDs | Vocal Warm-ups | Vocal Coaches
Improvisation | Arranging | Harmony | Ear Training | Sightsinging | Vocal Technique | Vocal Percussion | Beginners
For Male Vocalists | For Female Vocalists
---
To find a specific song on any recording (or to find recordings by group name or CD title),
pick the search method and type the item you are searching for here:



All Rights Reserved All Content, page design, CGI Copyright © United Singers International