The Story of Hi-Lo's
Written & Compiled by Philip Lindley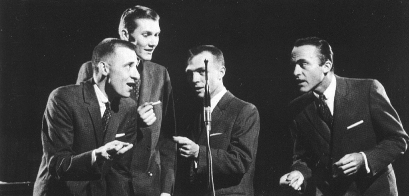 The Hi-Lo's were a close-harmony vocal quartet of the 1950's and early 1960's who brought the arrangement and harmonics of popular song to a standard which has seldom been equalled and never surpassed. In their time, only the Four Freshmen have acquired a comparable reputation.
They were Gene Puerling, bass-baritone, arranger and leader of the group: Bob Strasen, baritone: Bob Morse, baritone and occasional soloist and Clark Burroughs, tenor. The group was formed in April, 1953 and took their name from the incredible vocal range they covered between them. It was also true that, while Puerling and Burroughs were five feet seven and five feet five respectively, Morse and Strasen topped six feet. They brought imagination, technical accomplishment, daring, determination and integrity to their artistry when the model for groups of their kind was a safe commercial blend. Their superiority in every department ofarranging, recording and performance was down to the genius of Gene Puerling who, in later years, went on to form Singers Unlimited with replacement Hi-Lo Don Shelton. After disbanding in the midst of the early-sixties British pop invasion of the United States and pursing their various projects, they reformed with great success in the late seventies to perform live and to produce two further outstanding albums.
Eugene Thomas Puerling was born in Milwaukee, Wisconsin in 1929 and determined on a musical career at an early stage. At school, he formed a series of groups with names like the Double Daters, the Honeybees and the Four Shades. A fellow Shade was Bob Strasen, future baritone singer for the Hi-Lo's. Puerling, at one point, drove a popcorn truck and had his group at that time promote his business by singing jingles. After graduation, he became a disc jockey for a local radio station but all the while dreamed of a vocal quartet that could advance the sound and style of the day. At the start of the 50's, he moved to Los Angeles and, within a week of his arrival, had met tenor singer, Clark Burroughs. Burroughs, short, with close-cropped hair, splendid teeth and a cherubic smile, was a native Angelino. The son of two dancers, he had appeared in a stage play at the age of three and had landed bit parts in minor films. More importantly, he had learned in various choirs how to sing demanding classical material. Puerling and Burroughs became roommates and fellow members of the Youngsters on the Alan Young TV show. Puerling also found work with Les Baxter and Gordon Jenkins. Burroughs went on to join the Encores, a group that performed with the Billy May band. Another member of the Encores was Bob Morse, a baritone singer and a native of Pacoima, California. Trained as a graphic artist, it was Morse who later designed the Hi-Lo's early album covers and on-stage wardrobe. He was a keen student of art history. He could also play saxophone and bass and had developed a smooth high baritone voice. Burroughs and Morse sang with the Encores for a year before they split and it was at this moment that Gene Puerling approached them with his idea for a new and different vocal harmony group. Burroughs had already introduced Morse to Puerling who in turn called up his old pal from Milwaukee, Bob Strasen.
At first, enthusiasm was lacking. Burroughs had wanted to go to New York and try for Broadway. Morse was feeling burned out after the Encores and didn't really warm to the new prospect. However, the arrangements provided by Puerling and his L. A. associate Bill Thompson and the arrival of Strasen were enough to persuade them. The first two arrangements were for 'They Didn't Believe Me' and 'Georgia'. Armed with these the group began to hawk themselves around town. It was bandleader and future film-composer Jerry Fielding who first recognized the Hi-Lo's as an extraordinary new group talent. Puerling was to describe his reaction as excited and effusive. They were taken to Albert Marx, owner of a small L. A. label called Trend. On April 10 th , 1953 the Hi-Lo's recorded four numbers, 'They Didn't Believe Me', 'Georgia', 'Peg O' My Heart' and 'My Baby Just Cares For Me' and an E. P. was released. 'Georgia' became a local turntable hit, though actual sales were modest. All four songs had been recorded between 9.30 p.m. and 12.30 p.m. at Radio Recorders on Sycamore Avenue in Hollywood and the group began, as it meant to continue, with the accompaniment of some of the finest musicians in the business. Soon after this session, they recorded a single with Herb Jeffries, 'Love Me Or Leave Me' for the Olympic label. By now, they had become aware of their potential and their enthusiasm had grown. They would rehearse three hours a day. Burroughs' phenomenal vocal range inspired the long-frustrated Puerling and he in turn had found his arrangements were inspiring the group. In the words of Burroughs, Puerling arrangements had the intricacies and workings of a Swiss watch. A Puerling arrangement became a work of beauty and art.
By late 1954 the Hi-Lo's had left Trend. They signed a new deal with Starlite Records and began to work with orchestral arranger and conductor Frank Comstock at Goldstar and Capitol Studios in Hollywood. Four albums resulted, 'Listen to the Hi-Lo's' in 1954, 'The Hi-Lo's, I Presume' in 1954, 'The Hi-Lo's Under Glass' in 1955 and 'The Hi-Lo's On Hand' in 1956. They had cultivated an audience and were receiving rich praise from the critics but had still not broken through commercially. The public taste was still for the simpler, safer, blander sounds. It was in 1956 that the Hi-Lo's big break came when they became the resident vocal group on the nationally syndicated 'Rosemary Clooney Show' and became familiar to a much wider audience. Other TV luminaries with whom they worked were Steve Allen, Peggy Lee, Nat King Cole, and Frank Sinatra. Gene Puerling with his brush-cut and bemused expression, genial Clark Burroughs, gawky Bob Strasen and Bob Morse, who might have been mistaken for a doorstep salesman, were soon to be small screen regulars. Morse gained additional exposure as a regular duettist with Rosemary Clooney. Apart from singing, they were called upon to dance, clown and take part in sketches. But their dedication to their music was not affected and Puerling's meticulous charts remained as demanding and challenging as ever. At the same time, a measure of democracy was evident in the manner a Hi-Lo's arrangement emerged.
The reward for all this was a contract with Columbia Records that they signed in October 1956. Their first album for Columbia, 'Suddenly It's the Hi-Lo's', sold 100,000 copies and was promoted on the Nat King Cole TV show. They were reunited with Frank Comstock and worked beside such names as Marty Paich and Frank de Vol. Their new work was filled with the adventurous vocal acrobatics that became their trademark. A second Columbia album, 'Ring Around Rosie', united them on disc with Rosemary Clooney in a selection of material from their TV show. A third album, 'Now Hear This', appeared in 1957. Much in demand by this time, the Hi-Lo's recorded commercial jingles for a range of products including Hertz Rent-A-Car, this last example reappearing in the 1964 Jack Lemon film 'Good Neighbor Sam'. The Hi-Lo's themselves appeared on film in 'Calypso Heat Wave' in 1957 and 'Everything's Ducky' in 1961.
Brian Wilson of the Beach Boys, the Mamas and the Papas, the Gatlin Brothers, Manhattan Transfer and Take Six were all awakening to their own musical ambitions at this time and cite the Hi-Lo's as a major musical influence. The group's personal appearances at this time are well remembered. They opened for Judy Garland on tour, sang at Madison Square Garden, the Hollywood Bowl and the Royal Albert Hall in London. A critic who saw them at the Crescendo in Hollywood referred to their 'bright, well-scrubbed look and the highly humorous content of the act … accentuated by spokesman Puerling's comic patter, aided and abetted by cracks from the others' and to a routine in which the four Hi-Lo's wound up in a tangle of arms and legs on the floor. More seriously, they would find huge audiences breathless and captivated by their beguiling vocal performances. In 1959, Bob Strasen left the group and was replaced by Don Shelton. Not a baritone, but another tenor, Shelton remained with the group for the rest of its original phase and was part of its successful reunion, as well as joining Gene Puerling in he formation of Singers Unlimited. Shelton was also a saxophonist and remembers sitting in with Count Basie at the Starlight Roof of the Waldorf Astoria Hotel in New York when the Hi-Lo's were also on the bill. A Texan, he moved to L. A. in 1956 to attend UCLA but became interested in group singing and joined the Trends who had a residency on the Rusty Draper radio show. Auditions to replace Bob Strasen were tough but Shelton's instrumental and vocal experience shone through, apart from his gift of sight reading a score. Times were changing, however, and the upheaval of rock 'n' roll was followed by various other teenage trends.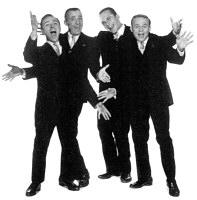 With the arrival of the Beatles and other British pop groups, popular music was never to be the same again on either side of the Atlantic. Some major names found their careers floundering. The Hi-Lo's were as badly hit as the rest. They had never had a major chart hit which, more than anything, would have consolidated their position with the general public. None of their 45's had even made the top 100. Columbia A. & R. chief Mitch Miller complained that their arrangements were too complex and pressured Gene Puerling to accept Hit Parade material. Columbia producer Goddard Lieberson had to intercede in their various battles. Yet the Hi-Lo's were not entirely impervious to persuasion. 'A Face In The Crowd', written for the 1957 movie of that name, was a swinger that, unfortunately, failed to chart. Bob Morse haunted the clubs of Manhattan in search of winning material and the results of this can be heard on the 1958 albums 'The Love Nest' and 'The Hi-Lo's and All That Jazz'.
Don Shelton's first album with the Hi-Lo's was 'Broadway Playbill' in 1960. 'The Hi-Lo's All Over The Place' appeared in 1960 and was upbeat and entertaining but album sales continued to decline. They were never able to repeat, much less to build upon, the success of their first Columbia album. Puerling claims never to have seen a royalty, blaming this on the costs of using large orchestras on their recordings. Puerling was unyielding on musical policy and the Hi-Lo's 1961 album 'This Time It's Love' was their last chance with Columbia. This failed like the others and the group were seriously concerned for their future.
A reprieve came in the form of a telegram from Frank Sinatra inviting them to join his new Reprise label. Aiming at the public taste, they issued 'The Hi-Lo's Happen to Folk Songs' in 1962 and 'The Hi-Lo's Happen to Bossa Nova' in 1963. Both albums went unnoticed and again they were out of a contract. Don Shelton left in 1964 to sing with the J's with Jamie, a Chicago-based group specializing in jingles. He was replaced briefly with singers Frank Howren and Milt Chapman, but the British pop invasion had left the Hi-Lo's generation high and dry. They appeared on a Julie London TV special later in the year, then called it quits. Clark Burroughs formed a folk-rock duo with his wife Marilyn, later switching to record producing and jingle work. Bob Morse opened a California antiques store, then became the caretaker of a mansion. Gene Puerling had more conspicuous success with a new group Singers Unlimited, recruiting fellow former group member Don Shelton, Len Dresslar and a delightful female singer, Bonnie Herman. Singers Unlimited have acquired and retained their own enviable reputation for immaculate renderings of complex and elaborate arrangements as well as for their imaginative use of multiple tracking and all the other tricks of a modern recording studio. They recorded for the German label MPS at studios in Villingen in the Black Forest.
In 1977, the company suggested a Hi-Lo's reunion album. Although sceptical, Gene Puerling reunited the quartet at his home near San Francisco. Their first rehearsal after fourteen years began with 'Georgia' and their excitement at their rediscovery of the old magic could hardly be contained. The album appeared in 1978, having also been recorded at Villingen. Called 'The Hi-Lo's! – Back Again' it contained an impeccable selection of standards and stand-by's. It was launched at the 1978 Monterey Jazz Festival and was followed in 1980 by 'The Hi-Lo's! – Now'.
Over the next fourteen years, they played dozens of colleges and music schools and their last performance was for the Betty Ford Center in Palm Springs. Health problems had, by now, beset the group and Gene Puerling had decided this would definitely be it. Bob Morse retired to Phoenix but the other Hi-Lo's stayed in the business. Don Shelton joined L. A. Voices, another noted and prestigious group that also featured the impressive Sue Raney. Clark Burroughs has sung with various West Coast groups. Gene Puerling has continued as an arranger for groups like Chanticleer and Manhattan Transfer. Gene Puerling's first main inspiration came from the Four Freshmen who had shown what was possible with group harmonics and the best of popular song. They had also given him daunting advice in terms of the competition to be faced in Los Angeles. Through determination and talent he devised an approach to vocal arrangement and a method of vocal group leadership that broke away from formality and relied much more on intuition and skill.
The Hi-Lo's were always jazz singers and they may be said to have done for small vocal groups what Sinatra and the best of his rivals did for the individual saloon singer. The age of the compact disc has meant that the riches of the past in all areas of music have been rediscovered and have been made accessible to new generations of music lovers. The Hi-Lo's, with their timeless quality and their ability to exhilarate and beguile, have been restored for all with ears to hear and hearts to respond.
Written & Compiled by Philip Lindley
lindley@lindley14.fsnet.co.uk
---

VOCAL JAZZ - Home | Vocal Jazz Groups | Recordings | Arrangements | DVDs | Christmas | Vocal Jazz Instructional

VINTAGE VOCAL JAZZ - Vintage Groups | Vintage CDs | Black Vocal Groups | Black Vocal Groups CDs | Christmas | Womens Vintage
---
Vocal Jazz | Doo Wop | Contemporary | Barbershop | Christian | Collegiate | World | Choral
Patriotic | The Groups | The Directors | The Vocal Coaches | Choral Development
Arrangements | Vintage Harmony | Christmas | DVDs | Instructional for Singers

The Harmony Sweepstakes A Cappella Festival


RSS - New Releases
Site Map | A Cappella News | Regional Newsgroups | RSS a cappella feeds
To find a specific song on any recording (or to find recordings by group name or CD title),
pick the search method and type the item you are searching for here:


All Rights Reserved All Content, page design, CGI Copyright © United Singers International