Womens Choral Music
Bulgaria. Slovenia. The UK. Canada. The U.S. Latvia. Spain. Finland. Norway. Women's choirs come from all over the planet, and they sing music from around the world, too. Some of the groups are more traditional in their raison d'etre – simply to sing wonderful music – while others are a bit more specific, dedicated only to the works of women, to raising awareness of issues, or simply to celebrate their cultural origins. The diversity is great to see, and shows how much more there is to music than the sound of it – when paired with this lovely sound, it's a two-fer you shouldn't pass up!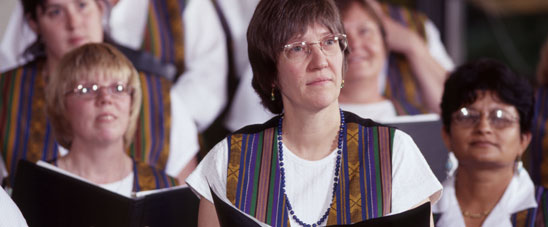 Amasong, founded by Kristina Boerger in 1990, is a highly trained chorus of 60 women who perform folkloric, women-oriented, and classical music. Based in Urbana, Illinois Amasong provides an opportunity for women to gather together in the pursuit of choral excellence. Their repertoire draws most heavily upon folk music from various world traditions, music written by women, and other music reflecting women's experience. Winner of the 2000 GLAMA awards for Best Choral Group and Best Contemporary Classical Composition. The award for Best Choral Group went to "Shenandoah," an American folk song arranged by Boerger for a cappella chorus. The award for Best Contemporary Classical Composition went to "Draum om Nedsnodde Bruer" ("Dream of Snow-covered Bridges"), composed by Boerger for women's voices and double bass accompaniment. Recordings
---
Anonymous 4 (US)

Originally formed in 1986 to experiment with the sound of medieval chant and polyphony as sung by higher voices, Anonymous 4 has become renowned for its astonishing vocal blend and technical virtuosity. The four women of Anonymous 4 combine musical, literary, and historical scholarship with 20th-century performing intuition as they create innovative programs interweaving music with poetry and narrative. Anonymous 4 has performed to critical acclaim on music series throughout North America, in such cities as Boston, Chicago, Cleveland, Denver, Houston, Los Angeles, Philadelphia, Pittsburgh, San Francisco, Seattle, Vancouver and Washington, DC.

The group has appeared on a wide range of radio and television programs, including NPR's "Performance Today," "Weekend Edition," and NPR stations around the country. Anonymous 4 has been featured on "CBS Sunday Morning" with Charles Osgood, Garrison Keillor's "A Prairie Home Companion," MPR's "St. Paul Sunday," and WNYC's "Around New York. " The ensemble appeared on Australian Broadcasting Company's program "Access All Areas," ZDF's "Ersteklassich!" and were also featured on Classic FM and BBC World Service. Recordings
---
Bulgarian Voices - Angelite (Bulgaria)

"Angelite - The Bulgarian Voices" is among the most renowned ensembles in the categories of "worldmusic" and "folklore." The women's choir has performed practically everywhere: on the Red Square in Moscow, at the award ceremony of the Nobel Peace Prize in Stockholm and at the Vatican. The cryptic, mysterious, perhaps even somewhat mystical quality that characterises the choir's sound arises primarily from the singers' preference for a second voice which is maintained a slight interval to the leading melody. This results in a kind of nearly-dissonant friction as well as a great radiant power, as of an unfolded colour spectrum: The singers' voices fan out into a colourfully glowing sound palette that plays with overtone resonance. As a result, "Angelite" offers something that goes far beyond common folk music: It is the artful and skilful enhancement of traditional elements to form a style which - despite its a great affinity with the folklore of Bulgaria - can be considered a category of its own. On the one hand it possesses an "authentic" sound, i.e. preserves the heritage; on the other hand it has advanced into the sphere of art music. Recordings
---
Carmina Slovenica (Slovenia)

Carmina Slovenica has held a central position on the Slovenian and international music scene and have performed on concert stages worldwide – from the Cankarjev dom in Ljubljana to the San Francisco Symphony Hall, from the Teresa Carreño Theatre in Caracas the Hong Kong Cultural Centre or Teatro Colon in Buenos Aires. Carmina Slovenica has been invited to the music events of the highest esteem such as World Music Days (organized by ISCM), World Symposium on Choral Music (organized by IFCM), Eastern Festival in Moskow, Dresdener Musikfestspiele, European Symposium on Choral Muisc (IFCM), Polyfollia , America Cantat, Choir Olympics, Europa Cantat etc…

It is one of the foremost avantgarde vocal ensembles, creating contemporary music projects. With "Choregie – vocal theatre" Carmina Slovenica introduces new concept which incorporate music, drama, movement and other stage elements. Such latest stage produductions were: Scivias, Vampirabile, Slovenian sounds, Adiemus, From Immemorial Times – award winning productions performed on many international festivals and broadcasted by EBU and Eurovison. Recordings
---
Cincinnati's Women's Choir (US)

In 1984, Catherine Roma, a new doctoral student at the University of Cincinnati-College Conservatory of Music, held the first MUSE auditions. From those auditions, twenty some women emerged who shared a vision of a women's choir. That vision was of a choral community that reflected their wish for the world: a place where differences would be celebrated and where women of many colors, ages, cultures, and lifestyles would come together in harmony. Within six weeks of the first rehearsal, MUSE made its debut on International Women's Day, 1984. Twenty-four women performed three songs at the Cement Mixers Union Hall in the Walnut Hills area of Cincinnati. Today, MUSE performs in about 30 venues each season and has grown to sixty singers with a volunteer staff of over a dozen. Now highly regarded nationally as well as in the greater Cincinnati area, MUSE continues to be guided by the original vision of that early group of women. Recordings
---
Dzintars: Latvian Women's Choir (Latvia)

Dzintars is the Latvian word for amber, the translucent fossilized pine pitch highly prized in Latvia. Commonly worn in necklaces, bracelets and rings, as a symbol of national identity it signifies beauty, openness, and freedom. The Dzintars choir, the leading female chorale of the region, was founded in 1947 and has evolved into an internationally acclaimed professional chorus. Their awards include Hungary's 1968 Gold Diploma in the Bartok Competition, and the Netherlands' Grand Prix in 1977. The present company includes 76 skilled professional singers, under the direction of Imants Cepitis and Ausma Derkevica.

During their 1989 U.S. tour, the Dzintars stopped at the state-of-the-art sound studios of George Lucas' Skywalker Ranch in northern California to record this album with producers Mickey Hart and Jerry Garcia. Drawing upon a rich cross-section of their native Latvian repertoire, both traditional and "avant-garde," this is a pristine showcase of their remarkably pure voices and impeccable harmonies. Included are arrangements of such traditional folk songs as "Blow, Wind, Blow" (the Latvian freedom anthem), new interpretations of folkloric materials such as "The Forest Shook from Dancing," and several new songs by young Latvian composers ("Song of the Wind," Autumn Landscape," The Tomtit's Message"). Also included are three Yiddish folks songs ("Sleep, My Child," "Di Raike," and "Oi Hanuke") and "So Silent is the Ukrainian Night," a modern Russian composition. Recordings
---
The Elektra Woman's Choir (Canada)

The Elektra Woman's Choir was founded by co-directors Morna Edmundson and Diane Loomer in 1987 and is now regarded as a leader in the classical women's choir movement worldwide. The choir is known for its adventurous programming, seeking out music written specifically for women and frequently commissioning new works. The singers are selected by audition and share an enthusiasm for challenging repertoire. Elektra was awarded first prize for women's choirs in four consecutive rounds of the Canadian Broadcasting Corporation's National Choral Competition, as well as several major prizes for performance of contemporary music. In August 1996, Elektra represented Canada at the Fourth World Symposium on Choral Music in Sydney, Australia. In March 1997, Elektra was one of the highlighted choirs at the National Convention of the American Choral Directors' Association. In July 2000, it performed in Edmonton at both "Podium," the biennial convention of the Association of Canadian Choral Conductors and the ISME - International Society for Music Education's conference. Elektra is frequently heard on CBC Radio across Canada and on National Public Radio in the United States. Recordings
---
Kanta Cantemus Korua (Spain)

Kanta Cantemus Korua is a women's choir, created in 1995 by its present conductor Javier Busto. K.C.K. has participated in important events and choral cycles in Spain, France, Sweden, USA and Italy, receiving very positive reviews, above all for the vocal quality and expressiveness of the group. The choir participated in the International Competition "Florilège Vocale de Tours" (France) and won first prize in equal voices, second prize in free programme and the Ministry of Culture prize for the "best performance of a French piece". They have won many prizes including the "International Choral Competition in Tolosa" (Basque Country, Spain) and won first prize in equal voices (folklore), second prize in equal voices (polyphony) and the Basque Government prize for the "best performance of a Basque piece". Other awards include first prizes in Ejea de los Caballeros, Tolosa, Avilés, Tours (France), Gorizia (Italy), Spittal an der Dräu (Austria), Mainhausen and Marktoberdorf (Germany) plus prizes of composition in Bilbao, Tolosa and Igualada. Recordings
---
Kitka (US)

Kitka is a women's vocal ensemble unlike any other. These sophisticated singers blend a contemporary sensibility with specialized vocal techniques from Eastern Europe that have been distilled over centuries. Using only the pure unaccompanied voice, they create a constantly shifting landscape of sound, pulsing with angular rhythms, where dynamic leap from velvet stillness to shattering resonance, and flinty unisons explode into lush incomprehensible chords.

Kitka's material ranges from ancient villages duets to classically-based choral works, from early music to contemporary theater. The sound of their voices is exotic, both elegant and eerie. The melodies are strangely beautiful. The languages they sing are largely unfamiliar to American ears - Bosnian, Bulgarian, Croatian, Georgian, Hungarian, Macedonian, Romanian, Russian, with the occasional Latin, Galician, and ancient Greek. It is exactly this unfamiliarity that is so riveting, as Kitka's sensitive precision lifts their work our of the merely musical into a universe beyond words, an experience that is primal, and elemental. Recordings
---
Manitou Singers of St Olaf College (US)
Comprised of select women's voices from the first year class, the Manitou Singers is one of the most popular music organizations on the St. Olaf College campus. Despite a complete turnover in personnel each year, the 100-voice choir sings at the opening worship service of the college as well as at various campus functions throughout the year such as daily chapel and church services, the annual St. Olaf Christmas Festival, Family Weekend Concert and its own Spring concert in April. With a repertoire that ranges from sacred to secular to popular ballads, the Manitou Singers have broad appeal both on and off campus.
Director Sigrid Johnson is a member of the voice and choral faculty at St. Olaf College in Northfield, Minnesota. She is the conductor of the Manitou Singers, a 95 voice first-year women's chorus at St. Olaf. Ms. Johnson holds a bachelor of music degree in voice performance from St. Cloud State University and a master of music degree in voice performance from the University of Michigan. Before her appointment at St. Olaf, she was on the music faculties of Gustavus Adolphus College in St. Peter and at the University of Minnesota in Minneapolis. Ms. Johnson is the Associate Conductor of the Ensemble Singers and the Symphonic Chorus for Philip Brunelle's Plymouth Music Series of Minnesota. The Plymouth Music Series, based in Minneapolis and now in its 30th season, presents both rarely heard and newly commissioned works for chorus and orchestra. Recordings
---
Motet Singers (US)

The Motet Singers is a women's a cappella ensemble of 10-12 voices, performing in the Eugene, Oregon area since 1982. Founded by Connie Burden, a music educator and church choir director, and German-born singer, conductor and arranger Hannelore Goode, it grew from friends who sang for their own pleasure to the semi-professional ensemble it is today. The group is comprised of 10 vocalists who perform without a conductor. Repertoire is drawn from classical, folk, and popular genres, ranging from the medieval to the contemporary. The ensemble is notable for its pure sound, seamless blend, and the ability to interpret an eclectic variety of music. They presents a holiday concert in December and a spring concert in May, and also gives private concerts for charitable organizations. They have performed in such places as the University of Oregon Museum of Art, the Hult Center for the Performing Arts, and many churches in the Eugene/Springfield, Oregon area. They were guest singers at the 2001 Oregon Bach Festival. Their first CD, "Sing Noel", was released in 2001, followed by the release of "After Silence" in 2004. Members are accepted by audition, and come from a variety of professions and backgrounds in Eugene and Springfield. The Motet Singers gives them an opportunity to make music of the highest level and offer it to friends, family and community members who enjoy vocal music. Recordings
---
Mediaeval Baebes (England)

Baebes give Early Music a makeover! It looks like Nigel Kennedy, Roberto Alagna, and Luciano Pavarotti can't cut it in the classical charts when challenged by a dozen temptresses chanting the hottest sounds of the thirteenth century. The Mediaeval Baebes is a talented vocal group (which also happens to imbue the presentation of Early Music with a certain Anglo-sex-on-legs kind of style). Their debut album SALVA NOS went straight into the Classical Chart at Number 2, stayed in the top ten for three months and beat off all the big names in the business; it was the eighth biggest seller of the year and the only classical debut to go silver in 1997; to date it's sold over 60,000 copies in the UK alone. Most of the tracks are original compositions by Katharine Blake and the group's other members. The lyrics draw on 13th, 14th and 15th century poetry, set to music composed in the twentieth century in a medieval idiom. With its broader range of harmonies and stronger percussion, the group has a distinctively up-beat feel where 21st century technology meets 13th century culture, admirably illustrating The Times' contention that the Mediaeval Baebes are the "Spice Girls set loose in the court of King Henry VIII". But ignore the idiosyncrasies of image which the Baebes play on with the zest of naughty children, and you are left with an extraordinary, balanced and highly proficient vocal ensemble. As The Independent commented "they do what they do remarkably", they "hold everyone in a hypnotic trance", and their singing "makes ... the hairs stand up shiveringly on your neck". It's "mediaeval soul music" (The Times). Ultimately it's the quality of their artistry - and not their strikingly sensual appearance - which makes the Mediaeval Baebes such a success. After all, who'd listen to Pavarotti if he hadn't the talent, but appeared in a thong? Recordings
---
Mirinesse (US)

Mirinesse is Old English for "joyful women". The singers of Mirinesse Women's Choir are an auditioned group of approximately sixty women, ages 21-70, who enthusiastically and joyfully share their love of music, and strive to model the highest level of musicianship, artistry and individual vocal ability. To that end, co-conductors Rebecca Rottsolk and Beth Ann Bonnecroy seek out challenging and diverse repertoire from historic and contemporary sources throughout the world. That high-level repertoire then becomes the vehicle for education in performance practice, cultural context, language and understanding of text, musicianship and vocal technique.

Mirinesse is an organization in which each person's talents and abilities are recognized and valued, but where all are also challenged to learn and grow as singers and musicians. Each singer's healthy vocal technique is key in achieving beauty, flexibility and accuracy in the choral sound. Teaching, modeling and encouraging vocal health is a high priority beginning with the assignment of parts and placement of singers, and continuing during the rehearsal process and throughout performances. Under the inspiring leadership of Rebecca and Beth Ann, each singer is empowered to contribute their ability and knowledge to the collective creation of a rich musical experience. Recordings
---
Mystere Des Voix Bulgares (Bulgaria)

In 1951, the father of Bulgarian concert folk music, Philip Koutev, established the Ensemble of the Bulgarian Republic. His goals was to join the rich heritage of his country's solo folk songs with harmonies and arrangements that highlighted their beautiful timbres and irregular rhythms. One year later, the Bulgarian State Radio and Television Female Vocal Choir was founded. Then as now, its members are singers from the rural regions of Bulgaria, each an informal apprentice in the folk songs of her home. The ensemble, now under the direction of conductor Dora Hristova, has refined Koutev's original idea into a fine art. The Choir's imaginatively arranged songs join traditional folk melodies with sophisticated harmonies and compelling rhythms, performed in an exotic six-part vocal style. Repertoire is drawn from arrangements created by Bulgaria's most esteemed composers, among them Mr. Koutev, Krasimir Kyurkchiyski, Nikolai Kaufman and Petar Lyondev. Recordings
---
The Peninsula Women's Chorus (PWC) is a Palo Alto-based, 60-voice women's choir performing high-quality classical and contemporary music in the Bay Area and many parts of the world. Committed to excellence in the performance of diverse and challenging choral literature for women's voices, the PWC has come to national and international attention through live performance and recordings and has added significantly to the choral literature by commissioning new music. The chorus inspires and enriches its audiences in the Bay Area through its concert series, its ongoing program of premiering new works, and its numerous collaborations with other Bay Area performing groups.

Founded in 1966 under the auspices of the Association of American University Women, the Peninsula Women's Chorus is now affiliated with Foothill College in Los Altos, California, and is the premier vocal ensemble for women in the San Francisco Bay Area. Under the direction of Dr. Patricia Hennings from 1975 until her untimely death in 2001, the PWC was led by Karen Robinson until the fall of 2003 when current artistic director, Marten Benvenuto, assumed the musical leadership of the chorus.The PWC's commitment to performing new and interesting music has produced many works that have expanded women's choral literature and has also prompted the chorus's involvement in projects beyond the scope of the normal concert season. Recordings
---
Philomela Female Choir (Finland)

The Helsinki-based women's choir Philomela was started in 1984 at the instigation of the Helsinki Chapter of the Finnish Amateur Musicians' Association (SULASOL) and the Culture Board of the City of Helsinki. Philomela has 45 members, half of whom are students and the other half already in working life. Philomela aspires to perform choral music as extensively and ambitiously as possible. The choir aims at mastering both traditional and modern music, sacred masses and light music, singing styles originating from the Finnish national epic, the Kalevala, as well as the works of contemporary composers, many of whom have dedicated works to Philomela. The choir is known for its experimental choreographies and its chameleon-like ability to transform its style and appearance according to each occasion and venue. In spring 1998, the choir appeared in the Helsinki City Theatre production of The Sound of Music. PhilomelaÕs goals were set high at the outset. Due to goal-oriented work, the choir has risen to the top of Finnish choral music, and it has also received acclaim abroad. Philomela has produced numerous radio recordings, and in 1991 it received the Amateur Music Award of the Finnish Broadcasting Corporation (YLE). In the same year, Philomela was nominated Choir of the Year by the Finnish Women's Choir Association.

Philomela's conductor, Marjukka Riihimaki, graduated from th Sibelius Academy of Music in 1974. Presently she is teacher at the Sibelius College in Helsinki and also conducts the Klemetti Institute's Women's Choir and Grex Musicus Mixed Choir and in 1993 she was the winner of the prestigious Klemetti Prize. She is characterized as one of the most prominent choir conductors in Finland today, a pioneer of female choir singing and inspiring instructor at domestic and international choir seminars. Recordings
---
St. Mary's College Women's Choir (US)

The Saint Mary's College Womens Choir, a select 40-voice ensemble, regularly commissions and performs new works for women's voices. An outgrowth of this emphasis is the publication of the Saint Mary's College Choral Series, a collection of new works for women's voices, published by earthsongs of Corvallis, Oregon. The Choir has performed throughout the United States and has appeared before state and division conventions of the Music Educators National Conference and the American Choral Directors Association. In February 2005, the Choir appeared before the national convention of the American Choral Directors Association in Los Angeles, performing in Wilshire Christian Church and the new Walt Disney Concert Hall. Each November the Choir hosts the annual Saint Mary's College High School Women's Choir Festival, in which 20 choirs from neighboring states perform for each other and a panel of commentators. The Choir tours nationally every other year, and regularly performs with the University of Notre Dame Glee Club in joint performances of major works with the South Bend Symphony Orchestra. They have appeared in concert at Carnegie Hall in 1999 and 2001, and returned there in November 2005 to perform music by Gwyneth Walker for women's voices and orchestra. Recordings
---
Sofia Women's Chamber Choir (Bulgaria)

Founded in 1966 the Sofia Chamber choir is one of the brightest phenomena in the modern Bulgarian choir-performing art. The choir is a laureate of many special awards including 18 first place prizes from international music competitions. It has toured in Austria, Great Britain, Germany, Greece, Spain, Poland, Russia, Slovakia, Turkey, Hungary, France, Czech Republic and Japan. The choir has realized records and concerts for Bulgarian and foreign radio and television companies, gramophone records for "Harmonia Mundi", "Pate Markoni", "Melodia", and "Balkan-ton". The repertoire of the choir includes works from the Renaissance period to the most prominent representatives of the music from the 20th century. The Bulgarian composers and their works, some of which were written especially for the choir, take a great place in its programs.

Theodora Pavlovich - graduated the State Academy of Music with a choral conducting and a sound - engineering subjects. From 1986 till 1991 was a choral master of the Chamber choir of the Bulgarian National Television, and since 1991 has been the conductor of the Vassil Arnaoudov Sofia Chamber Choir, sustaining the whole artistic tradition, established by her teacher - prof. Arnaoudov. Being a member of the juries of many international music competitions, a member of the Board of managers of the Bulgarian Choral Union and of iEurope Kantati Federation in 2000 she is chosen for vice-president of the Music commission of the Federation. Teodora Pavlovich is an associate professor in the State Academy of Music "Pancho Vladigerov". Recordings
---
Sound Circle (US)

Sound Circle, a women's a cappella ensemble directed by Sue Coffee, is based in Boulder, Colorado. Founded in 1994, the 22-voice group sings a cappella music of all styles, emphasizing music by women and music that speaks to the sounds, rhythms, and experiences of our own lives. Highlights of Sound Circle's performing history include appearances at the national conventions of the Women's International League for Peace and Freedom in 1996 and the National Coalition Against Domestic Violence in 1998, and a performance in Carnegie Hall in 1999 as guests of the New York City Gay Men's Chorus.

A member of the Gay and Lesbian Association of Choruses (GALA Choruses) and the Sister Singers Network, Sound Circle has performed at the 1996 GALA Festival V in Tampa, FL and GALA FEstival 2000 in San Jose, CA; with the Rainbow Chorus in Fort Collins, CO; the South Coast Chorale in Long Beach, CA; the Portland Gay Men's Chorus in Portland, OR; the Denver Gay Men's Chorus; and the New York City Gay Men's Chorus. Committed to the creation of new music that is relevant to our lives, musically innovative, and of the highest quality, Sound Circle has commissioned new works by Carol Matthews, Craig Carnahan, Diane Benjamin, Fatu Judy Henderson. In 2000, they premiered works by Laura Karpman and Diane Benjamin, with texts by Dorothy Allison and Gerry Gomez Pearlberg; a work by Janika Vandervelde with text by Alice Walker that was jointly commissioned with Vox Femina Los Angeles and Philadelphia's Anna Crusis Women's Choir; and a work by Eric Lane Barnes. The ensemble has also developed percussive movement pieces through an improvisational process, performed original music by members of the ensemble, and created new arrangements of many works. Recordings
---
Tapestry (US)

Tapestry, a Boston-based ensemble of women's voices, was founded in 1995 by Director Laurie Monahan, mezzo-soprano, Cristi Catt, soprano and Daniela Tosic, alto. The ensemble made its concert debut with Steve Reich's Tehellim at Jordon Hall in Boston in a performance deemed "a knockout" by the Boston Globe. The trademark of the ensemble is combining medieval repertory and contemporary compositions in bold, conceptual programs. Critics hail their rich distinctive voices, their "technically spot-on singing" and their emotionally charged performances. Gramophone Magazine describes a piece from their Celestial Light recording: "This is an outstanding performance such as I have rarely heard, beginning with a smooth legato of utter perfection in a low restricted range, then gradually expanding upwards with ecstasy to reach a top D with amazing control." The Cleveland Plain Dealer describes Tapestry as "an ensemble that plants haunting vibrations, old and new, in our ears" and The San Diego Reader describes the ensemble's Song of Songs Program as "hypnotically beautiful...a cornucopia of sensual pleasures." Recordings
---
Vesnivka (Canada)

Vesnivka, founded in 1965 by Halyna Kvitka Kondracki, is an acclaimed and award winning women's choir based in Toronto, Canada. The 40 member choir grew out of the Ukrainian-Canadian community of Toronto and its surrounding area and is considered to be one of the most prominent and respected women's choirs in North America. In 1993, Vesnivka attended its first International Choral Competition in Llangollen, Wales and won first place in the Folk category, competing against 22 world-class choirs. At the closing of the choral competition, the Choir performed at the grand finale and was awarded the esteemed W.S. Gwynn Williams International Trophy for outstanding performance. In 2000, Vesnivka Choir travelled to Linz, Austria where it competed in the 1st Choir Olympics and won a Silver Medal in the Folklore A Cappella category. Vesnivka Choir continually commissions Canadian composers in order to develop its repertoire, to provide for these creative individuals a venue for their talents and to introduce these new and wonderful sounds to choral audiences. These include: Larysa Kuzmenko, Zenoby Lawryshyn, Alexander Levkovich, Willi Hwozdetcky and Evhen Stankovich. Recordings
---
Voci Nobili (Norway)

Voci Nobili was established in 1989 by its present conductor, Maria Gamborg Helbekkmo. The choir consists of about 25 female singers, most of whom are students at Bergen University College or the University of Bergen.The singers are accepted on the basis of an audition. None of them are professional, but they all spend an average of 500 hours a year with the choir, rehearsing, competing and giving concerts. The choir, which has gained wide recognition as an exceptionally fine vocal ensemble, has given a number of concerts in Norway and abroad, and has won several national and international choral competitions.

Maria Gamborg Helbekkmo (b. 1942) Helbekkmo is an associate professor at Bergen University College, where she teaches choir conducting, piano and solo voice. She conducts Jentekoret (The Girls Choir) and Voci Nobili, both choirs connected to Bergen University College. She has been the artistic director of Bergen Philharmonic Choir, and in 2000 she was in charge of Voices of Europe, a collaborative project between the European Cultural Cities. From 1993 – 1998 Helbekkmo was a guest lecturer at the Norwegian Academy of Music in Oslo. Helbekkmo can point to a long career as a musician as well as a teacher. She has given several piano recitals and also been a soloist with several prominent orchestras. She has toured with both the Norwegian and Swedish Concert Academies, and she worked for many years as a freelance musician for the Norwegian Broadcasting Company, (NRK); making music programs for children. She studied choir conducting with Eric Ericson (Stockholm) and Knut Nystedt (Oslo), voice with Paul Lohman (Wiesbaden), Gunvor Mjelva (Oslo) and Ellen Sundby (Bergen), and the piano with Eline Nygaard (Norway), Bela Siki (Seattle), and Adele Marcus (Juilliard School of Music, New York). Recordings
---
Vox Femina (US)

In January 1997, under the artistic direction of Dr. Iris S. Levine, twenty-one women selected by audition came together to form Vox Femina Los Angeles. The ensemble debuted at the Gay Men's Chorus of Los Angeles' concert to an enthusiastic audience. Since their inaugural season, VFLA has been invited to sing at many prestigious community events including the International Association of Women in Music International Conference; the Greater Los Angeles Coalition for Reproductive Rights anniversary celebration of Roe v. Wade; Women's Night '98 (benefiting women's services at The Center); ONE Institute's Celebration of Jim Kepner's Life and 50 Years of Gay and Lesbian Movement; and the Annual Los Angeles County Holiday Celebration. In March 2000, VFLA received a standing ovation for their performance at the American Choral Directors Association's Western Division Convention. Recordings
---
| | |
| --- | --- |
| Under the direction of Dr. Timothy Seelig and Principal Accompanist, Lamar Sims, TWCD performs three concerts in its subscription series each year. The Women's Chorus combines many elements in each concert: from Bach, Beethoven, Brahms, and Mozart, to Copland, Gershwin and Bernstein. There's music from the Broadway stage as well as popular ballads, folk songs, traditional music in language of origin and works by contemporary composers from around the world. In addition to its concert series, TWCD appears at many community events and fund-raisers, supporting the fight against AIDS, against breast cancer and other human concerns. The Chorus was founded in August 1989 with only 32 members and has performed and entertained audiences ever since and has grown to be 120 members strong. Recordings | |
---
Joan Conlon: Wisdom, Wit and Will - Women Choral Conductors on Their Art
Analyzing the Choral-Orchestral Score - Ann Howard Jones
Must We Sing of Women Only as Men Have Sung? - Joan Catoni Conlon.
Building Bridges: Choruses Engaging Communities - Kathy Saltzman Romey
Conducting the Choral-Orchestral Work - Beverly Taylor
Passion and Authenticity: A Conversation With Marin Alsop - Melinda O'Neal
Women Conductors as Leaders and Mentors - Hilary Apfelstadt
Women, Conductors, and the Tenure Process: What's Up In the Academy - Sharon Hansen
Feminine Perspectives on Conducting and Teaching Choral Music - Doreen Rao
Teaching Graduate Conductors - Marguerite Brooks
Artistry Through Improvisation in the Choral Rehearsal - Sue Williamson
Finding Balance - Hilary Apfelstadt
Nadia and Me - Harriet Simons
Biographies of Selected American Women Choral Conductors
Women have had a profound impact on the choral arts. This groundbreaking volume is a celebration and affirmation of this critical role, both through history and looking into the future, written by thirteen of the most significant voices in the choral profession. Wisdom, Wit, and Will is a refreshing perspective on the choral field, rebutting conventional attitudes toward conducting and gender, and including distinctive biographies of some of the pioneering female choral conductors. But even more importantly, this book is of tremendous value to anyone seeking fresh insights into the choral conducting profession. Divided into three sections—Our Music, Our Teaching, and Our Lives—this book is about creating the best possible experiences for choral conducting students and choral singe rs. Among just a few examples, Ann Howard Jones discusses "Analyzing the Choral-Orchestral Score," Doreen Rao focuses on "Feminine Perspectives on Conducting and Teaching Choral Music," and Hilary Apfelstadt enlightens us about "Finding Balance: Professional and Personal." This book also includes concise presentations of the score preparation techniques of Robert Shaw, Margaret Hillis, Nadia Boulanger, and many others. What do women want? They want the same things men want, or should want: exciting musical performances, sensitivity to text, attention to sound learning strategies in rehearsal, solid vocal technique, knowledge of the score, and more. Wisdom, Wit, and Will is a wonderful resource for anyone who aspires to develop his or her role as a professional and artistic choral conductor and teacher.

---