Riptide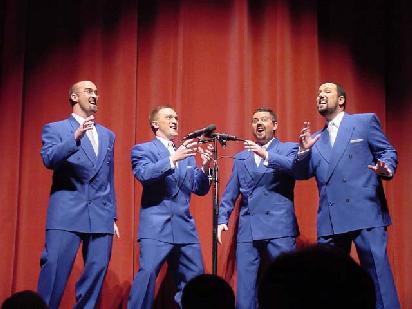 Group members:
Tenor - Eric King is a proud member of the Stone Mountain Chorus and was the tenor of the 1994 Dixie District Champ Quartet, "Class of '94". As the father of twin boys, Alexander and Zachary, he stays very busy; but not as busy as his beautiful and talented wife, Cheri. Eric is an accomplished chorus coach, quartet coach and music arranger.
Lead - Tim Reynolds is a proud member of the Marietta Big Chicken Chorus and was the lead singer of the 1996 Dixie District Champ Quartet, "Bandstand". In July 2001, Tim and his wife, Amy, became proud parents of triplets. Tim is currently working as a Chief Engineer for The Home Depot. Tim is an accomplished chorus and quartet coach in the Southeast US.
Baritone - Richard Lewellen is the director of the Birmingham, AL Metro chorus. Richard is a two time District Champion singing bass in "Pacifica" (1982) and lead in "Atlanta Power Co" (1993). Richard travels all around the US as a men's and women's chorus and quartet coach.
Bass - Jeff Selano is a proud member of the Marietta Big Chicken Chorus and is a four-time District Champion bass (Canada's "Highfallutin!", and the Dixie District's "Talk of the South", "Bandstand", and "Riptide"). Jeff is a Doctor of Chiropractic and father of 2. Jeff is a Certified Singing Judge and also coaches quartets and choruses throughout the US and Canada.
Discography
Wonderful World
Fit As A Fiddle / For Me and My Gal Medley
You're the Girl I Love
Apple Blossom Time
Put Me To Sleep
Let the Rest Of the World Go By
Chordbusters March / It's A Brand New Day Medley
Love's Old Sweet Song
And So It Goes
Almost Like Being In Love
Beautiful Savior
Misty (with Crystal Clear)
Blue Skies
I'll Forget You
Sweet Sweet Spirit
Wonderful World
If you haven't heard them before the first aspect of Riptide's second recording which will transfix you is the lenticular imagery (two different images emerge depending on the angle at which you hold and view the CD) created between the special CD case and the liner notes themselves! Then you dive into the music and right away are stunned. The perfect intensity of the opening chords leaves your mouth hanging. If you are lucky it will close just in time to drop open once again, in awe of the amazing chord changes in their rendiditon of Jay Giallombardo's arrangement of "You're the Girl I Love." Who are these guys, you wonder?! Well they are Atlanta's own Jeff Selano - bass, Richard Lewellan - baritone, Eric King - tenor, and Tim Reynolds - lead. They formed Riptide in the fall of 1997, formerly being participating members in the Big Chicken Chorus, The Stone Mountain Chorus, and the Birmingham Metro chorus. Highlights of their steady meteoric rise include 22nd in the world SPEBSQSA International Competition in Atlanta in 1998. The 1999 Internationals saw them move halfway up the ladder to aclaimed perfection as they placed 11th. Then in Kansas City, Missouri in the 2000 SPEBSQSA International Finals they were the sixth best in the world. Notice a trend here? When will they be crowned International Champions, this year...next year? It's sure to be soon. This championship capacity is available for you now on this wonderful album featuring fifteen contest and not-so-contest songs including a beautiful version of Misty, sung with guest artists Crystal Clear. Get this fabulous recording then you can nod wisely at these soon-to-be-champions and say, "Yep, I knew it all along!"

---
Live
Keep Your Eye On The Girlie You Love
Somebody Stole My Girl
Put Me To Slep with An Old Fashioned Melody
Cabin On A Hilltop
Blue Skies
Beautiful Savior
Brown Eyes
Their Hearts Were Full of Spring
You're The Girl I Love
Applause
Peace I Leave With You
Riptide is Eric King, tenor; Tim Reynolds, lead; Jeff Selano, bass; and Dylan Oxford, baritone; and this is a live recording from the 4th place finalists at the 2001 SPEBSQSA convention in Nashville. "Live!"is pure barbershop entertainment, ten songs that tickle the funnybone and tug the heartstrings, to the obvious delight of the audience. We have the very funny and poignant â"Keep Your Eye On The Girlie You Love/ Somebody Stole My Gal Medley,"â"Put Me To Sleep With An Old Fashioned Melody,"the nostalgic â"Cabin On A Hilltop,"the classic â"Blue Skies,"the favorite hymn â"Beautiful Savior,"â"Brown Eyes,"the touching â"Their Hearts Were Full Of Spring"and â"You're The Girl I Love,"â"Applause"and closing with the lovely â"Peace I Leave With You."Beautiful harmonies by four talented, good-looking men who we wouldn't be at all surprised to see wearing SPEBSQSA gold medals!

---
To find a specific song on any recording (or to find recordings by group name or CD title),
pick the search method and type the item you are searching for here:



All Rights Reserved All Content, page design, CGI Copyright © United Singers International