Expanded Sound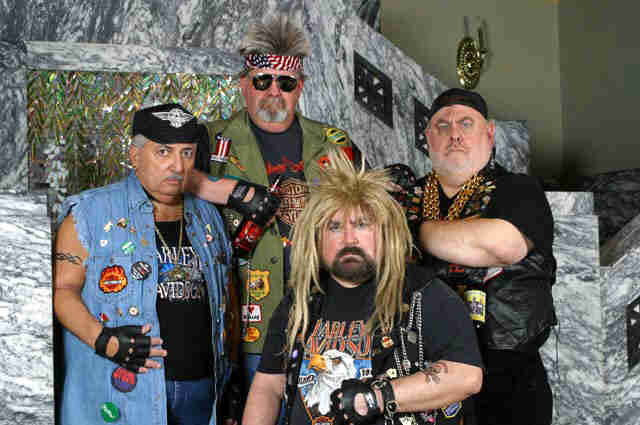 Expanded Sound is a Barbershop Comedy Quartet of "unparalleled dimension". It has always been a hobby, during our 9 years of hilarity, singing barbershop quartet music, but it would appear that some quartets take on a life beyond a simple after-hours activity. See what happened when four overweight singers teamed up to make music and laughter.Our Mission is pure and simple: We have fun singing songs and making people laugh! If we can get a good meal out of it, so much the better.
Expanded Sound, Inc. is the corporate structure of our quartet. The four original members of the quartet are the owners and officers of the corporation. We have a non-traditional answer to the frequently posed question, "How many are in ya'lls quartet?" There are actually seven current members of the quartet, since we have an extra tenor, lead, and bass to enable us to meet more performance requests.
Expanded Sound is registered with the Society for the Preservation and Encouragement of Barbershop Quartet Singing in America (SPEBSQSA) and each member of the quartet is also a member of that organization. The quartet arose from the ranks of the Saint Charles, Missouri Chapter of SPEBSQSA. There we sing with the Ambassadors of Harmony, a Barbershop Chorus which has won the bronze medal in international competition for three straight years.
People think of barbershop quartets as strolling background music for stand up parties, but Expanded Sound is true corporate meeting entertainment. We have performed for such major corporations as: Harley-Davidson, Ralston Purina, Monsanto, Anheuser-Busch, United Van Lines, Compaq in cities all across North America. You can have all kinds of entertainment at your meeting or party and a week later people will have forgotten the experience. Expanded Sound deals in memories. Our show is an unforgettable experience that will keep your people talking about what happened that night.
For Barbershop Society Chapter Shows, Expanded Sound will be the unique act which draws a crowd and makes them want to come back every year for more. When the district champs have everyone snoring at the end of their last ballad, The Bikers will wake them up and shake them up with enough laughter to make some people incontinent.
Group members: Lawrence Gans, M.D. tenor; William Benner, lead; Tom Hegle, baritone; and Charles Buehrle, bass.
Discography
A Biker's Life
A Biker's Life
That Old Gang of Mine
The Biker's Medley
My Old Harley
Silhouettes
Biker's Christmas Carol
Diet Medley
Junk Food
(Bum), Snap, Crackle, Pop
Overweight People
What A Wonderful World
The Restroom Door Said Gentlemen
Expanded Sound is four wide guys. We're talking wide here, with the broadest sense of humor in barbershopping. Their motto is "a waist is a terrible thing to mind." This particular recording is devoted to biker parodies and food tunes. In "The Biker's Medley" written by Neil Frederiksen we have the great lyrics, " Su Su Zuki don't cry, Su Su Zuki goodbye..." Of course you have to hear the "Biker's Christmas Carol" with the refrain, "But you ain't gettin' diddly-squat, 'cause you really screwed up this year..." On the issue of food there's the "Diet Medley," "Junk Food," "Overweight People" and the spoof of the Rice Krispies jingle (while dressed in biker gear!) entitled "(Bum), Snap, Crackle, Pop." If you listen to too much serious barbershop music, try this for an antidote!

---
Par For The Course
Introduction
Four Under Par
At the End of the Fairway (There's Happiness)
On Our Golf Carts
Side By Side
Birthday Lament
Sixteen Strokes
One of Those Songs
Hook, Slice and Sinker
Having traded in their biker leather for golf togs, the expanded foursome have returned, creating a shall we say, substantial impact on the golfing world....."On Our Golf Carts" satirizes the venerable chestnut, "Under The Boardwalk": "we're on our golf carts, down by the tee, with a hot dog and some nacho cheese..." you get the idea. Though humor is the primary objective-and as this live recording indicates, Expanded Sound is funny indeed-musically, don't be fooled. This quartet knows their way around a barbershop arrangement just as well as they know the course at Pebble Beach-listen to the chords and tag of "Four Under Par"- they're just having a good laugh while doing it!

---
To find a specific song on any recording (or to find recordings by group name or CD title),
pick the search method and type the item you are searching for here:



All Rights Reserved All Content, page design, CGI Copyright © United Singers International