Straight No Chaser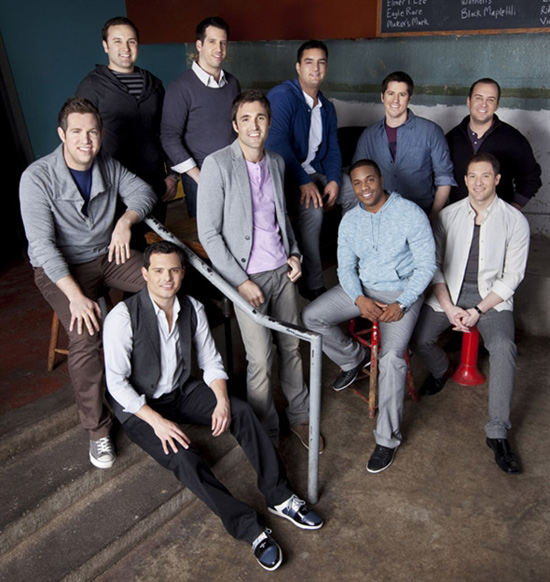 If the phrase "male a cappella group" conjures up an image of students in blue blazers, ties, and khakis singing traditional college songs on ivied campuses... think again. Straight No Chaser (SNC) are neither strait-laced nor straight-faced, but neither are they vaudeville-style kitsch. As original member Randy Stine comments, "We take the music very seriously; we just don't take ourselves too seriously." In the process, they are reinventing the idea of a cappella on the modern pop landscape.

Originally formed over a dozen years ago while students together at Indiana University, the group has reassembled and reemerged as a phenomenon – with a massive fanbase, over 20 million views on YouTube, numerous national TV appearances, and proven success with two holiday releases, 2008's HOLIDAY SPIRITS and 2009's CHRISTMAS CHEERS. In an era when so much pop music is the product of digital processing and vocal pro-tooling, Straight No Chaser is the real deal – the captivating sound of ten unadulterated human voices coming together to make extraordinary music that is moving people in a fundamental sense... and with a sense of humor.

Filled with sophisticated harmonies and uniquely stylized arrangements, WITH A TWIST, the third offering from a cappella group Straight No Chaser, is a different, well, twist on what SNC does best. The group members are thrilled to be displaying a different side of their unparalleled vocal mastery. "It's definitely my favorite collection of songs we've recorded so far," says Dan Ponce, who organized SNC during the fall of 1996 at Indiana University in Bloomington. "Not that I don't love the Christmas music, but this is nice for a change. It certainly was refreshing to record some non-holiday songs."

Discography
With a Twist
I'm yours/Somewhere Over the Rainbow
Tainted Love
Don't Dream It's Over
Fix You
You're My Best Friend
The Living Years
You and Me and the Bottle Makes Three/Single Ladies
Wonderwall
Joy to the World
Under the Bridge
Can't Take My Eyes Off of You
One Voice (feat. Barry Manilow)

You all know SNC's story, about these 10 all male Indiana alums posting the vid "12 Days of Christmas" from their Collegiate career on YouTube, getting over 10 million hits, reuniting as an a cappella group, releasing two hot Christmas CDs, and doing live performances at major venues across the country. You know, the usual! Well, "With a Twist" adds some dynamic, cutting-edge arrangements and wonderful new covers to SNC's repertoire. With a smooth, polished sound and rock solid vocal percussion reminiscent of Rockapella, The House Jacks and The Blenders, Straight No Chaser is showing off some formidable vocal chops here! Twelve well-chosen cuts, beginning with a Reggae take on a medley that seamlessly and surprisingly segues J. Mraz's "I'm Yours" into Harold Arlen's classic "Somewhere Over the Rainbow;" an upbeat, rhythmic arrangement of Ed Cobb's Soft Cell hit "Tainted Love," another Reggae look at Crowded Houses' "Don't Dream It's Over," a rich, harmonic rendition of Coldplay's "Fix You," a big fun, swinging medley of S. Morris' "You & Me & The Bottle Makes Three" with a surprising segue into the Glee hit "Single Ladies;" a nice cover of Oasis's bluesy "Wonderwall," Queen's "You're My Best Friend," an amazingly arranged version of Three Dog Night's "Joy to the World," the Red Hot Chili Peppers' moody hit "Under the Bridge," and finally, Barry Manilow's "One Voice," featuring guest vocals by Barry himself! It's clear from "With a Twist" that SNC is playing with the big kids now, performing and recording on a level with some of the top groups in the a cappella world, and, as a favorite of ours in their Collegiate days, we couldn't be happier for them!
Listen to Don't Dream It's Over in RealAudio.
---
All I Want For Christmas



The perfect gift for everyone on your list! This special edition 2 CD + DVD box set includes the best selling albums Christmas Cheers and Holiday Spirits, plus a DVD of the group's Live in New York Holiday Edition Concert Special. Included a 14-page booklet featuring childhood photos of all group members. 47 tracks.
---
Christmas Cheers
The Christmas Can-Can
We Three Kings
Christmastime is Here
Let It Snow
Donde Esta Santa Claus
I'll Be Home For Christmas
Hey Santa!
Rudolph the Red Nosed Reindeer
You're A Mean One, Mr. Grinch
O Holy Night
Santa Claus is Back in Town
God Rest Ye Merry Gentlemen
Jingle Bells
Who Spiked the Eggnog?
The 12 Days of Christmas

Since their posting of a 10-year-old video in 2007 of a live cut of their version of the "12 Days of Christmas" on YouTube garnered over 10 million hits, these 10 male alums of Indiana University have gotten back together, recorded the best-selling "Holiday Spirit," and have been on one long reunion tour! "Christmas Cheers" is Christmas collection #2, and we have to say that the guys have not been sitting under the mistletoe, munching fruitcake. The arrangements on these 15 songs are sharp, innovative and funny, the leads and background harmonies recall groups like Rockapella, the Blenders and The House Jacks. Listen to the hilarious "Christmas Can-Can," the hot arrangement of "We Three Kings," the brilliant parody "Donde Esta Santa Claus," a wonderfully raucous Rockabilly "Hey, Santa," one of the sleaziest "You're a Mean One, Mr. Grinch" we've ever heard, a priceless overweight Elvis lead on "Santa Claus is Back in Town," a crazed "Jingle Bells," a drunken "Who Spiked the Eggnog" and finally hear the guys absolutely nail the song that caused all the gefuffle, "The 12 Days of Christmas." None of these songs is left alone, every one has unexpected surprises, samples, segueways, asides, faux horns and kazoos, you name it. It just goes to show--creativity, humor and great a cappella are stone winners now, and will be winners 10 years from now. "Cheers" to one of the best Christmas albums of the year!
Listen to Hey Santa! in RealAudio.
---
Holiday Spirit
Santa Claus is Coming to Town
Jingle Bell Rock
The Christmas Song
Christmas Wish
Hark! The Herald Angels Sing
Angels We Have Heard on High
Little Saint Nick
The 12 Days of Christmas- Live
Indiana Christmas
Sweet Little Jesus Boy
Christmas (Baby Please Come Home)
Carol of the Bells
Silent Night
Auld Lang Syne

We just caught Minnesota-based, Chicago Regionals-winning all male quintet Home Free's wonderful, funny set at the Harmony Sweeps Finals, and we really like this group! This album features nine smoothly harmonic, wonderfully-arranged (many by group member Chris Rupp) Christmas winners: "This Christmas," "Let it Snow/Winter Wonderland" medley, "O Holy Night," "Mary Did You Know," "Have Yourself A Merry Little Christmas," "Please Come Home for Christmas," "The Christmas Song," "I'll Be Home for Christmas" and "He Is Born." Treat yourself to this stellar collection from talented, fast-rising Home Free, and fill your Christmas with joyous music!
Listen to Santa Claus is Coming to Town in RealAudio.
---
---
To find a specific song on any recording (or to find recordings by group name or CD title),
pick the search method and type the item you are searching for here:



All Rights Reserved All Content, page design, CGI Copyright © United Singers International