The Ravens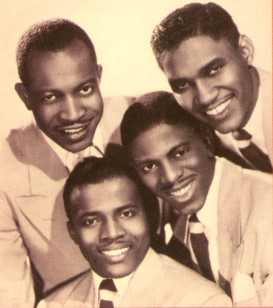 Among the premiere "bird" groups, the Ravens ranked just behind the Orioles as a major R&B ensemble. They included a virtuoso bass vocalist in Jimmy Ricks, who has influenced many other singers, including the Temptations' Melvin Franklin. Ollie Jones, Leonard Puzey, and Warren Suttles were the other original members. They began on Hub in 1946. Maithe Marshall replaced Jones later that year. The group's tenor/bass contrast became very influential among vocal groups. Despite their brilliance, the Ravens didn't have a single number one R&B hit in their careers, although they had eight Top Ten singles from 1948 until 1952 for National, King, and Mercury. Their most successful were "Write Me a Letter" in 1948 and "Send for Me If You Need Me," although "Ol' Man River," with Ricks' magnificent bass vocal, might be their finest.
The group began touring on what would become the legendary chitlin circuit, a series of theatre venues on the East Coast and in the Midwest in which thousands of rhythm and blues groups would perform. From the Uptown and Earl Theatres in Philadelphia, the Howard in Washington, the Royal in Baltimore, the Regal in Chicago, the Syria Mosque in Pittsburgh, and the State in Hartford to the crown jewel of theatres, the Apollo in New York, the Ravens blazed a trail for thousands of vocal groups.
Discography
Birds Of A Feather
Lullaby
Out Of A Dream
Bye Bye Baby Blues
My Sugar Is So Refined
Honey
Mahzel (Means Good Luck)
Ol' Man River
Summertime
Searching For Love
Be I Bumble Bee Or Not
Fool That I Am
Together
Until The Real Thing Comes Along
September Song
It's Too Soon To Know
I Don't Know Why I Love You Like I Do
White Christmas
Always
Deep Purple
Leave My Gal Alone
Rickey's Blues
Someday
Careless Love
Marie
I'm Gonna Take To The Road

Oh Babe
Walkin' With The Blues
Time Takes Care Of Everything
Don't Look Now
My Baby's Gone
I'm So Crazy For Love
Midnight Blues
You Don't Have To Drop A Heart To Break It
You're Always In My Dreams
Gotta Find My Baby
You Foolish Thing
Honey I Don't Want You
The Whiffenpoof Song
I Get All My Lovin' On A Saturday Night
That Old Gang Of Mine
Everything But You
There's No Use Pretending
Wagon Wheels
Mam'selle
Calypso Song
Begin The Beguine
Looking For My Baby
Chloe-e (The Song Of The Swamp)
Write Me One Sweet Letter
Rock Me All Night Long
In the development of Doo-Wop in the years following WWII, the most influential singer, on a level with Elvis in Rockabilly, was The Ravens' Jimmy Ricks, whose booming bass would set the standard for a generation of aspiring bass vocalists. "Birds" is a generous 2-CD set with 50 soulful, authentic (all accompanied) cuts, recorded from 1946 to 1952 by one of greatest R&B quartets of all time! Smooth and romantic on hits like "Lullaby," "Until The Real Thing Comes Along," "Deep Purple," "It's Too Soon to Know," Gershwin's "Summertime," and "I'm So Crazy For Love" and "You Foolish Thing;" hip, swingin' and funny on "Be I Bumble Bee or Not," "Marie," "Leave My Gal Alone," "Oh Babe," "Don't Look Now," "My Baby's Gone," "Midnight Blues," "Gotta Find My Baby," "I Get My Lovin' on a Saturday Night," a jazzy "Begin the Beguine" and a Ravens original, "Rock Me All Night Long." Wonderful extensive liner notes with photos and vintage posters. Every cut is a winner and these guys deserve to be a lot more famous! Outstanding.
Listen to Summertime in Real Audio
---

VOCAL JAZZ - Home | Vocal Jazz Groups | Recordings | Arrangements | DVDs | Christmas | Vocal Jazz Instructional

VINTAGE VOCAL JAZZ - Vintage Groups | Vintage CDs | Black Vocal Groups | Black Vocal Groups CDs | Christmas | Womens Vintage
---
Vocal Jazz | Doo Wop | Contemporary | Barbershop | Christian | Collegiate | World | Choral
Patriotic | The Groups | The Directors | The Vocal Coaches | Choral Development
Arrangements | Vintage Harmony | Christmas | DVDs | Instructional for Singers

The Harmony Sweepstakes A Cappella Festival


RSS - New Releases
Site Map | A Cappella News | Regional Newsgroups | RSS a cappella feeds
To find a specific song on any recording (or to find recordings by group name or CD title),
pick the search method and type the item you are searching for here:


All Rights Reserved All Content, page design, CGI Copyright © United Singers International