Merry Macs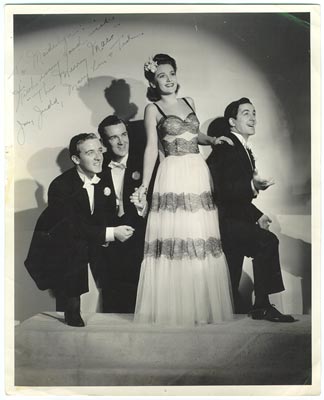 The Merry Macs formed in Minneapolis, Minnesota, in the 1920's and sang harmony with their mom singing the melody. They attended West High School and sang at school proms and college dances, fine-tuning their close-harmony style. In 1926 they were discovered by organist Eddie Dunsteder, who hired them to sing on his WCCO radio show in Minneapolis. He concocted the name the Mystery Trio for the group and had them wear masks – a little comical considering that no one could see them on radio. After a year of local broadcasting, the trio met bandleader Joe Haymes, changed their name to the Personality Boys, discarded their masks, and toured the country. In 1930 they added a girl, Cheri McKay, to sing the melody line. While searching for a new name (somehow, Cheri didn't qualify as a Personality Boy), they realized all their last names started in "Mc," so they became the Merry Macs.
Influenced by The Mills Brothers, the close-harmony quartet began with Ted on baritone, Joe and Judd on tenor, and Cheri singing melody. Their blend was so incredibly tight that it was difficult to distinguish one vocalist from another. In 1932 the group's manager, Harry Norwood, got them signed to Victor Records, source of their historic four-part harmony 78 "The Little White Church on the Hill." This was also the year of their first live performance at the Chicago Theatre and the commencement of their appearances on Don McNeil's "Breakfast Club" program several times a week under an NBC Radio contract. A number of firsts are attributable to this trend-setting group: they were the first close-harmony quartet to include a female, the first to use purely rhythmic accompaniment, and reportedly the first to wear white tie and tails, thus setting the trend toward formal attire on stage.
In 1936 the Macs performed on NBC's national network show, "The Maxwell House Showboat Program," and soon after, they were in demand for all the important network shows from the "Lucky Strike Hit Parade" to "Fred Allen's Town Hall Tonight," where a single performance blossomed into a three-year contract. During that same year Cheri was replaced by Helen Carroll. With their 1938 appearance in Love Thy Neighbor, starring Jack Benny and Fred Allen, the Merry Macs became the first close-harmony group to show up in a Hollywood film. This supplemented a performing schedule that had them headlining with Glenn Miller, Ray Noble, Glen Gray, Paul Whiteman, and other top orchestras of the era.
In 1938 the foursome signed with Decca Records, recording the single "Pop Goes the Weasel" on August 4, 1938. They also signed a 10-year contract with Universal Studios, leading to appearances in such films as Ride 'Em Cowboy with Abbott and Costello and Mr. Music with Bing Crosby. A national hit came in March 1939 with the unlikely title "Ta Ha Wa Nu Wa (Hawaiian War Chant)" (#14). By now Mary Lou Cook had become the obligatory female lead of the group, replacing Helen Carroll. "The Hut Hut Song" (June 1941) was their initial Decca hit of the '40s. Marjory Garland stepped in for Mary Lou Cook in 1941 and spent the next 22 years with the Macs, eventually marrying one (Judd).
Known for their bouncy pop tunes, the Merry Macs were also polished jazz stylists, as one listen to their 1940 single "Vol Vistu Gaily Star" will prove. They hit the top 10 with the bounce tune "Jingle Jangle Jingle" (#4, 1942), and contributed to the war effort with the 1942 number eight hit, "Praise the Lord and Pass the Ammunition." The Macs' biggest hit came in early 1944 with "Mairzy Doats," which reached number one for five weeks. Around this time Joe died and was replaced by Clive Erard, who stayed until the War's end and was then replaced by Dick Baldwin. In 1945 they hit with "Sentimental Journey" (#4) and in 1946 with "Laughing on the Outside" (#9). Their last of 12 chart hits had as strange a title as their first and several in-between: "Ashby De La Zooch" (#21, 1946).
The group continued to perform worldwide. They recorded commercials with Gilda Maiken (Anderson) of The Skylarks singing melody. The group stayed with Decca until 1949, when they moved over to Capitol and later to Era. In 1954 Vern Rowe took over for Dick Baldwin. The foursome of Judd and Ted McMichael, Marjorie Garland McMichael, and Vern Rowe continued the group's activities until 1964 when the act retired. Their last American performance was a 1968 reunion at the Hollywood Bowl. One of Ted's daughters, Geri Benson, became a second-generation lead singer of the Marry Macs, keeping the group's tradition alive. Ted is the only surviving member of the group and lives in Hemet, California, with his wife Carolyn.
Discography
Mairzy Doats
Pop Goes the Weasel
I Got Rings On My Fingers
Ta-Hu-Wa-Hu-Wai (Hawaiian War Chant)
A-Ruble A-Rhumba
La Paloma
I'm Forever Blowing Bubbles
Vol Vistu Gaily Star
Clap Yo' Hands
Breezin' Along with the Breeze
Ma, He's Makin' Eyes At Me
Johnson Rag
I Get the Blues When It Rains
The Way You Look Tonight
Isn't That Just Like Love?

with Bing Crosby:
Do You Ever Think of Me?
You Made Me Love You
Dolores
Pale Moon
The Hut-Sut Song
Deep In the Heart of Texas
Breathless
Jingle, Jangle, Jingle
Mairzy Doats and Dozy Doats
Pretty Kitty Blue Eyes
Sentimental Journey
Laughing on the Outside
The Merry Macs first formed as a trio in themid-1920s by the 3 McMichael brothers, baritone Ted and tenors Judd and Joe. After touring with bandleader Joe Haymes, in 1930 they added vocalist Cheri McKay (replaced by Helen Carroll in 1938), and began a 40+ year career recording, touring with swing bands like Glenn Miller's, and appearing on radio, television and in several movies. The first 14 hits are all representative of their trademark serio-comic, uptempo repertoire (all swing band accompanied). Smooth, funny, classic stuff!
Listen to Laughing on the Outside in Real Audio.
---

VOCAL JAZZ - Home | Vocal Jazz Groups | Recordings | Arrangements | DVDs | Christmas | Vocal Jazz Instructional

VINTAGE VOCAL JAZZ - Vintage Groups | Vintage CDs | Black Vocal Groups | Black Vocal Groups CDs | Christmas | Womens Vintage
---
Vocal Jazz | Doo Wop | Contemporary | Barbershop | Christian | Collegiate | World | Choral
Patriotic | The Groups | The Directors | The Vocal Coaches | Choral Development
Arrangements | Vintage Harmony | Christmas | DVDs | Instructional for Singers

The Harmony Sweepstakes A Cappella Festival


RSS - New Releases
Site Map | A Cappella News | Regional Newsgroups | RSS a cappella feeds
To find a specific song on any recording (or to find recordings by group name or CD title),
pick the search method and type the item you are searching for here:


All Rights Reserved All Content, page design, CGI Copyright © United Singers International