Dare To Breathe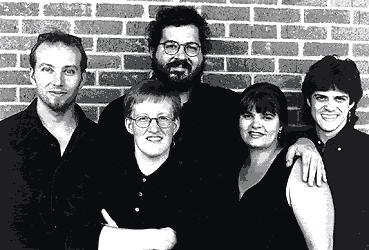 Dare To Breathe is a St. Paul-based a cappella group which specializes in original and originally arranged pieces from all over the world. Founded in 1994 by artistic director David Moore, the group has won acclaim and affection for their innovative and dynamic programs and the bewildering range of their repertoire, which spans the globe and eight centuries.
Discography
Dream A Little Dream
Dream a Little Dream of Life
Stay Awake
Batonebis Nanina
Swedish Lullaby
Kolyskova
Fear No More the Heart O' Th' Sun
Crossing the Bar
Dormito, Ninito
Nocko, Nocko
Manx Lullaby
Walking the Labyrinth
A Little Lovely Dream
Vocalise
Inchworm
Litanei
Rosannh's Boat
Dream Outro
Dare to Breathe is a mixed quintet from the St Paul, Minnesota. Trained classical singers all, this recording demonstrates a remarkable versatility, and a whimsical sensibility that will charm and impress. The first track is "Dream A Little Dream Of Me," an arrangement in the jazz swing idiom, that is probably the most straightforward on the CD. A feast of aural impressions, joining together sources as diverse as folk traditionals from Georgia, Silesia and the Ukraine, adaptations of poems by literary giants Tennyson and Shakespeare set to original music, and selections from "Mary Poppins" and Hans Christian Anderson, soon follow. Dare to Breathe share many characteristics with England's King's Singers, and even sound somewhat like them, on songs such as "Kolyskova" – the refinement, polish and broad range are similar. A collection for the discriminating ear, indeed!

---

VOCAL JAZZ - Home | Vocal Jazz Groups | Recordings | Arrangements | DVDs | Christmas | Vocal Jazz Instructional

VINTAGE VOCAL JAZZ - Vintage Groups | Vintage CDs | Black Vocal Groups | Black Vocal Groups CDs | Christmas | Womens Vintage
---
Vocal Jazz | Doo Wop | Contemporary | Barbershop | Christian | Collegiate | World | Choral
Patriotic | The Groups | The Directors | The Vocal Coaches | Choral Development
Arrangements | Vintage Harmony | Christmas | DVDs | Instructional for Singers

The Harmony Sweepstakes A Cappella Festival


RSS - New Releases
Site Map | A Cappella News | Regional Newsgroups | RSS a cappella feeds
To find a specific song on any recording (or to find recordings by group name or CD title),
pick the search method and type the item you are searching for here:


All Rights Reserved All Content, page design, CGI Copyright © United Singers International