+4db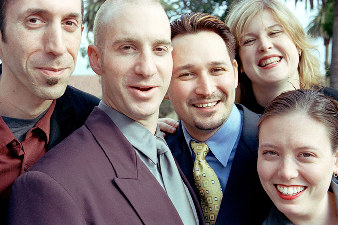 +4db... is an a cappella vocal jazz quintet. This Bay Area group formed in August of 1996 and is the 1998 Bay Area Harmony Sweepstakes Regional Champion. They also won Audience Favorite and Best Arrangement awards in both 1997 and 1998. They have performed at the Freight and Salvage, and have opened for many groups such a s M-Pact!, the House Jacks, and Boyz Nite Out. They have been featured at major a cappella events such as "Hot August Harmony" in Santa Rosa and the West Coast A Cappella Summit in San Rafael. They have performed in the National Anthem at 3Com Park for the San Francisco Giants, and appeared on cable's "The Bruce Latimer Show."
Discography
plusfourdb
Paul
Cottontail
Those Clouds Are Heavy, You Dig?
Naughty Number Nine
Rook
In a Mellotone
Well You Needn't
I Burn For You
Jay
Sesame Street Medley
I Wish You Love
Whirlybird
1998 Bay Area Regional Sweepstakes winners +4 db have released their eponymous debut CD, to much fanfare. This dynamic mixed quintet, of two women and three men, is startlingly good, and if an appetite for contemporary vocal jazz is what you have, then this recording is what you need! The influence of jazz royalty such as Lambert, Hendricks and Ross is openly acknowledged, and easy to hear, with tracks such as "Cottontail" and "In A Mellow Tone"; the vocalese technique and "horn" blasts are a signature trait. When the group edges into art-rock territory, with their cover of XTC's "Rook" or Sting's "I Burn For You" (with its tribal midsection, courtesy of guest vocalist powerhouse Rhiannon), the results are every bit as enthralling. The "Sesame Street Medley" and "Naughty Number Nine" (a takeoff from "Schoolhouse Rock"), are terrific, and "I Wish You Love" will melt the hardest heart. Sorry for all the superlatives, but they're all true!

---

VOCAL JAZZ - Home | Vocal Jazz Groups | Recordings | Arrangements | DVDs | Christmas | Vocal Jazz Instructional

VINTAGE VOCAL JAZZ - Vintage Groups | Vintage CDs | Black Vocal Groups | Black Vocal Groups CDs | Christmas | Womens Vintage
---
Vocal Jazz | Doo Wop | Contemporary | Barbershop | Christian | Collegiate | World | Choral
Patriotic | The Groups | The Directors | The Vocal Coaches | Choral Development
Arrangements | Vintage Harmony | Christmas | DVDs | Instructional for Singers

The Harmony Sweepstakes A Cappella Festival


RSS - New Releases
Site Map | A Cappella News | Regional Newsgroups | RSS a cappella feeds
To find a specific song on any recording (or to find recordings by group name or CD title),
pick the search method and type the item you are searching for here:


All Rights Reserved All Content, page design, CGI Copyright © United Singers International