Toby Twining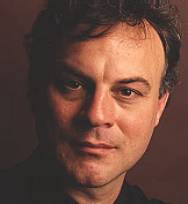 Raised in Texas, with family roots in country-swing and gospel, Toby Twining has traveled musically from playing for rock and jazz bands to experimental composition at the University of Illinois at Urbana-Champaign, where he earned his Bachelor of Musical Composition degree in 1985. In the mid-eighties he became intrigued by the vast potential of the human voice and delved into a broad spectrum of musical techniques, including Renaissance madrigals, scat, African yodeling, and Mongolian throat-singing. The discovery of his own vocal range and performance talents pulled these influences together for Twining and guided him toward an emphasis on composition for a cappella ensembles.
Twining moved to New York in 1987, initially writing for modern dance choreographers who wanted the sounds of a new choral music. In 1990, with a group of five New York-based singers, he presented the first international live concert of his music in Seoul, South Korea. A year later he formed Toby Twining Music, his own a cappella quartet, which performed at music halls and festivals across the United States and in Amsterdam, Copenhagen, and Barcelona in Europe. The quartet grew to a 12-voice ensemble in 1999 to accommodate the expanded range of Twining's Chrysalid Requiem, first performed in Amsterdam as part of the Gaudeamus Foundation's "Festival of New Spiritual Music."
In addition to his vocal compositions, Twining has written many pieces for keyboard and other instruments. Two of his best-known piano compositions, Satie Blues and Nightmare Rag, were recorded by avant-garde pianist Margaret Leng Tan on her 1997 album Art of the Toy Piano (Uni/Point) and have received considerable radio and concert exposure. Twining lives in Philadelphia with his wife, choreographer and dancer Darla Stanley, and their son, Mac.
Discography
Chrysalid Requiem
Introit
Kyrie
Gradual & Tract
Sequence 1
Sequence 2,
Sequence 3
Offertory
Sanctus
Agnus Dei
Communion
Responsory
Antiphon
Following his acclaimed first release "Shaman," "Chrysalid" is NYC-based Twining's most in-depth composition to date and probably his greatest. Moving beyond the mysticism of Tavener and Arvo Part, this is a fresh, passionate and deeply personal hour-long a cappella work that draws on one of the West's most sacred traditions. The requiem is in 12 parts: "Introit," "Kyrie," "Gradual & Tract," "Sequence 1," "Sequence 2," "Sequence 3," "Offertory," "Sanctus," "Agnus Dei," "Communion," "Responsory" and "Antiphon." The innovative Twining, having assembled some of the world's most versatile singers for the recording, combines pure, unadorned singing with intricate hocketing, overtone chanting, and vocal traditions from around the world. Since the mid-1980s Twining has been experimentally, first with his own voice and then with his own a cappella group, pushing the choral envelope. The results, first on "Shaman" and now on "Chrysalid Requiem," have been at once radiant, unconventionally beautiful and attention-getting. Twining has stepped outside the box and is inviting us to join him!

To find a specific song on any recording (or to find recordings by group name or CD title),
pick the search method and type the item you are searching for here: