Spivey Hall Children's Choir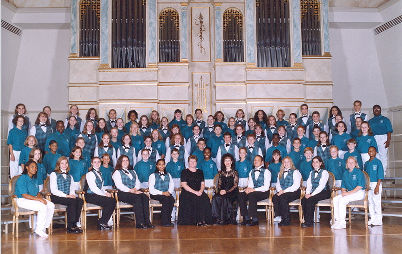 Spivey Hall, located on the scenic campus of Clayton College and State University is the home of the Spivey Hall Children's Choir. The Choir was founded in the spring of 1994 with the intention of offering advanced choral training to gifted singers. Dedicated to excellence, the Children's Choir offers its members professional-level music training in vocal pedagogy, music theory, sight singing, ear training and presentation, as well as exposure to a variety of choral styles.  Participants have the opportunity to develop qualities of self-reliance, personal integrity, self-discipline, social awareness, and confidence in their abilities. Membership in the Choir is contingent upon audition, teacher recommendation, and a desire to pursue excellence in vocal and choral training.
Dr.Martha Shaw is Associate Professor of Music Education at Shorter College in Rome, Georgia, and the founder and director of the Spivey Hall Children's Choir at Clayton College and State University. Under her direction the choir continues to impress audiences and critics with the mature vocal sound and artistry she is able to create with these young students. Prior to her professorship at Shorter College, Dr. Shaw served on the faculty of the University of South Carolina, as well as fifteen years as a music specialist in Atlanta, Georgia. The artistry and musicianship exhibited by the Spivey Hall Children's Choir has led to Dr. Shaw receiving numerous invitations as a clinician and guest conductor for workshops and festivals throughout the eastern United States.  She earned her doctorate in choral conducting from the University of South Carolina in December 1999. She studied choral conducting with Don Neuen while earning her Masters degree in Music Education from the University of Tennessee, in Knoxville.  Her undergraduate degree is in Music Education from Shorter College.
Discography
Homeland
Jubilate Deo
The World is Full of Poetry from Earthsongs
Gloria from Misa Pequena
Credo from Misa Pequena
Day Break
Salve Regina
Ask the Moon from Three Settings of the Moon
Shenandoah
Homeland
The Star
Think On These Things
Song for the Mira
The Turtle Dove
Three Ways To Vacuum Your House
Over the Rainbow
Life Has Loveliness to Sell
Inscription of Hope
Georgia On My Mind
Amazing Grace from Over the Hills
May the Road Rise to Meet You
Dr. Martha Shaw is the founding director of the 47-strong Spivey Hall Children's Choir. Under her direction, the choir, noted for its artistry and mature vocal sound, has been featured in performances at regional, state and national conferences of the American Choral Directors Association. Accompanied on piano by assistant director Judy Kerlin Mason, "Homeland" is presented as "a collection of music featuring works of contemporary composers of the Americas." Some of our favorites are David Brunner's "Jubilate Deo" and "The World is Full of Poetry" from Earthsongs, Francisco Nunez' "Gloria" and "Credo" from Misa Pequena, Ron Nelson's "Ask the Moon," and the familiar "Shenandoah," "The Turtle Dove," "Georgia on My Mind," "Amazing Grace" and "May the Road Rise to Meet You," but every track is wonderful. All songs are accompanied by piano, organ and/or a variety of woodwinds, horns and percussion.

---
Christmas With
Shepherd's Pipe Carol (John Rutter)
Stars Are for Those Who Lift Their Eyes (Pauline Delmonte)
Water Under Snow is Weary (Harri Wessman)
Donkey Carol (John Rutter)
The Birds (Benjamin Britten)
Mid-winter (Bob Chilcott)
Angels' Carol (John Rutter)
Noel des Enfants qui n'ont plus de maison (Claude Debussy)
Go Where I Send Thee! (arr. Paul Caldwell & Sean Ivory)
A Ceremony of Carols (Benjamin Britten):
- Procession
- Wolcum Yole!
- There Is No Rose
- That Yonge Child
- Balulalow
- As Dew in Aprille
- This Little Babe
- Interlude
- In Freezing Winter Night
- Spring Carol
- Deo Gracias
- Recession
Some great arrangements of holiday classics by this top notch children's choir. Britten's "Ceremony Of Carols" is a stand out as is Rutter's "Angels' Carol" with the beautiful Bob Chilcott's "Mid-Winter".

---
To find a specific song on any recording (or to find recordings by group name or CD title),
pick the search method and type the item you are searching for here: