London Sinfonietta Voices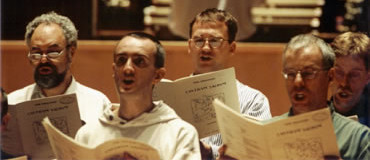 Since its formation in 1979 the London Sinfonietta Voices has become one of the most highly regarded groups for the performance of new vocal music in the world. Its personnel are all virtuoso singers and its numbers vary according to the demands of the works being performed. Its main aim is to highlight the finest achievements in consort composition from earlier centuries, to perform the major 20th-century repertoire and to offer composers the chance to write for virtuoso singers, thus continuing the development of consort and choral music. London Sinfonietta Voices regularly works with composers on interpretations of their work, and since 1980, for example, Berio, Holliger, Ligeti and Xenakis have initiated invitations for performances in Cologne, Milan, Oslo, Paris, Strasbourg, Vienna, Zurich, New York and Chicago. In addition to regular concerts with the London Sinfonietta, the consort often sings with the Ensemble InterContemporain and the Ensemble Modern.
Discography
Gyorgy Ligeti - A Cappella Choral Works
Night
Morning
Far from Home
Solitude
Two Canons
Kings of Bethlehem
The Fugitive
Wedding Song
Songs from Inaktelke
Songs from Matraszentimre
Widow Papai
Three Fantasies after Holderlin
Hungarian Etudes
Heigh, Youth!
Easter
Hortobagy
From A High Mountain Rock
Double-Dance from Kallo
Terry Edwards conducts the London Sinfonietta Voices in 37 striking a cappella choral works by noted Hungarian composer Gyorgy Ligeti. Influenced by Bartok and Kodaly, and by Hungarian and Romanian folk music, Ligeti experienced censorship of his work by the Soviets, finally fleeing with his wife to Austria after the crushing of the Hungarian uprising in 1956. Since then his work has found a much wider audience in Germany, Sweden and California. All songs are a cappella and sung in Hungarian, but the extensive liner notes have English translations of all the lyrics. Some of our favorites are the folk tunes "Haj, Ifjusag!" (Heigh, Youth!) which sings lustily of the battle of the sexes, "Hortobagy," which sings of life on the farm, and "Kallai Kettos," (Double Dance from Kallo), which sings of love in Autumn, and the fact that all the singers' relatives and in-laws are still alive and kicking. "Choral Works" is a complex, powerful, poetic choral work by a gifted composer and a wonderful choral group.

To find a specific song on any recording (or to find recordings by group name or CD title),
pick the search method and type the item you are searching for here: