New London Children's Choir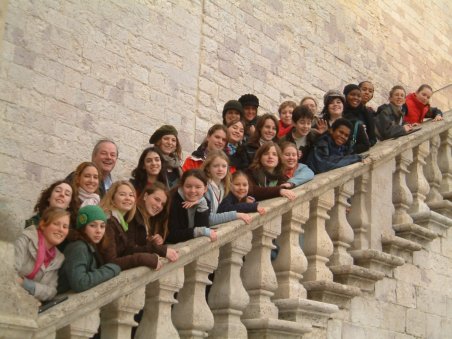 The New London Children's Choir was launched in 1991 and gave its inaugural concert to considerable acclaim at St. John's, Smith Square, in a programme that included four new commissions. The choir has performed on London's South Bank, at the Barbican and in the Promenade Concerts, and has broadcast for the BBC and for Italian Radio and Television, as well as taking part in commercial recordings with Mariss Jansons, Ashkenazy and Rostropovich. Recent engagements have included a performance of Stravinsky's Persephone at the 1993 Promenande Concerts, a staged performance of Krasa's opera Brundibar with Mecklenburgh Opera, the BBC Tavener Festival, a Mahler recording with Sinopoli and concerts of Mahler and Berlioz with the Philharmonia Orchestra and James Levine. Ronald Corp's policy of commissioning new works has resulted in the performance of sixteen new works for the choir, all of which have been broadcast by BBC Radio 3.
Ronald Corp is founder and Musical Director of the New London Orchestra and the London Children's Choir. He is also Musical Director of the London Choral Society, the new London Collegium and the Highgate Choral Society. He made his London Promenade Concert début in 1990 with an acclaimed performance of Britten's Noyes Fludde, followed by further Promenade Concert appearances in the following years. Regular broadcasts for the BBC include performances with his own New London Orchestra and with the BBC Singers. , He has also worked with the BBC Concert Orchestra, the Ulster Orchestra, the Wren Orchestra and with the Leipzig Philharmonic Orchestra in a performance; at the Leipzig Gewandhaus. Ronald Corp is well known as an expert on choral training and has himself contributed significantly to choral repertoire in a number of compositions.
Discography
Britten: Ceremony of Carols / Friday Afternoons
Friday Afternoons, Op. 7
Sweet was the Song
King Herod and the Cock
The Oxen
Fancie
The Birds
Three Two-part Songs
A Wealden Trio: Christmas Song of the Women
A Ceremony of Carols
This album brings together some of Britten's most celebrated music for treble voices, accompanied and unaccompanied, ranging in period from 1929 (when the composer was still in his mid teens and a pupil of Frank Bridge) to 1967. " A triumph of the realist Britten" (Redlich) drawing largely on texts from Walter de la Mare's collection Tom Tiddler's Ground, Friday Afternoons (1933-35), the first of Britten's many works for children, was written for his schoolmaster brother, Robert and the boys of Clive House preparatory school, Prestatyn: choir practice used to take place on Friday afternoons. The twelve settings, with their witty piano accompaniments, belong to an England between two world wars, to an age of innocence, to a childhood time of Meccano sets and Hornby trains, of model boats and Arthur Ransome. These " enchanting fresh songs," Pears says, " a performance of which, given by well-trained boys and girls with their intelligent teacher at the piano, once heard is never forgotten". Their imagination and economy remains extraordinary. All are beautiful. Most are short. The last -Old Abram Brown - aspires to Wunderhorn Mahler (the slow movement of the First symphony). Together with Hymn to Saint Cecilia and Rejoice in the Lamb, A Ceremony of Carols, written "at sea, MS Axel Johnson March 1942" en route from New York to Liverpool via Boston and Halifax, Nova Scotia, helped establish Britten "as a master of English song"

To find a specific song on any recording (or to find recordings by group name or CD title),
pick the search method and type the item you are searching for here: