Jubilate Choir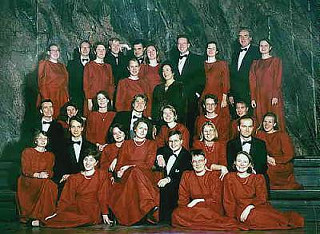 The Jubilate Choir consists of 40 singers and was founded by its present conductor, Astrid Riska. Since its formation, Jubilate has played an active part in Finnish musical life. Its repertoire includes a range of styles, from Gregorian chant to 20th century works, but with a strong partiality to Finnish music.
In the summer of 2000 the choir made a concert tour to Iceland and Norway, where Jubilate also represented Finland at a Nordic-Baltic Choir Festival in Skien. In June 1999 the choir received three golden stamps and a joint first place in the Tampere Chorus Review (Tampereen Sävel). In the summer of 1998 the choir took part in the distinguished international choir contest "Guido d'Arezzo" in Italy, bringing home a first and a second place in the contest. The choir has completed recordings of Jean Sibelius works for mixed choir a cappella. During spring 2001 Jubilate has recorded choir cantats of Sibelius together with Lahti Sinfonia conducted by Osmo Vänskä.
The choir has collaborated with a number of Finnish orchestras, including the Finnish Radio Symphony Orchestra, the Helsinki Philharmonic Orchestra and the Avanti! Chamber Orchestra. Among the choir's collaborators outside Finland have been the Jerusalem Symphony Orchestra and the Polish Radio Symphony Orchestra. In connection with those and other engagements the choir has had the privilege of working under Gary Bertini, Bruno Rigutto, Eliahu Inbal, Jean-Pierre Wallez, John Alldis, Gennadi Rozdestvenskij, Jukka-Pekka Saraste and Esa-Pekka Salonen.
Jubilate has travelled extensively in many European countries as well as in Israel, Japan and the USA. Over the years, the choir has won numerous national and international competitions. Notable among such successes were first prize in the Chamber Choir Class of the EBU competition "Let the People Sing", in 1990, and the special award: "the Silver Rose Bowl."
Astrid Riska originally trained as a primary school teacher. She then continued her studies at the Sibelius Academy, qualified as a cantor, organist and music teacher, and received a diploma in organ playing in 1963. She continued to study organ playing in Paris and took a special interest in children's choirs and voice training. She has worked as a music teacher in Finnish schools, has taught the organ at the Sibelius Academy and acted as organist for the Church of St. Thomas. For 25 years she sang in the Finnish Radio Chamber Choir and was for a time also its conductor. In 1989, Astrid Riska was awarded the Fazer Music Prize for distinguished service in the realm of musical education. In 1995, she received the main prize of the Swedish Cultural Foundation and in 1997 she was named Choral Conductor of the year.
Discography
Jean Sibelius - Works for Mixed Choir A Cappella
Rakastava, Op. 14
Soitapas, soria likka
Ensam i dunkla skogarnas famn
Aamusumussa
Till Therese Hahl
Den 25 Oktober 1902: Till Therese Hahl
Two Songs, Op. 65:
Drommarna
Koulutie
Skolsang
Den hoga himlen, Op. 107
Joululaulu
Juhlamarssi
Tyokansan marssi
Uusmaalaisen laulu
Finlandia Hymn
Six Songs from Op. 18
Astrid Riska founded Jubilate as a children's choir in 1967; it has since grown to a mixed-voice 35-strong adult choir, performing a repertoire from the sacred to the avant-garde. The group has been particularly interested in performing works by Finnish composers, both at home and internationally, and Jean Sibelius (1865-1957), was one of the best. Included are 24 songs, beginning with "Rakastava, Op. 14," the world premiere recording of "Soitapas, soria likka;" and two school songs from the mid-1920s, "Koulutie" and "Skolsang;" to the beautiful, familiar "Finlandia Hymn," finishing with the lovely "Six Songs from Op. 18." Perfectly performed, wonderfully composed choral music from one of Finland's best! Extensive liner notes with all lyrics translated.

---
Jean Sibelius - Music for Mixed and Female Choir
Kor av vindarna
Sonens brud
Blomman
Ballad
|Hoskvallen
Taanken
Carminalia
Kotikaipaus
Terve ruhtinarar
Nejden andas
Carmilalia
Kansakoululaisten marssi
Kantat till ord av W. von Konow
Giv mig ej glans, ej guld, ej prakt
Tree Songs for American Schools
Carminalia
Aamusumussa
Giv mig ej glans, ej guld, ej prakt
Soi kunniaksi Luojan
Partiolaisten marssi
The World Song of the World Association of Girl Guides and Girl Scouts
Lauluja sekakoorille vuoden 1897 promotioonikantaatista
Findlandia-hymni
Review pending

---
Nils-Eric Fougstedt - Songs for Mixed Choir A Cappella
Bjorkanas valv (Text: Kerstin Soderholm)
Three Songs to texts by Nils Ferlin
Six Songs to texts by Arvid Morne
Two Songs to texts by Karin Mandelstam
Three Songs to texts by Bertel Gripenberg
Hjartats sommar (Text: Hjalmar Krokfors)
Smultronbacken (Text: Karin Hofman)
Sommarvisa (Jacob Tenengren)
Skyn, blomman och n larka
Three Songs to texts by Jarl Hemmer
Sanctus
Mot loftets strand
I jorden gar dolda adror
Djaknevisa
Folj oss sang
Silmien laulu
Jubilate was founded as a children's choir by its conductor Astrid Riska in 1967. Developing rapidly, it is now a chambegs on "Trinity," which is divided into three sections, "Father," ("Praise God," "My Gracious Master"); "Son," ("He Is the Lonely Greatness," "All My Trials," "Lord Jesus," "Ride On, King Jesus"); and "Holy Spirit," ("Hymn of Justinian," "If You Love Me," "The Dove Descending" and "Grant Unto Me"). Timeless spiritual music, sung with grace and feeling by the talented NLC.

---
I Sing Of Thy Mercies
Ain't That Good News (arr. William Dawson)
I Sing of Thy Mercies (arr. Leland B. Sateren)
Send Out Thy Light (M.A. Balakireff)
Tell 'em I'm Gone (arr. Alice Parker)
Lord God, You Have Called You Servants (J. Aaron McDermid)
Oremus (XXII from Gloria Patri, 24 Hymns for Mixed Choir, Urmas Cherwien)
Prayer for Peace (David Cherwien)
Lamb of God (Adagiio for String, Opus 11, transcribed for chorus, Samuel Barber)
Song for Athene (John Tavener)
Founded in 1986 by Dr. Larry L. Fleming, and now directed by Dr. David Cherwien, the Minneapolis-based, mixed-voice NLC is comprised of professional choral musicians. "I Sing" is a limited edition CD, celebrating the Choir's 2003 West Coast Tour. Included are 9 songs, the spirituals "Ain'a That Good News" and "Tell 'em I'm Gone," the title tune, M.A. Blakireff's "Send Out Thy Light," Urmas Sisask's "Oremus," "Prayer for Peace" (by director Cherwein), Barber's "Lamb of God" and Tavener's "Song for Athene." Beautiful and inspirational.

---
While Angels Sing
Restoration
Morning Star, In Darkest Night
Come, Awake
I Beheld Her
Magnificat
Tota Pulchra Es
A Spotless Rose
Now, O Come, My Soul's True Light
Et Incarnatus Est
A Christmas Carol
O Magnum Mysterium
Shining Stable In The Night
Maria Sat In Cattle Stall
While Angels Sing
Gloria
Born Today
Come
A professional choir from Minnesota, the Choir perform selections from a divergent literature. This is a seasonal recording, emphasizing classical compositions, not carols, and is subtitled "The Light Is Come"; loosely defined, the theme is the birth cycle of Christ. Works by Kodaly, Clausen, Poulenc, Bach, Christiansen and others are performed, with the exception of Dave Brubeck's "Gloria," a flamenco arrangement, and the recording's wild card. Several of the tracks are accompanied, such as "This Is The Christ," but with pristine and restrained orchestrations, lovely indeed. In keeping with the CD's seraphic motif, the choir's tone color is one of brilliance and purity.
---
To find a specific song on any recording (or to find recordings by group name or CD title),
pick the search method and type the item you are searching for here: