Creative Voices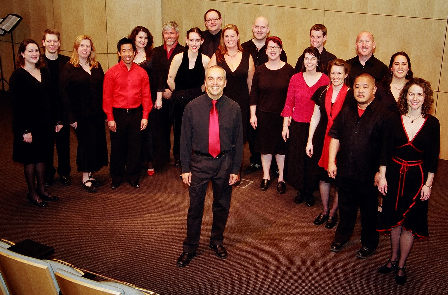 Creative Voices is a San Francisco-based, eighteen-voice a cappella chamber choir that seeks to provide vibrant, intimate and innovative choral music performances that introduce audiences to the healing and transforming properties of vocal music. It aims to stimulate and enhance choral art by featuring rarely or never previously performed choral works organized in collaboration with artists of other disciplines. Their premier tango album, Cafe Buenos Aires, was recorded at George Lucas's Skywalker Sound with Grammy Award-winning recording engineer Leslie Ann Jones.
Discography
Cafe Buenos Aires
El Ultimo Cafe
Taquito Militar
Niebla Del Riachuelo
Calabre
Decarissimo
Adios Nonino
Gricel
Naranjo En Flor
Soledad
Mo Te Salves
Introduccion Al Angel
Milonga Del Angel
La Muerta Del Angel
Resurreccion Del Angel
Creative Voices is a 18-strong, mixed-voice a cappella ensemble, conducted by Argentinian maestro Eduardo Mendelievich, dedicated to studying and performing rarely-performed musical repertoire, providing vibrant and innovative performances that introduce audiences to the healing and transformative properties of vocal music. "Café" is a treat, presenting Latin-flavored masterworks we've never had the pleasure of hearing before. Calling it "vocal tango music" they start with Castillo-Stampones' "El Ultimo Café," Mariano Mores' dramatic "Taquito Militar" and Cadicamo-Cobain's romantic "Niebla del Riachuelo," and closing with Astor Piazzolla's lovely 4-part "Angel" series ("Introduccion al Angel," "Milonga del Angel," "La Muerta del Angel" and "Resurreccion del Angel," these 14 songs form a striking, touching collection. Other favorites are Piazzolla's" "Calambre" and "Decarissimo," Jose Mores' sweet "Gricel" and Homero Esposito's romantic "Naranjo en Flor." Creative Voices is off to a strong, memorable start with "Café Buenos Aires!"
Listen to Soledad in Real Audio.
To find a specific song on any recording (or to find recordings by group name or CD title),
pick the search method and type the item you are searching for here: