Coral del Nuevo Mundo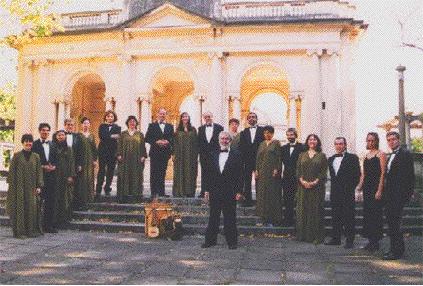 The Coral del Nuevo Mundo (The New World's Chorale) was founded in 1996 by its current director, Mtro Oscar Escalada. Most of its sixteen singers are professionals and members of the Standing Choir of the Argentine Theater, The Opera House of the Province of Buenos Aires. The main goal of this choir is to perform a Latin American Repertoire at schools, universities, and communities, showing the significance of its roots in the culture of the Americas, and to develop a feeling of brotherhood and mutual understanding. Since its foundation, the choir has been invited to perform at several Government's Official Events and Religious Celebrations by the Archbishopric of La Plata. They have been also invited to perform Misa Criolla with Mr. Ramirez himself.
Discography
Missa Criolla
El unltimo café
Juamento
Todo cambia
El pintao
O pato
Recuerdos de Ypacarai
Crece desde eel pie
Misa Criolla:
-Kyrie
Gloria
Credo
Sanctus
Agnus Dei
Acclaimed Argentine composer and conductor Oscar Escalada leads the Coral del Nuevo Mundo (Chorale of the New World) in this bright collection of 12 songs, some accompanied, by South American composers and arrangers. Particularly wonderful are the opening cut, "El ultimo café," a tango from Argentina, the upbeat "El Pinteo" from Argentina, " "O pato," a jazzy, manic bossa nova from Brasil, "Crece desde el pie" from Uruguay, and the dramatic 5-part title cut, by Ariel Ramirez of Argentina. "Misa Criolla" is an excellent, complex recording of the best in Contemporary South American choral music!

---
Latin American Choral Music
Hanacpachap
Estrellita del Sur
Manchai Puito
Tonada y Cueca
La Doble
Pueblito Mi Pueblo
Verano Porteno
La Chaparrita
Se Equivoco La Paloma
Santafecino de Veras
Milonguera
The Coro del Nuevo Mundo del Teatro Argentino de La Plata is a professional choir of sixteen singers and a pianist, percussionist and guitarist that tours extensively through Argentina, North and South America from their base in Buenos Aires, conducted by founder, composer and arranger Oscar Escalada. "Choral Music" features 11 works by South American composers. "Hanacpachap," 17th century Peruvian, is thought to be the first polyphonic music to be composed in the Americas. "Estrellita del Sur" is a lovely Peruvian waltz, "Manchai Puito" is a haunting folk song from Argentina, "Tonada y Cueca" and "La Doble" are joyful dances, and we enjoyed the upbeat "Pueblito Mi Pueblo," a warm and elegant piece for women written by Carlos Guastavino, one of Argentina's finest composers. "La Chaparrita" is a bright Venezuelan folk melody, "Se Equivoco La Paloma" tells of a dove that loses its way, "Santafecino de Veras" is a joyful Argentinian dance and "Milonguera" is an exuberant and challenging work written by Oscar. A lovely, bright, surprising collection of South American music we rarely get a chance to hear! Some light accompaniment.

---
La Chaparrita (arr. Vivian Tabbush)
Candomble (Oscar Escalada)
La Ninez De America (arr. Alberto Balzanelli)
Se Equivoco La Paloma (The Dove Was Wrong) (Carlos Guastavino)
Cancion Con Todos (A Song For All People In The Americas) (Cesar Isalla)

SATB
A wonderful collection of contemporary Latin American choral music selected by noted Argentinian conductor and composer Oscar Escalada. "La Chaparrita " is a brisk Venezuelan folk melody and is fun to sing and includes the vocal imitation of a typical pattern played on a "cuarto". "Candomble", from Uruguay, is written in a rhythm very close to the tango and the habanera. "La Ninez De America" is based on a poem of Argentinian poet Alberto del Carril and is inspired by the Incas. "Cancion Con Todos " is a two-part song based on two different rhythms. The first part is calm and recognizes each area of the Americas with characteristic elements such as copper for Chile, sun for Peru etc. The second part is rhythmic and exultant with the hope of bringing all the peoples of Latin America to sing together!
To find a specific song on any recording (or to find recordings by group name or CD title),
pick the search method and type the item you are searching for here: