The Clerks' Group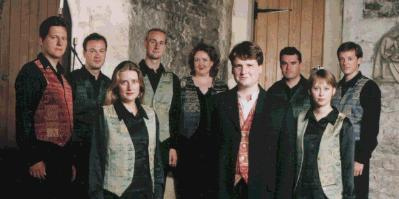 The Clerks' Group made its London debut in 1992, and since then has received widespread critical acclaim for its performances of often neglected Renaissance repertoire. The group particularly specialises in Flemish sacred music, and is embarked on a series of recordings for ASV intended to cover the entire sacred output of Johannes Ockeghem, undoubtedly the most renowned composer of the late 15th century. These recordings have earned them Gramophone magazine's Early Music Award in 1997, and two nominations for the award in previous years. In 1997 the ensemble performed extensively on the Continent in a Europe-wide commemoration of the quincentenary of Ockeghem's death, with concerts and broadcasts in Belgium, Holland, Germany, France and the UK. The choir has also recently recorded a programme for Belgian television. The group's director, Edward Wickham, is currently reading for a PhD in 15th century music at King's College, London. He also directs The Renaissance Singers of London and his articles and reviews appear in journals such as Classical Music and Church Times. He has broadcast on BBC Radio, most notably on Kaleidoscope and Spirit of the Age. Edward gives a number of choral workshops every year, some in association with the publishing company, The Cantiones Press, which he jointly runs.
Discography
Dufay
Vasilissa, ergo gaude
Kyrie Fons bonitatis
O beate Sebastiane
Gloria (Bol. Q15 no. 107)
O gemma, lux et speculum
Credo (Bol. Q15 no. 108)
Supremum est mortalibus
Sanctus & Benedictus (Bol. Q15 no. 104)
Inclita stella maris
Agnus Dei (Bol. Q15 no. 105)
Gloria "Spiritus et alme"
O sancte Sebastiane
This is the third disc recorded by The Clerks' Group for their Signum Records trilogy. The series explores repertoire in the medieval period and culminates with a selection of works by Guillaume Dufay, found in one of the great anthologies of 15th century music: the manuscript Bologna, Civico Museo Bibliografico Musicale, MS Q15 (or "Q15" as it is known by its friends).The Q15 manuscript contains examples of almost every conceivable musical genre of the period by a vast array of composers. The Clerks' Group has chosen to perform works by a single composer, but still the variety of forms and styles on offer is bewildering. Guillaume Dufay was a composer who witnessed and contributed to most of the revolutionary changes to occur in music composition in the 15th century. The album includes some of the earlier works so often neglected from Dufay's repertoire, and goes on to explore compositions that demonstrate this revolutionary genius. Some compositional techniques celebrated by The Clerks' Group's performance include the playful exchange of Dufay's song-like melodies between the vocal lines; and the use of mensural canon, where the same melody is sung by all voices but at slightly different speeds. These are just a few examples of the radical nature of Dufay's music as demonstrated on this recording. The Clerks' Group brings immense diversity to the music and its performance. Their refreshing approach displays sincere empathy and passion for this astonishing repertory.

---
Guillaume de Machaut
Sanctus: Sanans fragilia -Anon/Ivrea
Kyrie - 'Chipre'/Ivrea
Gloria: Et versus homo - Anon/Ivrea
Dame/Fins cuers doulz - Machaut
Trop plus est bele/Biayte paree de valour - Machaut
Lasse!/Se j'aim mon loyal ami - Machaut
Credo - Anon/Ivrea
Tu qui gregem/Plange, regni respublica - Machaut
Christe qui lux/Veni creator spiritus - Machaut
Felix virgo/Inviolata genitrix - Machaut
Amours/Faus samblant - Machaut
Post missarum sollempnia/Postmisse modulamina - Anon/Ivrea
The Clerks' Group is a highly sophisticated ensemble of young singers whose immaculately polished performances show Machaut's extraordinary lyrical gift - even in the genre of the motet, so often thought of as abstract and unapproachable. Edward Wickham clearly views Machaut as a medieval romantic, drawing out the finely wrought lines and wallowing in the luscious sonorities of his music; and the effect is enhanced by a resonant acoustic, though the recorded sound is somewhat over-glossy. Each singer has a naturally light, straight-toned voice and can effortlessly flat over the vocal lines like 'a feather on the breath of God'. The highlights of this disc are three motets by Machaut based on love songs in performances which sound every bit as poetic and expressive as 18th-century Lieder; and the rapturous Marian motet Felix virgo / Inviolata genitrix, in which the group's intimately veiled sound is especially apt. Alongside the Machaut works are a handful of anonymous motets from the Ivrea Codex, a major 14th-century source containing some fine compositions, if never quite matching Machaut's genius. With the caveat that a few motets go a long way, this is a truly haunting collection.

---
Ockeghem Requiem
Missa Fors Seulement: Kyrie
Gloria
Cedo
Fors Seulement
Fors Seulement
Du tout Plongiet/ fors Seulement
Requiem: Introitus
Kyrie
Graduale
Tactus
Offertorium
Here is the climactic fourth release in the Ockeghem series of which two volumes have been final Gramophone Award Nominations. The Requiem is specially released to commemorate the 500th anniversary of Ockeghem's death. This extraordinarily moving work is coupled with the first CD recording of the beautiful Missa Fors Seulement, reflecting the fluid and diverse style of his late masterpieces.

---
To find a specific song on any recording (or to find recordings by group name or CD title),
pick the search method and type the item you are searching for here: