Brooklyn Tabernacle Choir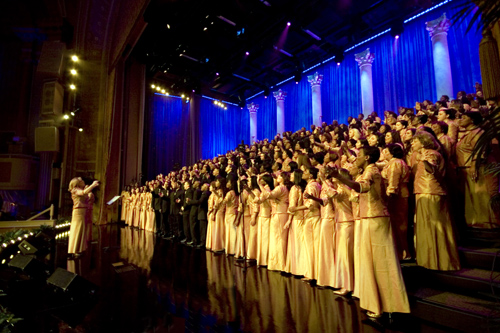 The Brooklyn Tabernacle Choir is directed by Carol Cymbala, the wife of Senior Pastor Jim Cymbala and the daughter of the church founder, the late Rev. Clair Hutchins. Although the Choir is composed of vocally untrained church members, it has been used by the Lord to present the love of God all over the world. The 285-voice choir has recorded three videos, three DVDs, and numerous albums, winning six Grammy Awards. "The choir represents all different walks of life and every kind of sin," Pastor Cymbala says. "You name it and we have someone who has been saved out of it, standing next to another one who has grown up in the church."
In the early 1980's, Carol Cymbala decided to "make a little tape for the church," and when she had trouble finding enough appropriate songs, she began writing them. Although she cannot read or write music, the Lord has given her a special gift to direct and create from the heart through the power of the Holy Spirit. After 25 years of recording and live performances, the Lord continues to use the Choir to carry the message of the Gospel around the world. It is a highly unlikely ensemble, a mixture of ethnic and economic backgrounds, in the heart of a city synonymous with coldness and decay. The choir is made up of attorneys and street people, nurses and ex-crack addicts, a unique cross section of humanity. Pastor Cymbala explains: "None of us would have met if it weren't for Christ. Our backgrounds are just too diverse. But all of us have one thing in common: we have all been lifted up and saved. So the Choir sings—not about a theological position—but about what has happened to them. It's not a theory; it's a reality."
Starting each practice with prayer reinforces that principle. Even the rehearsal prior to the Sunday services are all closed in prayer as the choir asks the Lord to bless their music and anoint their songs for the service. "The great evangelist D.L. Moody found that the tender strains of the Gospel could open people's hearts to the music of the soul," Pastor Cymbala says, "and I find that the choir greatly facilitates the ministry that goes on here. In their own uniquely sincere and almost vulnerable way, some by not being trained singers, while others are coming from totally non-religious backgrounds, they are able to display an openness, a transparent 'heartfeltness' that opens up and triggers the same thing in other people."
Discography
Higher & Lifted Up
Total Praise
Psalm 150 (Praise Ye The Lord)
My Help (Cometh From The Lord)
We Are United
Battle Hymn Of The Republic
Father We Adore Thee
High And Lifted Up
Blessed Be The Lord
So You Would Know
God Of All Gods

Higher & Lifted Up is an uplifting and celebratory album from the famed Brooklyn Tabernacle Choir. Renowned for their remarkable performance skills and brilliant handling of both traditional favorites and more contemporary selections, the choir has recorded what is sure to be one of the most talked-about gospel albums. Drawn from favorite selections previously performed at Sunday morning worship service, High and Lifted Up is the Brooklyn Tabernacle Choir's first studio album in more than a decade. Akin to the Brooklyn Tabernacle singers' Songs from the Altar, this is an elegantly scored collection that remains firmly focused on the choir's trademark praise and worship bent. However, while it begins with the relatively uncomplicated "Total Praise," High and Lifted Up, unlike Songs, is lyrically complex, including the words of Psalm 150 and "Battle Hymn of the Republic." Skillfully executed multipart harmonies and swelling strains of strings make the title cut, the Celtic-tinged "Father We Adore Thee," and closer "God of All Gods" crowning achievements.
---
God Is Working

All The Way To Calvary
God Is Working
It's Amazing
Church Medley
More Than Enough
Lift Your Voice
I Found The Answer
For Every Mountain
Nothing Is Impossible
Keep Me True
Holy Like You

The Brooklyn Tabernacle draws thousands of people from around the world, who come to worship and be inspired by the Grammy award-winning Brooklyn Tabernacle Choir. These 11 accompanied, high-energy, revival-style gospel tunes will get your foot tapping, and very possibly up and dancing! There are several nice originals here, several of them written and composed by Carol Cymbala, wife of Pastor Jim Cymbala: the title tune, "Nothing is Impossible," "Keep Me True," and "Holy Like You." Other favorites are "Church Medley," Robert Gay's "More Than Enough," the traditional hymn "All The Way To Calvary, " "It's Amazing" by Oliver Wells, "I Found The Answer" by Johnny Lang, "Lift Your Voice" by Cindy and Becky Cruse, and "For Every Mountain" by Kurt Carr. "God Is Working" is a powerful, inspirational collection that will touch and move you!
---
Hallelujah! Very Best Of
How Great Thou Art
The Hallelujah Chorus
Favorite Song Of All
It's Not in Vain
Almighty
Lead Me Lord
Soon And Very Soon
My Help (Cometh From The Lord)
Happy Birthday, Jesus
I Can Be Glad
He's Been Faithful
Testimony: Calvin Hunt
I'm Clean
I am Not Ashamed
Reprise: The Hallelujah Chorus

One of Christian music's best-selling and most recognized choirs continue to impact the world while maintaining its roots in its Brooklyn neighborhood. With over 20 recordings to its credit this great selection includes some of the very best songs they have recorded over this period.
---
Christmas at The Brooklyn Tabernacle
O Come Emmanuel
You Shall Call His Name Jesus
First Day Of The Son
Love Came Down
Beneath His Father's Heaven
Carols
Happy Birthday Jesus
They Followed His Star
Light Of A Million Mornings
Have A Merry, Merry Christmas

A fine selection of traditional carols mixed with contemporary takes on the birth of the Christ child, Christmas at the Brooklyn Tabernacle is a festive and joyful celebration of the season. True to their roots, the Brooklyn Tabernacle Choir pays homage to their ethnic diversity by including a variety of styles: the funky Caribbean influenced "First Day of the Son," the soulful R&B groove of "They Followed His Star," and the exquisitely executed classicism of "Carol of the Bells." Also included are the popular "Happy Birthday Jesus," performed by the children's choir division, and a magnificently arranged rendition of director Carol Cymbala's "You Shall Call His Name Jesus." Featured soloists include the well-loved voices of Charles Allen, Susan Cymbala, and Karen Melendez.
To find a specific song on any recording (or to find recordings by group name or CD title),
pick the search method and type the item you are searching for here: